Educaiton
81 Ways Teachers Can Use Google Forms with Their Students. Google Apps is one of the powerful digital toolkit for teachers.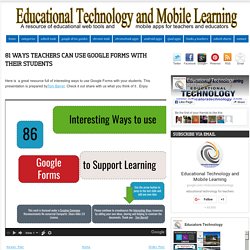 It is packed with all kinds of apps you can use both in your teaching and for your professional growth . Think about services such as Gmail, Google Docs, Presentations, Forms, Google Calendar, Google Education, and the list goes on and on. Most of these tools are free and are part and parcel of our digital being. I am personally a huge fan of Google services and I use almost all of them including Google Code.I have been writing a lot of tutorials on each of these tools and I will still keep you updated about any new releases in this regard.
Just keep in mind that I am just a teacher like you, I have no affiliation with Google and I am not paid to write about its services here, the only things that drives me to cover Google services in my posts are their practical productivity and relevance, their powerful free features, their awesome user experience, and the level of security they provide its users.
Acapela.tv. RedKid.Net. Dynamic images. Text Message Translator, Online Text Message Dictionary. Hook or ways to open a lesson. From text to speech (speech synthesis)
Beautiful Word Clouds. Jigs@w Puzzle 2 - the best jigsaw puzzle game for Windows. Jigs@w Puzzle 2 is a truly realistic jigsaw puzzle game which has everything you need to create and play great-looking puzzles.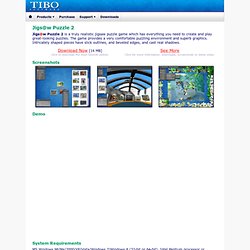 The game provides a very comfortable puzzling environment and superb graphics. Intricately shaped pieces have slick outlines, and beveled edges, and cast real shadows. Screenshots. Phrasr .:. Artsonia Kids Art Museum — The Largest Student Art Gallery on the Web! PhotoPeach. Moourl.com. Mind Mapping - Create Mind Maps online. Resource templates. We're dead chuffed with this little collection of resources.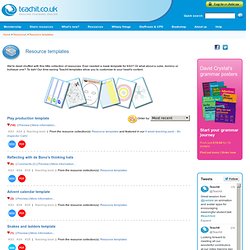 Ever needed a mask template for KS3? Or what about a cube, domino or bullseye one? PicMonkey. Webinar – Micro-Podcasting. Little Bird Tales - Home.
Kickin'ItNewSchool: text, images, music, video | Glogster EDU - 21st century multimedia tool for educators, teachers and students. The Interactivity Center. Name: EasyEssay.com URL: Who It's For: Easy Essay can be used at any grade level to teach students how to write essays, speeches, reports, and more.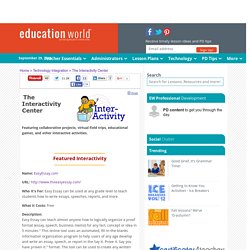 What It Costs: Free Description: Easy Essay can teach almost anyone how to logically organize a proof format (essay, speech, business memo) for any fact, concept or idea in 5 minutes. " Site Reviews. Dipity - Find, Create, and Embed Interactive Timelines. Write In Private: Free Online Diary And Personal Journal | Penzu. Google Docs. Flipped Conference 2012. Home. Screencast-O-Matic - Free online screen recorder for instant screen capture video sharing.
eTools for Education. TILDE Netcasts - Learning with Technology Weekly - Episode 26: Hangin' Out, Google Style! Viviene Tuckerman: Very cool new feature of edmod... You must log in to view this content This content is secure.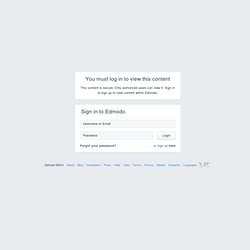 Only authorized users can view it. Sign in or sign up to view content within Edmodo. Forgot your password? DoppelMe - Free Dynamic Avatars. Google Docs Integration is Now Available.
---