Virgin islands
St John US Virgin Islands Beaches: Cinnamon Bay. Excerpted from St.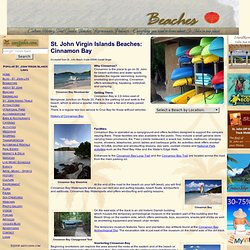 John Beach Guide ©2006 Gerald Singer Why Cinnamon? Cinnamon is the place to go on St. John for beach activities and water sports. Home. St. John Island Guide: Virgin Islands National Park. National Park Activities Hiking (Northside) Hiking (Southside) Annaberg Plantation In 1956 Lawrence Rockefeller, through the non-profit organization Jackson Hole Inc., donated 5000 acres of land on St.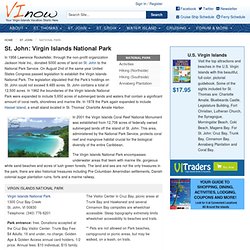 Virgin Islands National Park. Virgin Islands National Park on St. John Hiking, Beaches, Trails, Snorkeling, History. As early as 1832, a well known American artist and author, George Gatlin, called for the creation of national parks in order to preserve the natural beauty of the American wilderness as well as the culture and way of life of the native people.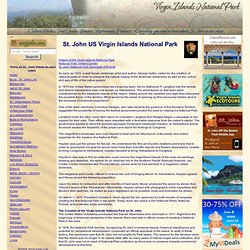 In 1870 the United States government sent a survey team, led by Nathaniel P. Langford into the remote and almost inaccessible area now known as Yellowstone. The adventurers on that team were overwhelmed by the awesome beauty of the region. Virgin Islands National Park.
---