tutorial
Get flash to fully experience Pearltrees
The following online materials are exerpted from the Apple Training Series book . Consider this chapter a "book within a book." If you don't read any other chapter, read this one. It has been designed to give you a quick but thorough introduction to AppleScript through a short, fun, hands-on tutorial.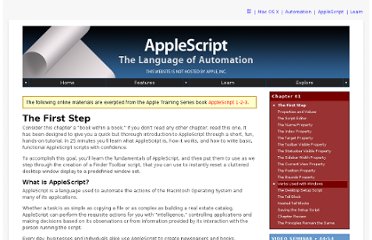 "As a professional medical statistician of some 40 years standing, I can unreservedly recommend this textbook as a resource for self-education, teaching and on-the-fly illustration of specific statistical methodology in one-to-one statistical consulting. The topic area coverage is unparalleled in a single textbook, drawing in the usual suspects, but many not-so-usual: Classification trees, Neural networks, Structural equation modeling, to name but a few. This book is an absolute friend-in-need when you need to get to the point fast, without fuss, in a way that anyone can understand."
This document lists brief descriptions of current and older MS-BASIC® development tools for the PC, along with a brief list of features and notes. While you may find older versions of development tools in many places, links to the old/used programming tools sales pages of EMS Professional Software , this page's sponsor, are provided for your convenience. Other Microsoft version information . Information on other vendors' products . For technical questions, we recommend you ask on news:comp.lang.basic.misc All terms on this page are trademarks of Microsoft Corporation.