VST
4Front Bass Module. 4Front Bass is a small single sound instrument without any settings that reproduces a timbre of a bass guitar.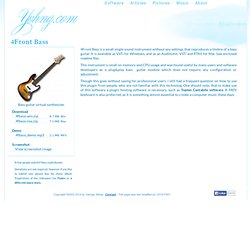 It is available as VSTi for Windows, and as an AudioUnit, VSTi and RTAS for Mac (see enclosed readme file). This instrument is small on memory and CPU usage and was found useful by many users and software developers as a plug&play bass guitar module which does not require any configuration or adjustment. Though this goes without saying for professional users, I still had a frequent question on how to use this plugin from people, who are not familiar with this technolog. One should note, that to make use of this software a plugin hosting software is necessary, such as Topten Cantabile software.
Angular Momentum. Don't Crack. Free Plugin List. Free Plugin List - VST Effects. Fretted Synth. Gersic. Hitsquad Musicians Network. KVR Audio. KVR Audio - VST Instruments. Sound on Sound - Using VST Instruments. VST Instruments can create a huge variety of sounds from the comfort of your MIDI + Audio sequencer, but can also be a source of confusion for many computer users.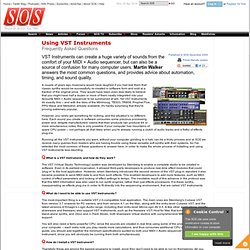 Martin Walker answers the most common questions, and provides advice about automation, timing, and sound quality. A couple of years ago musicians would have laughed if you had told them that classic synths would be successfully re-created in software form and sold at a fraction of the original price. They would have been even less likely to believe that you might have half a dozen or more of them neatly integrated into your favourite MIDI + Audio sequencer to be summoned at will. Yet VST Instruments do exactly this -- and with the likes of the Minimoog, TB303, TR808, Prophet Five, PPG Wave and Mellotron already available, it's hardly surprising that they're proving extremely popular. However, you rarely get something for nothing, and the situation's no different here.
SynthMaker. Copyright © 2007 Outsim Ltd.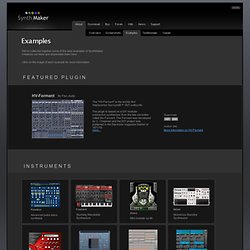 All rights reserved. A loop-player with a difference. Subtractive, FM and WaveGeneration hybrid 3 Oscillator subtractive synth. SynthMaker - Modular VST and DSP Visual Programming Environment. VST Central.
---