Websites
Internet Meme Database. Shit My Students Write. Lifehacker, tips and downloads for getting things done. Remember The Milk: Online to do list and task management. Ignite Talk Videos. Delicious. 29 Semi-Productive Things I Do Online When I'm Trying to Avoid Real Work. Post written by: Marc Chernoff Email You don't always have to work hard to be productive.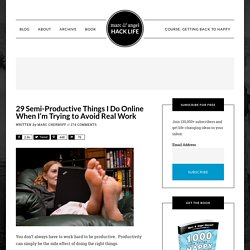 Productivity can simply be the side effect of doing the right things. So here's a list of 29 semi-productive things I do online when my mind is set on avoiding 'real work.' Check delicious popular tags like 'useful,' 'tutorials,' 'tips,' 'howto,' 'advice,' 'entrepreneurship,' etc. for interesting, educational articles to read.Watch one of the thousands of educational videos streaming at TED.com, Academic Earth and Teacher Tube.Read an online book list and find a new book to grab next time I'm at the library. Vimeo, Video Sharing For You. Find recipes online  |  Foodily  |  Food, I love you. Home.
Music. Language. News. How To Videos on Howcast | The best how to videos on the web. Box Office Mojo. Triggerpit. Gizmodo, the Gadget Guide. StumbleUpon.com: Discover the Best of the Web. Reddit: the voice of the internet -- news before it happens. BuzzFeed. Engadget. Urban Legends Reference Pages. The Idea Swap. Comics, Quizzes, and Stories. YouTube Trends. Spezify. Trends.
---