donaldt1
Don
I love checking things out on the internet.
Get flash to fully experience Pearltrees
10/7/2010 under Cool Places - by Grace Murano - TAGS: holes on earth Great Blue Hole (Belize) Located in Belize's Barrier Reef Reserve System, the "Great Blue Hole" is about 60 miles away from Belize City and is believed to be the world's largest sea-hole. It's 125 meters deep and 300 meters wide. It was created as a cause of sea level increase about 65,000 years ago.
Perhaps the most notorious suppressed invention is the General Motors EV1, subject of the 2006 documentary, Who Killed the Electric Car? The EV1 was the world's first mass-produced electric car, with 800 of them up for lease from GM in the late '90s. GM ended the EV1 line in 1999, stating that consumers weren't happy with the limited driving range of the car's batteries, making it unprofitable to continue production.
Our globe is home to some truly breathtaking and extraordinary sights. Be it strangely-shaped rock formations, alien-looking sulfur springs or unique chocolate hills, the world is full of such beautiful phenomena that no words can describe it. Pictures may help... Sharply eroded buttes, pinnacles, and spires are the main features of Badlands National Park, South Dakota, USA . The park is also the largest protected mixed grass prairie in the country. Beside the unique rock formations, this bizarre land of extreme temperatures (-40F to 116F), high winds and dramatic weather changes is also home to the bison, bighorn sheep, endangered black-footed ferrets, and the swift fox.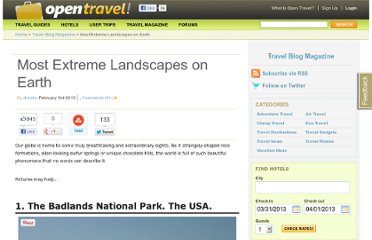 12 of the World's Most Mysterious Monuments & Ruins Article by Steph , filed under Abandoned Places in the Architecture category. Around the world, in places as diverse as Homestead, Florida and Yonaguni, Japan stand monuments and ruins whose origins are shrouded in mystery. Nobody knows exactly why Stonehenge was built, how a set of manmade ruins came to be submerged deep in the ocean or who commissioned a giant carved granite set of post-apocalyptic instructions for rebuilding society on a remote hill in Georgia. Monumental Instructions for the Post-Apocalypse (images via: Wired )
A natural phenomenon is a non-artificial event in the physical sense, and therefore not produced by humans, although it may affect humans. Common examples of natural phenomena include volcanic eruptions , weather, and decay. Most natural phenomena, such as rain, are relatively harmless so far as humans are concerned. There are various types of natural phenomena, which include Meteorological phenomena, weather, including hurricanes, thunderstorms and tornadoes, and geological phenomena, including volcanic activity and earthquakes. So here I have compiled some of the most fascinating natural phenomena.
Some cities die. The people leave, the streets go quiet, and the isolation takes on the macabre shape of a forlorn ghost-town - crumbling with haunting neglect and urban decay. From Taiwan to the foothills of the Sierra Nevada mountains, these abandoned cities lurk in the shadows of civilization. Their histories are carried in hushed whispers and futures stillborn from the day of their collapse.