Apps
Web Elements. Online survey software - conduct your customer surveys and polls with Polldaddy | Polldaddy.com. 21 Excellent Web Apps For College Students. There is no doubt that college students depend heavily on the internet for a lot of their needs.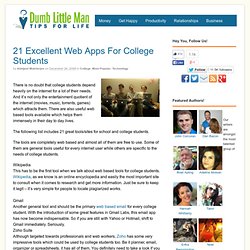 And it's not only the entertainment quotient of the internet (movies, music, torrents, games) which attracts them. There are also useful web based tools available which helps them immensely in their day to day lives. The following list includes 21 great tools/sites for school and college students. The tools are completely web based and almost all of them are free to use. Some of them are general tools useful for every internet user while others are specific to the needs of college students. | dev.twitter.com.
Full WEB 2.0 API List. API Directory - ProgrammableWeb.
Html
My Forms. Apps Marketplace - SurveyMonkey. Now you can access the world's most popular web-based survey solution through your Google Apps environment.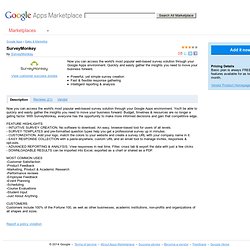 You'll be able to quickly and easily gather the insights you need to move your business forward. Budget, timelines & resources are no longer a gating factor. With SurveyMonkey, everyone has the opportunity to make more informed decisions and gain that competitive edge. FEATURE HIGHLIGHTS - INTUITIVE SURVEY CREATION. Creator - Online Database Application. Covers the sales force automation which includes lead, potential, account, contact and reports on them.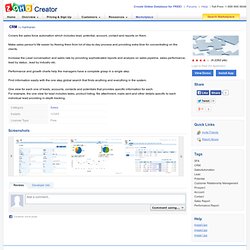 Make sales person's life easier by freeing them from lot of day-to-day process and providing extra time for concentrating on the clients. Increase the Lead conversation and sales rate by providing sophisticated reports and analysis on sales pipeline, sales performance, lead by status , lead by industry etc.
---