Worksheets
Math Worksheet Generator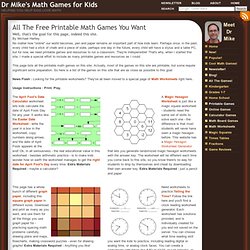 Free Printable Math Games | Dr Mike's Math Games for Kids | Free Cool Math Games!
No matter how "online" our world becomes, pen and paper remains an important part of how kids learn. Perhaps once, in the past, every child had a stick of chalk and a piece of slate, perhaps one day in the future, every child will have a stylus and a table PC, but for now, we need printable games and resources to run a classroom. They're indispensible! That's why, when I started this site, I made a special effort to include as many printable games and resources as I could. This page lists all the printable math games on this site.
Free printable percent of a number worksheets from Homeschool Math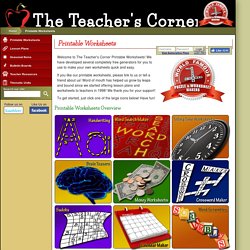 Welcome to The Teacher's Corner Printable Worksheets! We have developed several completely free generators for you to use to make your own worksheets quick and easy. Most of them you can simply choose from our premade lists and get a worksheet in mere seconds, otherwise you can customize them with your own subjects to make completely unique puzzles. From crossword puzzle generators and word search makers to cloze sentence, money worksheets, brain teasers and sudoku puzzles.