Firefox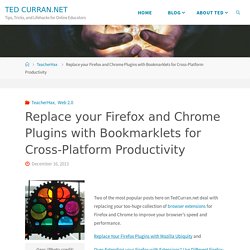 Image by flod via Flickr Everybody loves Firefox. Even with all the other fast, standards-compliant modern browsers out there (like Chrome, Safari, and Opera– sorry IE!) Firefox stands alone for its rich variety of extensions. If you're using Firefox, you can be sure that "there's an extension for that". It's tempting to fill up one's browser with every tool that could make your web experience easier, faster, cooler, and more productive.
Replace Your Firefox Plugins with Mozilla Ubiquity /  Ted Curran
TrackMeNot
The practice of logging user search activities and creating individual search profiles - sometimes identifiable - has received attention in mainstream press, e.g. the recent front-page New York Times article on AOL 's release of collected data on individual searchers; also this front-page New York Times Business Section article describing the User-Profiling Practices of Yahoo!, AOL, Bing & Google. We are disturbed by the idea that search inquiries are systematically monitored and stored by corporations like AOL, Yahoo!, Google, etc. and may even be available to third parties.
Firebug JavaScript Debugger and Profiler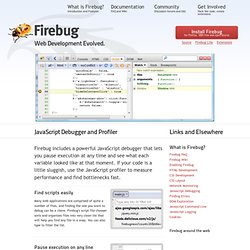 Firebug includes a powerful JavaScript debugger that lets you pause execution at any time and see what each variable looked like at that moment. If your code is a little sluggish, use the JavaScript profiler to measure performance and find bottlenecks fast. Find scripts easily Many web applications are comprised of quite a number of files, and finding the one you want to debug can be a chore.
StumbleUpon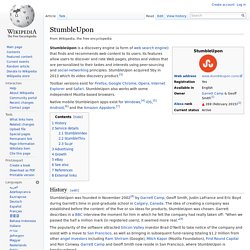 StumbleUpon is a discovery engine (a form of web search engine ) that finds and recommends web content to its users. Its features allow users to discover and rate Web pages, photos, and videos that are personalized to their tastes and interests using peer-sourcing and social-networking principles. Toolbar versions exist for Firefox , Google Chrome , Opera , Internet Explorer , and Safari . StumbleUpon also works with some independent Mozilla-based browsers. Native mobile StumbleUpon apps exist for Windows , [ 2 ] iOS , [ 3 ] Android , [ 4 ] and the Amazon Appstore . [ 5 ]
Facebook-Greasemonkey Hacks
NASA Night Launch