Firefox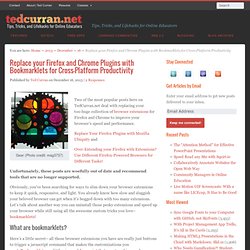 Two of the most popular posts here on TedCurran.net deal with replacing your too-huge collection of browser extensions for Firefox and Chrome to improve your browser's speed and performance. Replace Your Firefox Plugins with Mozilla Ubiquity and Over-Extending your Firefox with Extensions? Use Different Firefox-Powered Browsers for Different Tasks! Unfortunately, these posts are woefully out of date and recommend tools that are no longer supported.
Replace Your Firefox Plugins with Mozilla Ubiquity /  Ted Curran
TrackMeNot
The practice of logging user search activities and creating individual search profiles - sometimes identifiable - has received attention in mainstream press, e.g. the recent front-page New York Times article on AOL 's release of collected data on individual searchers; also this front-page New York Times Business Section article describing the User-Profiling Practices of Yahoo!, AOL, Bing & Google. We are disturbed by the idea that search inquiries are systematically monitored and stored by corporations like AOL, Yahoo!, Google, etc. and may even be available to third parties.
Firebug JavaScript Debugger and Profiler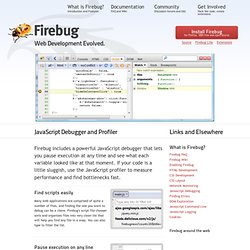 Firebug includes a powerful JavaScript debugger that lets you pause execution at any time and see what each variable looked like at that moment. If your code is a little sluggish, use the JavaScript profiler to measure performance and find bottlenecks fast. Find scripts easily Many web applications are comprised of quite a number of files, and finding the one you want to debug can be a chore.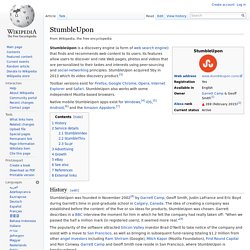 StumbleUpon is a discovery engine (a form of web search engine) that finds and recommends web content to its users. Its features allow users to discover and rate Web pages, photos, and videos that are personalized to their tastes and interests using peer-sourcing and social-networking principles. History[edit] StumbleUpon was founded in November 2002[7] by Garrett Camp, Geoff Smith, Justin LaFrance and Eric Boyd during Garrett's time in post-graduate school in Calgary, Canada. The idea of creating a company was established before the content: of the five or six ideas for products, StumbleUpon was chosen.
Privacy Policy This Privacy Policy governs the manner in which Greasemonkey collects, uses, maintains and discloses information collected from users (each, a "User") of the Greasemonkey Application. This privacy policy applies to the Application and all products and services offered by Greasemonkey. Personal identification information We do not collect personal identification information from Users. Non-personal identification information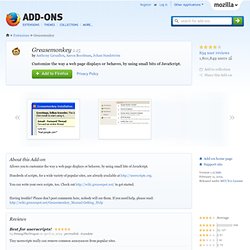 Userscripts.org Welcome to Userscripts.org, home to thousands of free scripts that enhance the sites you already use Findscripts that enhance your browsing experienceShareimplement your awesome idea using javascriptJoinbe a part of improving the web Learn how to use Greasemonkey with Firefox. Popular scripts Browse all scripts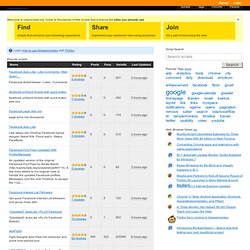 Cheat bejeweled blitz « Wonder How To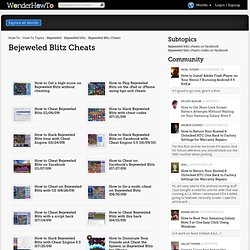 Riverside Grandpa Demolishes the Bejeweled Code - Stuns Creator Video game ranking site VGChartz reports that Mike Leyde, a 56-year old steel contractor from Riverside, California, has broken Bejeweled 2's scoreboard with a score of 2,147,783,647. Brian Fiete, co-creator of Bejeweled, is shocked: "The highest score the game is capable of calculating is 2,147,483,647; that's 2 to the 31st power minus 1. We had to give the game some sort of maximum displayable... 0
Help Support This Theme 2013-12-10: Hi everyone. Big changes in the software world, and I'm going to need your help to get the new software *and hardware* needed to keep developing this theme. See the details here, or just make a contribution right here and now on this page. It matters, and your support makes it possible.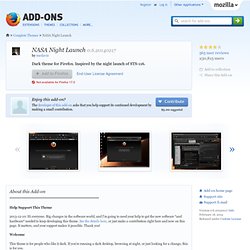 NASA Night Launch