Sasanki
Aktuell. VILLA-K / Cell Space Architects. Architects: Mutsue Hayakusa Cell Space Architects Location : Karuizawa, Nagano, Japan Design Period: August 2008 – May 2009 Construction Period: June 2009 – May 2010 Photographs: Masao Nishikawa This site is located on a hilltop in one of the eminent Karuizawa villa areas.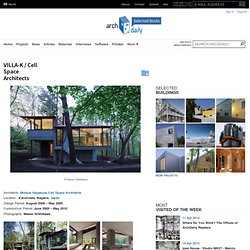 All directions around the site are clear for view in winter.The villa consists of four parts of floors and four parts of roofs around a central pillar. The four floors placed on different levels are connected to the surrounding out space through windows in order to give diverse views for the residents. Hoeve Nooitgedacht / Architectenbureau di't. Architect: Architectenbureau di't Location: Gravenweg, Rotterdam, Netherlands Project architect: G.J. van Leer Structural engineer: Adviesbureau Versteeg Design: 2008 Realization Year: 2009-2010 Photographs: Architectenbureau di't, G.J. van Leer An old derelict farmhouse near the centre of Rotterdam, came in the market as a building site.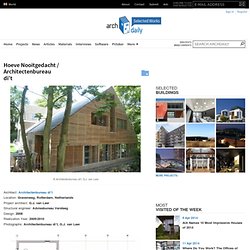 Van Leer recognized the quality of the existing building and designed a plan to restore the old building, including an expansion that would bring back the original volume of the house. De rear part of the farm had collapsed in the 1950's. The old house has been given a new foundation and has been restored. On the front the building hasn't changed, but behind the old building is an extension in radical new materials. Villa I / GRAD arkitekter. Architects: GRAD arkitekter Location: Täby, Sweden Project Team: Sébastien Corbari, Malin Hultmark, Beata Grepe Structural & Façade Engineering: SD project Builder: ITBMS Project Area: 280 sqm Project Year: 2007-2009 Photographs: Sébastien Corbari Apart from a small bathroom window, the existing 50th century villa had no contact with the beautiful pine hillside at the backside.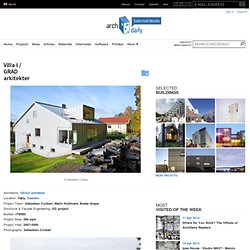 The strategy outlined in the work has been to see the house as an unfinished building, to understand the house's qualities and shortcomings. The house is extended naturally to forest. The roof gets a new lining of zinc metal that runs down toward the pines on the backside. Houle-Thibault Residence / Chevalier Morales Architectes. Architects: Chevalier Morales Architectes Location: Mont-Tremblant, Québec, Canada Project managers: Sergio Morales, Stephan Chevalier Project team: Sergio Morales, Stephan Chevalier, Karine Dieujuste, Christine Giguère, Samantha Hayes Clients: Sylvie Houle, Richard Thibault General contractor: Constructions Somart Site area: 4,500 sqm Built area: 300 sqm Project Year: 2007-2008 Photographs: Marc Cramer Built on a mountainside with incredible views of Mont Tremblant, the Thibault residence questions the obvious nostalgia of traditional architecture imbedded within most of the large residential developments built in natural areas and intended for tourists or for secondary residences for city dwellers.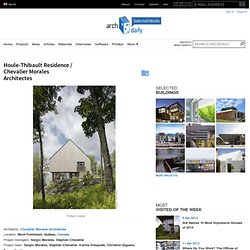 Fortress House / ITN Architects. Architects: ITN Architects Location: St Andrew's Beach, Australia Project Team: Aidan Halloran Engineer: Josh Millie Jomil Engineering Builder: On the Rise Construction, Ross Stapleton Project Area: 260 sqm Project Year: 2008 Photographs: Albert Comper This coastal house was designed as a literal interpretation of the client's initial brief.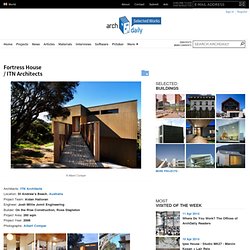 They requested a very private retreat, anti-social, even unfriendly to the street, as a counterpoint to their sociable city lives. The only 2 windows to the street frontage are deep set and high, allowing no interior views, and the main 1st floor entry is reached via a 6 metre bridge. It is only once beyond this uninviting threshold, that the house gradually begins to open up to the surrounding ti tree covered dunes, with carefully selected views. This comes to a dramatic conclusion with the 6.5 metre tall window at the far end of the central spine of the house. House Vihavainen / Mika Huhtala & Kari Pöykkö / Architecture Office Kanttia 2. Architects: Mika Huhtala & Kari Pöykkö / Architecture Office Kanttia 2 Ltd Location: Punkaharju, Finland Project area: 232 sqm Project year: 2009 Photographs: Sauli Kosonen House Vihavainen is situated on a exceptionally beautiful lake side plot in Punkaharju, Finland.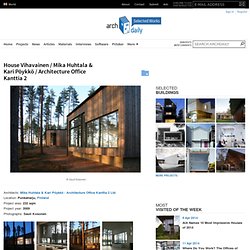 The form and materials were inspired by the surronding nature with its rushes, stones and tall pine-trees. Large windows bring the nature inside to be a part of the everyday life. Weathered wood and low mass lifted from the ground gives the building humbleness and modesty in the beautiful Finnish landscape. Nature will take back it's space in few years. Alluring Family House in Klokočná by Studio Pha. Alluring Family House in Klokočná by Studio Pha Studio Pha, a Prague-based studio, has completed the delightful, efficient Family Home project.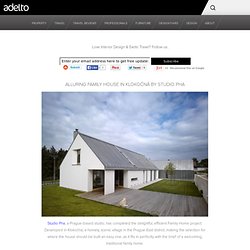 Developed in Klokočná, a homely, scenic village in the Prague-East district, making the selection for where the house should be built an easy one, as it fits in perfectly with the brief of a welcoming, traditional family home. The houses charm and charisma is clear to see immediately. The understatement inputted into the design and execution from Studio Pha is a modern phenomenon within itself, and offers the house a traditional yet unique and beautiful edge. The old-fashioned, homely pebbled path offers an insight of appeal into this elegant home, and this is supplemented with the typical family garage. A New Norris House / University of Tennessee A New Norris House / University of Tennessee – ArchDaily. Cloudy House / LASC studio Cloudy House / LASC studio (18) – ArchDaily. House In Kitasaya / Terminal 01 ground floor plan – ArchDaily. Mission Hall / Adam Richards Architects Mission Hall / Adam Richards Architects (13) – ArchDaily.
Prototype A Tract House / Works Partnership Architecture Prototype A Tract House / Works Partnership Architecture – ArchDaily. Snail House / Atelier d.org Snail House / Atelier d.org – ArchDaily. The Dike House in Wierumerschouw / Onix The Dike House in Wierumerschouw / Onix – ArchDaily. The Houl / Simon Winstanley Architects The Houl / Simon Winstanley Architects – ArchDaily. W35 / Marianne Borge W35 / Marianne Borge – ArchDaily. Blue Ridge Farmhouse Addition / Robert Gurney Architect. Standing prominently on a hilltop just outside Washington, Virginia, the eighteenth century farmhouse is surrounded by five hundred acres of farmland providing vantage point views of the Blue Ridge Mountains.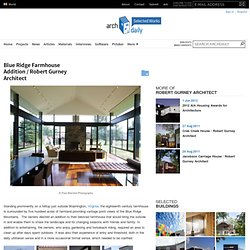 The owners desired an addition to their beloved farmhouse that would bring the outside in and enable them to share the landscape and its changing seasons with friends and family. In addition to entertaining, the owners, who enjoy gardening and horseback riding, required an area to clean up after days spent outdoors. It was also their experience of entry and threshold, both in the daily utilitarian sense and in a more occasional formal sense, which needed to be clarified. Brick Thickness / A2 Architects. Architect: A2 Architects Location: Dublin, Ireland Project Team: Peter Carroll, Caomhán Murphy, Miriam Dunn, Julia Gonzales, Tom O'Brien, David Maher (Engineer) Project Area: 35 sqm Project Year: 2006 Photographs: Courtesy of A2 Architects The introduction of the luas light rail service along the old harcourt street railway line has resulted in a blurring of private and public space for houses that back onto the railway line.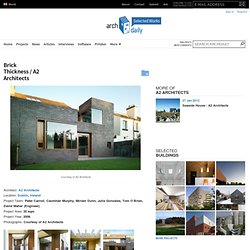 A reversal occurs resulting in the rear of houses being presented as the new front. Contemporary Villa in Szentendre, Hungary by Architema. By Eric • Apr 13, 2011 • Selected Work Lajos Kuknyó, principal of Architema, has designed this contemporary residence in Szentendre, Hungary.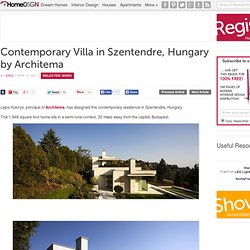 This 1,948 square foot home sits in a semi-rural context, 30 miles away from the capital, Budapest. Corea Harbor House / Norelius Studio. Architects: Norelius Studio Location: Corea, Maine, USA Structural Engineer: Albert Putnam, PE Lighting Designer: Peter Knuppel Lighting Design Builder: Kenneth Thibault Project Year: 2010 Project Area: 130 sqm Photographs: Kelly Bellis Context was one of the most influential generators for this project: a down-east Maine village, complete with vibrant, scrappy and true-to-itself working harbor.
While many new houses here are built on large parcels of pristine isolated land, these clients had made the more sustainable commitment to build on an empty lot in the village. The diagram of the house takes advantage of solar gain and views—fortuitously aligned—in each of the major spaces. Since the goal was to keep the house a concise 1400 square feet, the plan became long and thin: literally the dimensions of a mobile home. Double Dwelling in Den Hoorn / DP6 Architectuurstudio. Architects: DP6 Architectuurstudio / Robert Alewijnse Location: Den Hoorn, The Netherlands Project Year: 2010 Project Area: 426 sqm Photographs: Christian Richters This project called for a semi-detached house, a double dwelling for two families.
The double dwelling was designed, developed and realized by architect Robert Alewijnse and designed as a singular architectonic object, housing two completely different homes. The eastern home was specifically designed for the architect's family and the western home was sold and adapted to the specific wishes of the new owners. Family House in Klokočná by Studio Pha. By Eric • Nov 24, 2011 • Selected Work Prague-based practice Studio Pha has completed the Family House in Klokočná project in 2010. This two story country-style home is located in Klokočná, a village and municipality in Prague-East District in the Central Bohemian Region of the Czech Republic. Family House in Klokočná by Studio Pha: Family Houses in Popovicky / Jan Stempel. Architects: Jan Stempel Location: Popovicky, Czech Republic Landscaping: Lucie Vogelova / Terra florida Project area: 150 sqm + 149 sqm Completion: 2010 Photographs: Ivan Nemec / CFA New family houses for different private clients are situated in a small village close to Prague.
This location is very popular with young families with children. The parents work in Prague, but live in the country in a family house with a garden. This strong trend in the Czech Republic represents mainly standardized houses from catalogues. Those two presented houses – designed as an archetypal form of a house in central Europe – stand out of this mass production. Hillside Habitat / Edwards Moore. Architects: Edwards Moore Location: Kinglake, Victoria, Australia Project Team: Juliet Moore, Ben Edwards Project Area: 135 sqm Project Year: 2011 Photographs: Peter Bennetts We have recently completed a new home built to replace one lost on Black Saturday on a steep mountain site overlooking the Kinglake National Park with views to the Mornington peninsular beyond,this exhilarating location with its towering eucalyptus trees and diminishing scars from that phenomenal day required a design response equally as unique.
The brief was to design a home that embraced the notion of living whilst engaging with the landscape surrounding it. We developed a biophilic design response considering every component of its surrounding environment. There is an instinctive, biological bond between humans and other living systems. House in Bellmund / EXH Design. House in Boevange / Metaform Architects. House in Pirque / 332 Arquitectos. JENSEN ARCHITECTS. Lake Austin Residence / Lake|Flato Architects. Varaždin Residence / Dva Arhitekta. The Houl Residence by Simon Winstanley Architects. Tahoe Ridge House / WA Design Inc. Sheldon Avenue Residence by Belsize Architects. Screened by Pohutukawa / Architecture Bureau. Ruby Springs PREFAB / Medicine Hat Inc.
Regional Contemporary Residential Architecture: Homes and Ranches - Lake|Flato Architects. P-K House / Pichler & Traupmann Architekten. NEXTHouse by David Vandervort Architects NEXTHouse by David Vandervort Architects – HomeDSGN, a daily source for inspiration and fresh ideas on interior design and home decoration. Mountain House in Pernink / FAM Architekti. Los Feliz Residence / Warren Techentin Architecture. Los Feliz Residence by Techentin Buckingham Architecture. Lake House / Joseph N. Biondo. Two Houses / Arhitektri. Picture House / Barilari Architteti. Wallace. K Harrison Estate / SchappacherWhite. Gamleveien Farm House / SKAARA Arkitekter AS. Charcoal House / Atelier rzlbd. OS House / Johnsen Schmaling Architects. The Dike House in Wierumerschouw / Onix - The Dike House in Wierumerschouw / Onix (199075) - ArchDaily. P Houses / SM-arch. W House / João Cassiano Santos. Vultureni House / TECON Architects.
---