Reviews
« Biographie de Steve Jobs le 26 octobre, explosive ?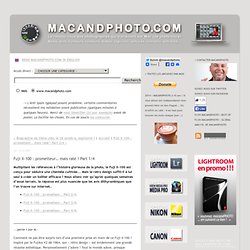 Fuji X-100 : prometteur… mais raté ! Part 1/4
Le parfait bonheur…

» Fujifilm X100 vs Panasonic GF1 : plus cher, mais bien meilleur? Michael Carpentier.com
Fuji X100 : Test du Fujifilm X100 (Finepix X100), le compact d'exception !
PentaxOne - Accueil
NEX-C3 et SLT-A35: Sony généralise son 16MP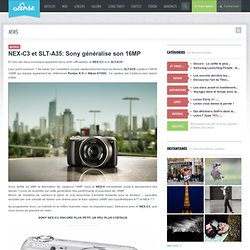 Et voici les deux nouveaux appareils Sony enfin officialisés: le NEX-C3 et le SLT-A35 ! Leur point commun ?
Accompagnant le NEX 7, voici le millésimé 2011/2012 du célèbre NEX 5 : estampillé 5N , il passe au capteur 16MP et se voit ajouté quelques raffinements…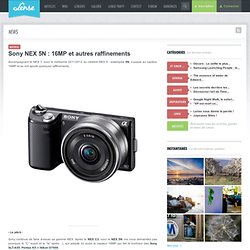 Sony NEX 5N : 16MP et autres raffinements
New NEX-7 Combines superb imaging, high performance and full palette of creative options
Sony unveils NEX-7: 24.3 MP sensor, OLED viewfinder, $1199 price tag (video)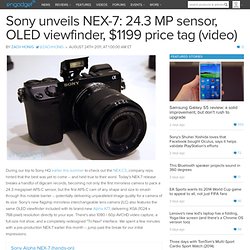 Sony NEX-7 Announced and Previewed - AlphaMountWorld.com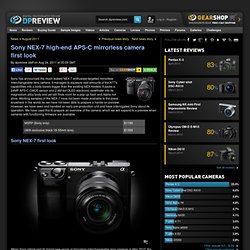 Aug 24, 2011 at 05:09:50 GMT Sony has announced the much leaked NEX-7 enthusiast-targeted mirrorless interchangeable lens camera. It manages to squeeze vast amounts of the A77's capabilities into a body barely bigger than the existing NEX models.
Sony NEX-7 high-end APS-C mirrorless camera first look: Digital Photography Review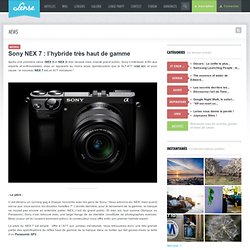 Sony NEX 7 : l'hybride très haut de gamme
Après une première salve ( NEX 5 et NEX 3 ) très réussie mais orienté grand public, Sony s'intéresse enfin aux experts et enthousiastes, avec un appareils au moins aussi spectaculaire que le SLT-A77 ( voir ici ), et pour cause : le nouveau NEX 7 est un A77 miniature !
Streets of Korea - Gear - My Thoughts: Pentax K5
In between compact and DSLR.
Panasonic GF-1, Olympus E-PL1, Samsung NX100, and Sony NEX-5 Camera Review by Thom Hogan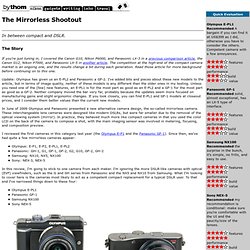 Sommaire :
Sony NEX-5 et NEX-3 compact APS a optiques interch !! [Topic Unique] - Appareil - Photo numérique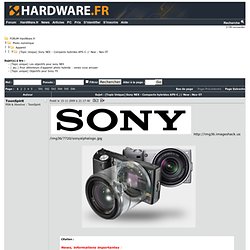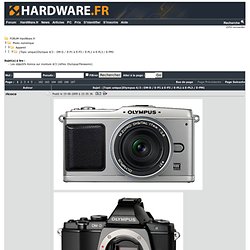 Olympus E-P1 / E-P2 / E-PL1 / E-PL2 [Topic unique] - Appareil - Photo numérique
From the OM system 35mm SLRs and lenses to the XA series rangefinders and the half-frame Pen models, Olympus has for at least half a century been notable for producing cameras that are smaller than their competitors without sacrificing quality or functionality.
TOPICUNIK du PANASONIC LUMIX GF1 -> c'est un compact avec un "gros" capteur micro 4/3 a objectif interchangeables. l'idée est d'avoir la qualité d'un reflex dans le taille d'un compact. -> le design ressemble à un LX3, l'orientation "expert" est la même. -> il est concurrent direct du olympus EP1, et futurs samsung (en µAPS-C) et canon et nikon (surement tous le monde à moyen terme). il est sensiblement de la même taille que le EP1.. assez balèze donc voici les nouveaux firmwares pour le GF1 >> Firmware ver.1.1 for DMC-GF1 -Improved AF(Auto Focus)performance in movie recording -Improved AWB(Auto White Balance) performance -Improved picture quality in high sensitivity photo recording -Improved picture quality in portrait program modes -Improved aperture control in scenery program modes -Improved accessibility to MF(Manual Focus) Assist function with MF lenses.
[Topic U] Lumix G Micro 4/3 System (G1/G2/GF1...) - Appareil - Photo numérique
Four Thirds | Four Thirds | Micro Four Thirds | Chart(Lenses)
qu'est ce que le micro 4/3 C'est un nouveau standard photographique de nouveaux appareils a objectifs interchangeables réunissant une baïonnette (commune a Olympus, Lumix et Samsung) et une taille de capteur : le 4/3 commençons par le capteur
Micro 4/3 : un système : pourquoi ? et l'adaptation a la photo subaquatique
A propos
Et bien vous trouverez ici des informations de différentes natures concernant les appareils photo hybrides numériques à visée électronique et objectif interchangeable.
Plus de 150 appareils photo sont lancés chaque année. Vous pouvez consulter directement la liste de nos préférés du moment, divisés en quatre types : les appareils compacts, les bridges, les compacts à objectifs interchangeables et les reflex.
Guide d'achat : les meilleurs appareils photo compacts, bridges et reflex
Mise à jour le 15 novembre 2010 : l'arrivée d'une nouvelle génération d'appareils à grand capteur nous oblige à réviser les notes de certains appareils.
Panasonic Lumix GF1
Panasonic Lumix GF2 + 14 mm
Confessions of a Photographer » gf1
Review: Olympus EP-3 (and 12mm F/2) at The Phoblographer