Photog Blogs
Product photography. Donnie Does Photoshop — Think Saturday Night Live + Photo Editing. We've seen our fair share of Photoshop tutorials, but when we came across this series of videos titled "You Suck at Photoshop", we knew we were in for something different.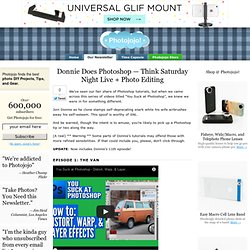 Join Donnie as he clone stamps self-deprecating snark while his wife airbrushes away his self-esteem. This spoof is worthy of SNL. And be warned, though the intent is to amuse, you're likely to pick up a Photoshop tip or two along the way. (A real) ** Warning ** Some parts of Donnie's tutorials may offend those with more refined sensibilities. If that could include you, please, don't click through. Stuck In Customs HDR Photography. Adobe Photoshop Tutorials from Beginner to Advanced. CS 178 - Digital Photography. 31 Days to a Better Photo | The Complete Index. Thank you for your interest in 31 Days to a Better Photo!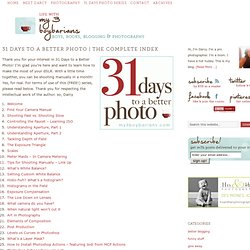 I'm glad you're here and want to learn how to make the most of your dSLR. With a little time together, you can be shooting manually in a month! Yes, for real. For terms of use of this (FREE!) Posing 101 – Introduction to Posing. Posing can be a big stumper for many photographers new to the business of photographing people.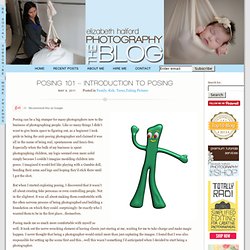 Like so many things I didn't want to give brain space to figuring out, as a beginner I took pride in being the anti-posing photographer and claimed it was all in the name of being real, spontaneous and fancy-free. Especially when the bulk of my business is spent photographing children, my logic seemed even more solid simply because I couldn't imagine moulding children into poses. I imagined it would feel like playing with a Gumbie doll, bending their arms and legs and hoping they'd stick there until I got the shot. But when I started exploring posing, I discovered that it wasn't all about creating fake personas or even controlling people. Not in the slightest. 49 Awesome Photography Hacks, Mods And DIY Projects.
Following the great demand, here are 49 Awesome Photography Hacks, Mods And DIY Projects.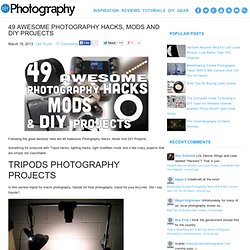 Something for everyone with Tripod hacks, lighting hacks, light modifiers mods and a few crazy projects that are simply not classifiable. In this section tripod for macro photography, tripods for food photography, tripod for your bicycles. Did I say tripods? Here you'll find all your light stand needs. PictureCorrect - Photography Tips and Techniques. Digital Photography Tips: Digital Photography School. Training Gallery. Our student gallery was created to showcase some of the fantastic images produced by the photographers who have attended one of our workshops, subscribe to our online tutorials, or who have received some one-to-one training from David.
You can view the most recent images on this page, or use the menus below to navigate to specific categories or months. If you would like to find out more about a particular image, or leave a comment, just click the title of the entry or the 'notes and comments' tab below it.
---