Online Project Management
Wiggio. Connect Action. Cohuman: Project Management Done Differently. When it comes to web-based task and project management apps, the Web is literally overflowing with them.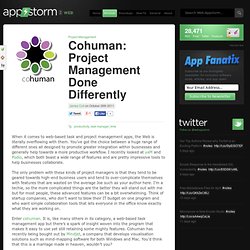 You've got the choice between a huge range of different ones all designed to promote greater integration within businesses and generally help towards a more productive workflow. I recently looked at yaM and Podio, which both boast a wide range of features and are pretty impressive tools to help businesses collaborate. The only problem with these kinds of project managers is that they tend to be geared towards high-end business users and tend to over-complicate themselves with features that are wasted on the average Joe such as your author here. I'm a techie, so the more complicated things are the better they will stand out with me but for most people, these advanced features can be a bit overwhelming. ActiveCollab.
Teambox. TeamLab. Teamwork Project Manager.
Agile Online Project Management. WizeHive. ACE Project. DeskAway. LiquidPlanner. Wrike project management. PlanDone. 5pm.
---