Online Project Management
When it comes to web-based task and project management apps, the Web is literally overflowing with them. You've got the choice between a huge range of different ones all designed to promote greater integration within businesses and generally help towards a more productive workflow. I recently looked at yaM and Podio, which both boast a wide range of features and are pretty impressive tools to help businesses collaborate. The only problem with these kinds of project managers is that they tend to be geared towards high-end business users and tend to over-complicate themselves with features that are wasted on the average Joe such as your author here. I'm a techie, so the more complicated things are the better they will stand out with me but for most people, these advanced features can be a bit overwhelming.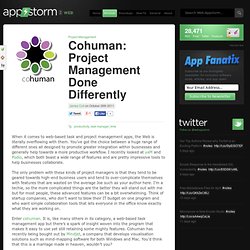 Cohuman: Project Management Done Differently
See why thousands of companies choose activeCollab as their team collaboration and project management tool. Your 30-day free trial includes immediate, unlimited access to full-feature, cloud-based activeCollab. Free trial quick facts: Start using activeCollab immediately Get to work with an unlimited number of team members, clients and projects Sign up without a credit card or contract Absolutely no obligations or restrictions Enjoy full access to all of our features and add-ons!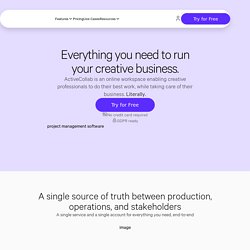 Collaborate with Your Team & Clients Eliminates email hell and puts everything in one place Using Teamwork.com, your team will know what they have to do, when it must be done and who needs to do it. They'll know exactly where to look to find and store everything they need. And so will your clients.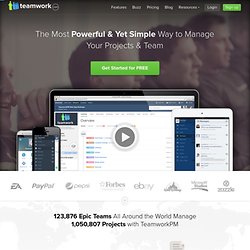 Teamwork Project Manager
Open Source Online Project Management
Agile Online Project Management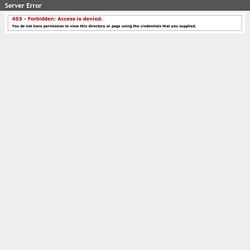 Our customer support staff provides a high level of responsive support. Contact us through email, chat online, or by phone. It is always a pleasure to interact with our users and hear what you have to say, explain a new feature, and better understand your usage of AceProject. With thousands of users everyday, AceProject is dedicated to continually improve and enhance functionality and user experience. This is done through constant communication with our users and feedback via email, online chat, and social media channels.
DeskAway is a smart web-based project collaboration software that provides teams a central place to organize, manage & track work. Nothing to download, install or configure. 100% Web-based. Try it before you buy it.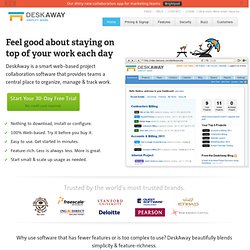 DeskAway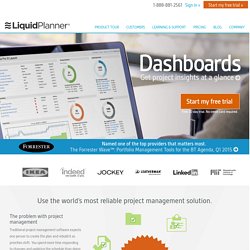 Keep Your Team Happy Professional online project management software with integrated features for scheduling, collaboration, time tracking, analysis and reporting. Flexible best/worst case estimatesMulti-project planning and organizationDrag-n-drop schedulingIntegrated timesheetsIntegrated project portalsCollaboration and file sharingAnalysis and trend reportingEmail and calendar integrationWeb, iPhone, iPad, and Android apps See more LiquidPlanner features » Save Time and Money Today's teams don't have the patience to use Microsoft Project, but basic task managers like Basecamp aren't powerful enough.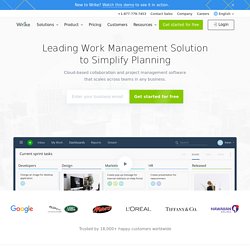 Project management software for everyone "With Wrike's help, we get vastly better results, we get more things done and done faster." Timothy Seward, CEO of ROI Revolution
PlanDone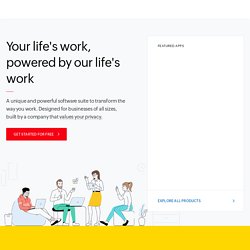 With Zoho, you focus on your business while we take care of the rest with apps that help you get more sales, get paid, support your customers and make your business more productive. "One of our favorite cloud office suites comes from Zoho" "Zoho is the most comprehensive suite of web-based programmes for small businesses..." "I typed this story in Zoho Writer, even though I had never even tried it until this week. So far, so good..." "Zoho CEO Sridhar Vembu weighs in on cloud computing business" More
Highly recommended. Primarily through word-of-mouth alone, Basecamp has become the world's #1 project management tool. For the last 10 years, companies have been switching to Basecamp because it's famously easy-to-use, reliable, and It Just Works™. Combine that with our best-in-the-biz customer service, and you've got a unique and delightful package. Just last week, another 6,119 companies started using Basecamp. A track record you can trust.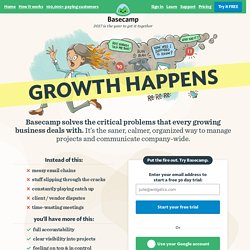 close FREEDCAMP, INC. TERMS OF SALES FREEDCAMP, INC. TERMS AND CONDITIONS PRIVACY POLICY FREEDCAMP, INC. accepts these forms of payment: Credit/debit cards issued by U.S. banks and/or payments through a PayPal account. If a credit card or PayPal account is being used for a transaction, Freedcamp may obtain preapproval for an amount up to the amount of your order.