Applejack
Alcohol in Popular Culture: An ... - Rachel Black. Home Distiller • Index page. It is currently Sun Apr 27, 2014 11:00 am View unanswered posts • View active topics ** Welcome Center ** New to distillation, or simply new to the HD forums.** Your first post should only go here, Introduce yourself .Tell us where your interest lay. ** Moderator: Forum Mods 6010 Topics 39102 Posts Last post by W Pappy Sun Apr 27, 2014 10:01 am New distiller reading Lounge A MUST READ FORUM Place where new distillers can read many of the important documents that help introduce them to distilling.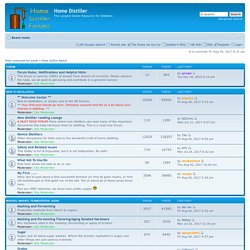 Good Beverages for Fishing, Apple Jack, and other Fermentations of Must. Chucker: Quote from: fishryc on Oct 22, 2005, 10:40 AM Time to prepare our favorite fishing beverages!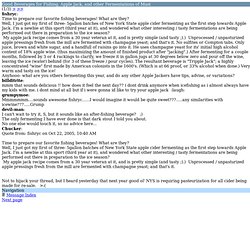 What are they? Well, I just got my first of three- 5gallon batches of New York State apple cider fermenting as the first step towards Apple Jack. Fractional freezing. Fractional freezing is a process used in process engineering and chemistry to separate substances with different melting points.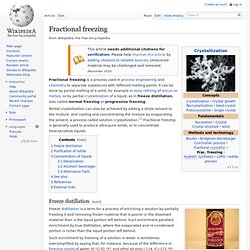 It can be done by partial melting of a solid, for example in zone refining of silicon or metals, or by partial crystallization of a liquid, as in freeze distillation, also called normal freezing or progressive freezing. Partial crystallization can also be achieved by adding a dilute solvent to the mixture, and cooling and concentrating the mixture by evaporating the solvent, a process called solution crystallization.[1] Fractional freezing is generally used to produce ultra-pure solids, or to concentrate heat-sensitive liquids.
Freeze distillation[edit] Eisbock beer (12% alcohol) created via freeze distillation of doppelbock beer. Barrels of beer were originally left outdoors to partially freeze, then the ice removed. How to make Applejack. Chocolate Stout Chocolate Chip Muffins Chocolate stouts are a thing of beauty.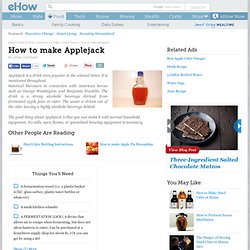 From sweet and rich to dry and savory, I haven't met a chocolate stout I didn't like. When it comes to baking a rich chocolate cake or some unforgettable muffins, this beer lends … 6 Healthy Game Day Snacks I was recently asked to attempt the Ziploc® Fresh 180 "Declare a Team Snack Victory" challenge, which inspired me to come up with cleaner alternatives for game day snack foods everyone would love. Applejack (beverage) Applejack is a strong alcoholic beverage produced from apples, popular in the American colonial period.[1] Applejack was historically made by concentrating cider, either by the traditional method of freeze distillation or by true evaporative distillation.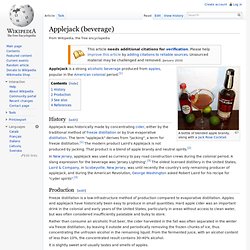 The term "applejack" derives from "jacking", a term for freeze distillation.[1] The modern product Laird's Applejack is not produced by jacking. Recipe -- Corn Squeezins.
---