Applejack
Alcohol in Popular Culture: An ... - Rachel Black
It is currently Mon Mar 25, 2013 8:36 pm Forum Rules, Notifications and Helpful Hints This forum is used by 1000's of people from dozens of countries. Please observe the rules, we all want to get along and contribute in a graceful manner. 30 Topics 272 Posts Last post by rad14701 Sun Sep 18, 2011 6:53 am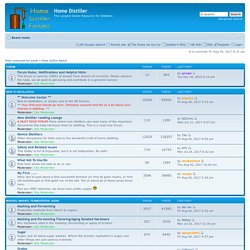 Home Distiller • Index page
Good Beverages for Fishing, Apple Jack, and other Fermentations of Must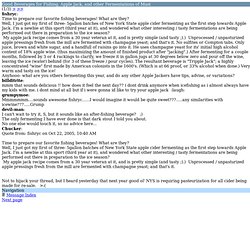 Chucker : Quote from: fishryc on Oct 22, 2005, 10:40 AM Time to prepare our favorite fishing beverages! What are they? Well, I just got my first of three- 5gallon batches of New York State apple cider fermenting as the first step towards Apple Jack.
Fractional freezing
Fractional freezing is a process used in process engineering and chemistry to separate two liquids with different melting points. It can be done by partial melting of a solid, for example in zone refining of silicon or metals , or by partial crystallization of a liquid, for example " freeze distillation ", also called " normal freezing " or " progressive freezing ". Partial crystallization can also be achieved by adding a dilute solvent to the mixture, and cooling and concentrating the mixture by evaporating the solvent, a process called "solution crystallization". [ 1 ] Fractional freezing is generally used to produce ultra-pure solids, or to concentrate heat-sensitive liquids. [ edit ] Freeze distillation Eisbock beer (12% alcohol) created via freeze distillation of doppelbock beer. Barrels of beer were originally left outdoors to partially freeze, then the ice removed.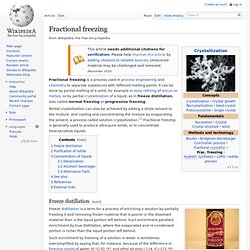 How to make Applejack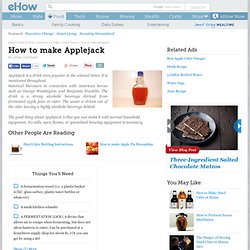 The Fried Chicken to End All Fried Chicken There are, by my count, at least seven levels of fried chicken. The worst of them is good; the best, which I waited forty-four years to find, led to what can only be called an out-of-body experience. Let's start at … Know Your Knives: Josh Ozersky's Comprehensive Guide I have a lot of knives.
Applejack is a strong alcoholic beverage produced from apples , popular in the American colonial period. [ 1 ] [ edit ] History Applejack was historically made by concentrating cider , either by the traditional method of freeze distillation or by true evaporative distillation .
Applejack (beverage)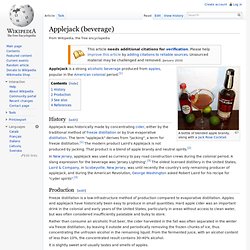 Recipe -- Corn Squeezins