Videos
'One Man Disney Movie' -- A 'Brady Bunch'-Style Medley. Ever make fan videos of yourself lip-synching some popular tunes?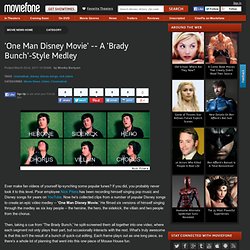 If you did, you probably never took it to this level. Pixar employee Nick Pitera has been recording himself singing pop music and Disney songs for years on YouTube. Now he's collected clips from a number of popular Disney songs to create an epic video medley -- 'One Man Disney Movie.' He filmed six versions of himself singing through the medley as six key people -- the heroine, the hero, the sidekick, the villain and two people from the chorus. Greatest Hits of TED Videos. Sarah Kay: If I should have a daughter ... | Video on TED.com - StumbleUpon.
The 50 Greatest Viral Videos Of 2011 - StumbleUpon.
---