Support
Bienvenue sur PHP Débutant
Une session est en fait un fichier conservé sur le serveur et accessible à vos scripts en fonction d'un identifiant généré à la création. Chaque fois qu'un de vos visiteurs génère une session, un identifiant lui est attribué. Tout ce qui est dans cette session est accessible de partout à vos scripts. On comprend dès lors très vite tout l'intérêt de la chose.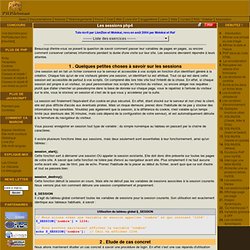 Matériel informatique: les composants de l'ordinateur
des remèdes à vos mots de passe ! - Ophcrack v3.3.1
Toolbar Buttons, Codefisher & Projects
Toolbar Buttons Toolbar Buttons is my most popular add-on. It is as far as I can see the biggest button pack for Firefox. It boasts over 100 buttons for Firefox alone. It also includes a number of buttons for Thunderbird and Sunbird, and though it has less buttons for them as it does for Firefox, it easily surpasses any other add-on available.