Jeux Vidéos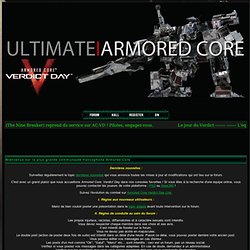 Surveillez régulièrement le topic dernières nouvelles qui vous annonce toutes les mises à jour et modifications qui ont lieu sur le forum. C'est avec un grand plaisir que nous accueillons Armored Core: Verdict Day dans nos consoles favorites ! Si vous êtes à la recherche d'une équipe online, vous pouvez contacter les joueurs de votre plateforme : PS3 ou Xbox360 !
Ultimate AC
Cheats And Codes Our Cheats And Codes Archive is the one of the largest home video and computer game advice destinations on the web. Covering 65 systems from the classic consoles to today's current generation, over 55,000 games and DVDs are now indexed. Our extensive cheats, codes, and hints library also includes FAQs, strategy guides, as well as CodeBreaker, GameShark, and Action Replay codes, creating a resource without equal.[MORE INFO][ENTER]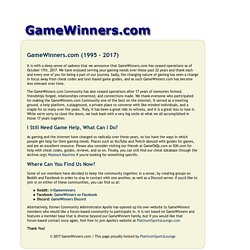 Shogun: Total War Strategies and Hints
Welcome to the STW War Story Webpages
Bonjour à tous et à toutes, La Clinique des Jeux Vidéos ferme ses portes aujourd'hui, avec un peu de retard je l'avoue. Je vous renvois dès à présent vers les sites Lost Treasures Fr, Lankhor.net et RIMAIMBEUR où vous y retrouverez tout ou partie de son contenu, à plus ou moins brève échéance, à commencer par tout ce qui concerne DOSBox.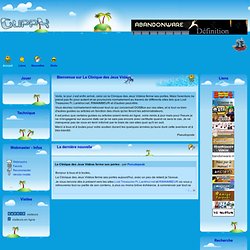 La Clinique des Jeux Vidéos
- 1 - 2 - 3 - 4 - 5 - 6 - 7 - 8 - Conquerors - C2 - C3 - C4 - (légende) Sommaire - 1 - 2 - 3 - 4 - 5 - 6 - 7 - 8 - Conquerors - C2 - C3 - C4 - (légende) Sommaire - 1 - 2 - 3 - 4 - 5 - 6 - 7 - 8 - Conquerors - C2 - C3 - C4 - (légende) Sommaire
Age of empire II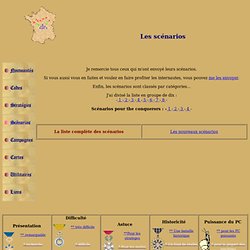 <div id='noscript-overlay-bg'></div><div id='noscript-overlay'><div id='noscript-overlay-inner'><div id='noscript-overlay-close'></div><div class="dialog"><div class="content"><div class="t"></div><div id='noscript-overlay-content'><center><img src='http://cdn.quakelive.com/web/2014031301/images/ql_logo_v2014031301.0.png' width="387" height="96" /><h2>QUAKE LIVE makes extensive use of Javascript.<br /><br /> Please <a href='http://www.google.com/support/adsense/bin/answer.py?answer=12654'>enable Javascript</a> in your browser. </h2></center></div></div><div class="b"><div></div></div></div></div></div> Copy match URL to clipboard Close Overlay (ESC)
QUAKE LIVE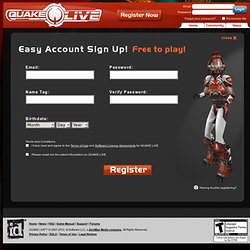 3D Seafight | Jouez à des jeux en ligne | HP Games
"Falling Sand Game", also "World of Sand", (2005) is a Java applet first found on the Dofi Blog via Fark thread, later enlarged and rehosted by Chirag Mehta. The game has been popular on community link sites like Digg and Delicious and involves four main falling particles: sand, water, salt, and oil. Each of these particles have special properties that can be manipulated; among these include burning, desiccating, growing, eroding, and more.
Falling Sand Game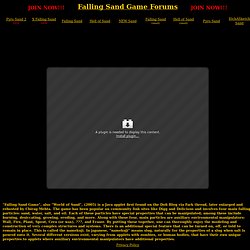 ARMORED CORE OFFICIAL SITE | アーマード・コア オフィシャルサイト
Click to view Printable version This list was originally posted by Kuroi Kenshin and IceBurner, and modified by Gideon Darke (Obesessive Guru). It is put up with permission from Gideon Darke. Zone - Mission Number / Mission Name 1-1 Eliminate Rogue Engineer MWG-SRFX/70 (R-Arm Sniper Rifle) Clear within 85 seconds. 1-2 Escort Transport CAL-33-ROD (Arms) Less than two capacitors destroyed.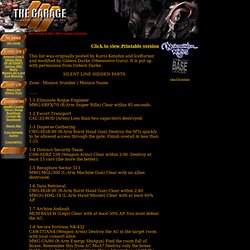 The Garage: Armored Core Series Fan Site (v2.3)