Pinterest
Uniqlo anime Pinterest… How To Syndicate Your Pinterest Boards « Marketing On Pinterest. There is a nice article about how to enhance your Pinterest feed beyond the basic Pinterest functionality over on sociable.co.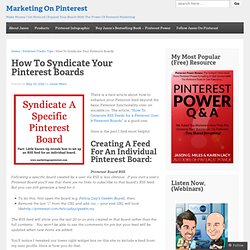 The article, "How To Generate RSS Feeds for a Pinterest User & Pinterest Boards" is a good one. Here is the part I find most helpful: Pinterest: The Next Social Frontier for Music. Pinterest is steadily growing out of the stereotype that it's just for sharing recipes and planning weddings.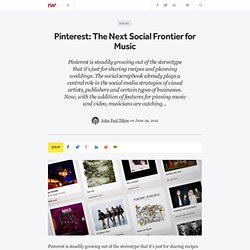 The social scrapbook already plays a central role in the social media strategies of visual artists, publishers and certain types of businesses. Now, with the addition of features for pinning music and video, musicians are catching on. Just as early-adopter bands and artists flocked to Twitter, Tumblr and Instagram, some are experimenting with visual bookmarking on Pinterest. Conventions are emerging as those brave enough to dive in head-first experiment with different approaches.
The most obvious way musicians are using Pinterest is as a collection of visual artifacts from across the Web. Which of the top ten US online retailers are on Pinterest? Pinterest's rapid rise in popularity means it is now the third most popular social network in the US after Facebook and Twitter.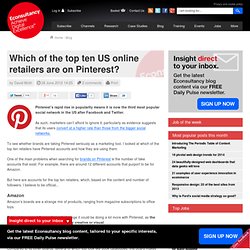 As such, marketers can't afford to ignore it; particularly as evidence suggests that its users convert at a higher rate than those from the bigger social networks. To see whether brands are taking Pinterest seriously as a marketing tool, I looked at which of the top ten retailers have Pinterest accounts and how they are using them. One of the main problems when searching for brands on Pinterest is the number of fake accounts that exist. Tout savoir sur Pinterest - INNOVATION. Doc News: Le réseau social Pinterest existe depuis 2010, pourquoi est-ce en ce début d'année qu'on en parle le plus?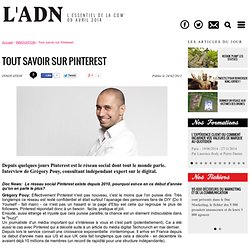 Grégory Pouy: Effectivement Pinterest n'est pas nouveau, c'est le moins que l'on puisse dire. Très longtemps ce réseau est resté confidentiel et était surtout l'apanage des personnes fans de DIY (Do it Yourself - fait main) - ce n'est pas un hasard si la page d'Etsy est celle qui regroupe le plus de followers. Pinterest répondait donc à un besoin : facile, pratique et joli.Ensuite, aussi étrange et injuste que cela puisse paraître, la chance est un élément indiscutable dans le "buzz". Les bonnes astuces pour débuter et bien utiliser Pinterest. Conseilsmarketing.fr a le plaisir de recevoir Stéphane Dangel, spécialiste du Story Telling.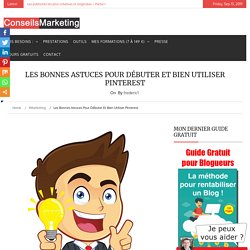 Dans cet article Stéphane nous explique comment utiliser Pinterest, le nouveau service à la mode… Vous ne connaissez pas Pinterest, la dernière coqueluche à la mode ? 16 Ways Educators Can Use Pinterest [INFOGRAPHIC] Teachers are known for their organizational skills, so chances are they'll love Pinterest's intuitive and logical design.
The social network's user experience has helped it earn a top spot among today's most popular social networks. Therefore, we predict that teachers will give it a gold star, too. Our friends at OnlineUniversities.com have put together the following infographic, which details how teachers can use Pinterest to organize lesson plans, distribute curricula, collaborate with other faculty, and even encourage student participation. SEE ALSO: 9 Ways to Engage Your Employees on Pinterest. Brands on Pinterest: To $ or Not to $? [STUDY] Brands should be wary of attaching price tags to the products they pin on Pinterest, a new study from analytics startup Pinreach and Josh Yang, a MBA candidate at Harvard Business School, indicates.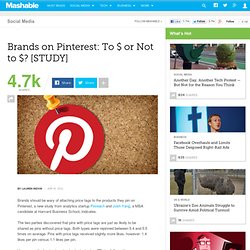 The two parties discovered that pins with price tags are just as likely to be shared as pins without price tags. Both types were repinned between 5.4 and 5.5 times on average. The Ultimate Pinterest Post. Il y a Pinterest… mais aussi les autres (Polyvore, TheFancy, Shopstyle…) Impossible de passer à côté du Buzz de février (avec un "B" majuscule) tellement tout le monde en a parlé.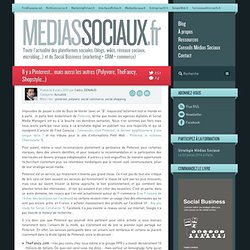 Je parle bien évidemment de Pinterest, terme que toutes les agences digitales et Social Media Managers ont eu à la bouche ces dernières semaines. Nous n'en sommes pas fiers mais nous avons participé nous aussi à ce brouhaha digital en publiant nos avis respectifs et qui se rejoignent (l'article de Fred Cavazza : Connaissez-vous Pinterest, le dernier épiphénomène d'une longue série ? Et ma tribune pour le site d'informations Petit Web : Pinterest, le nouveau Chatroulette ?). Pinterest for retailers and content marketers: infographic. As everyone goes Pinterest crazy, more and more stats are emerging about its potential for online retailers and marketers.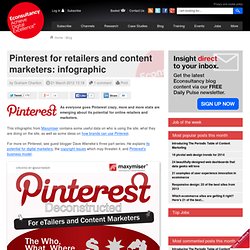 This infographic from Maxymiser contains some useful data on who is using the site, what they are doing on the site, as well as some ideas on how brands can use Pinterest. For more on Pinterest, see guest blogger Dave Wieneke's three part series. He explains its potential for digital marketers, the copyright issues which may threaten it, and Pinterest's business model. The Power of Pinterest. By Internet Marketing Inc: Unless you've been hiding under a rock the past few months, you've probably heard about the up and coming image sharing website known as Pinterest.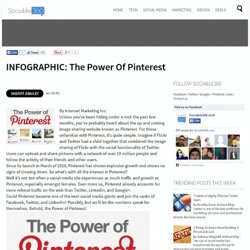 For those unfamiliar with Pinterest, it's quite simple. Imagine if Flickr and Twitter had a child together that combined the image sharing of Flickr with the social functionality of Twitter. The Marketers Guide to People Who Pin. By Erin Ledbetter at IgniteSocialmedia: Unless you're living under a rock, or started boycotting the internet when SOPA was first introduced last year, you've heard Pinterest is growing. But just how much traffic is Pinterest getting these days? According to ComScore, Pinterest has over 4 million users and is rapidly growing. Data from Google Ad Planner below shows nearly 1.5 million unique users are visiting Pinterest daily, and spending an astounding 14+ minutes on the site. Is Pinterest Works Better Than Google+ ?
By Jon Mitchell at ReadWriteWeb: Let's be grown up about this. Pinterest is an app for sharing lists of scrumptious-looking stuff. It's not for girls or guys, it's for people who like looking at things. The story I've heard is that it was designed for architects and designers and "then brides found it. " This is why, my sources explain, it tends toward the jewelry-and-table-settings end of the spectrum. 5 Steps For Increasing Sales With Pinterest.
It's all a buzz. Millions are flocking to Pinterest (over 12 million monthly actives for that matter). Most are women (82%) pinning to boards for weddinginspiration, new fashion styles, and decor ideas for their homes and nurseries. 8 Strategies for Launching a Brand Presence on Pinterest. Pinterest / Home.
---