Searchengine
OneRiot Developer Network. Domainr, the domain name search engine. Search Engine Optimization for WordPress. Search Engine Optimization for WordPress WordPress, straight out of the box, comes ready to embrace search engines.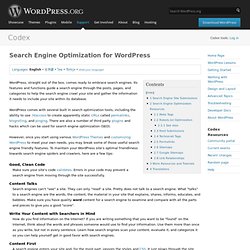 Its features and functions guide a search engine through the posts, pages, and categories to help the search engine crawl your site and gather the information it needs to include your site within its database. WordPress comes with several built in search optimization tools, including the ability to use .htaccess to create apparently static URLs called permalinks, blogrolling, and pinging. There are also a number of third party plugins and hacks which can be used for search engine optimization (SEO).
Search BOSS. BOSS is Yahoo's open search and data services platform.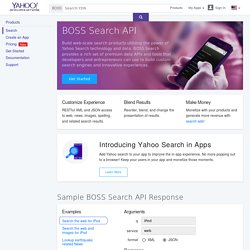 The goal of BOSS is simple: to foster innovation in the search industry. Developers, start-ups, and large Internet companies can use BOSS to build web-scale search products that utilize Yahoo Search technology and data. By combining your unique assets and ideas with our search technology assets, you can build innovative experiences that delight your users. Hyper Estraier: a full-text search system for communities.
---