Actu
Social Commerce, Pinterest And The Future Of Fashion Retail. Editor's note: Leo Chen is a former product manager at Amazon and is currently the co-founder of Monogram, an iPad fashion discovery and shopping app funded by 500 Startups.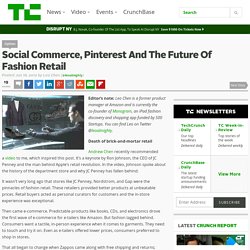 You can find Leo on Twitter @leoalmighty. Death of brick-and-mortar retail Andrew Chen recently recommended a video to me, which inspired this post. It's a keynote by Ron Johnson, the CEO of JC Penney and the man behind Apple's retail revolution. In the video, Johnson spoke about the history of the department store and why JC Penney has fallen behind. UK Daily Deals Aggregator Coupobox Sells Up To DealCollector In Another Sign Of Consolidation. Today comes news of a small but indicative acquisition in the area of daily deals: the UK-based deals aggregator Coupobox has been bought by rival site DealCollector for a song: the price was in the "lower six figures," according to Stavros Prodromou, the founder and former CEO of the company.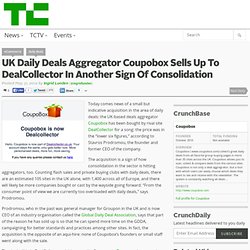 The acquisition is a sign of how consolidation in the sector is hitting aggregators, too. Counting flash sales and private buying clubs with daily deals, there are an estimated 105 sites in the UK alone, with 1,400 across all of Europe, and there will likely be more companies bought or cast by the wayside going forward. One Kings Lane: Decor site confronts competition. Just in time for Thanksgiving, the 17-inch Mauviel aluminum roaster for $179 - normally $300 - could be what makes or breaks this year's turkey.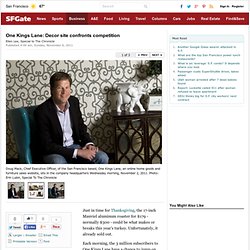 Unfortunately, it already sold out. Each morning, the 3 million subscribers to One Kings Lane have a chance to jump on about six new sales for home decor, from expensive cookware to vintage furniture, all at a discount of up to 70 percent. Some items, such as a small wood key rack, cost as little as $9. Other finds cost much more, such as a one-of-a-kind Hatfield cabinet for $9,999. That sold out, too. Pinterest is On Trend But Does it Convert? How Etsy Turns Artists Into Entrepreneurs [INFOGRAPHIC] Etsy isn't just about coffee koozies and repurposed doilies.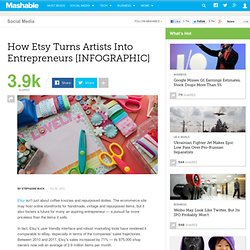 The ecommerce site may host online storefronts for handmade, vintage and repurposed items, but it also fosters a future for many an aspiring entrepreneur — a pursuit far more priceless than the items it sells. In fact, Etsy's user friendly interface and robust marketing tools have rendered it comparable to eBay, especially in terms of the companies' sales trajectories. L'Atelier: Disruptive innovation. Chez AllStar Deals, les forces de vente sont les consommateurs. Dans la veine du SoLoMo, le site de commerce propose aux utilisateurs de démarcher les commerçants près de chez eux pour qu'ils proposent des deals.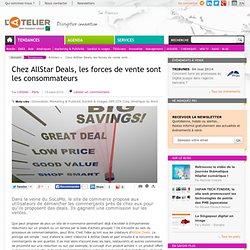 Ils gagnent une commission sur les ventes. Que peut proposer de plus un site de e-commerce permettant déjà d'accéder à d'importantes réductions sur un produit ou un service par le biais d'achats groupés ? De s'investir au sein du processus de commercialisation, peut être. C'est l'idée qu'ont eue les créateurs d'AllStar Deals. How Augmented Reality Is Shaping the Future of Retail. What's the future of retail, and how far away is it?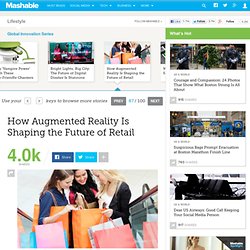 Turns out that in the next couple of years, customers will be able to try on clothes and products at home with no shipping required. Technology will allow shoppers to virtually wear garments — smelling, hearing and feeling the fabric as if it were real. Sound crazy? How Retailers Aim to Bring Shoppers Back to Stores. Shopping online is quick and easy - surfing through Amazon in your underwear means no long lines to deal with or wandering through aisles of stuff to find the one thing you want.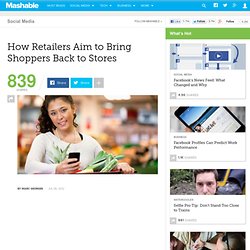 When shoppers do find themselves in a physical location, more often than not they check out a product in person and then use bar code scanning apps to find the best deal for their item online without having to make an in-store purchase. What's a big box retailer to do? 'Lucky' Mag Plans User-Generated Section. Every day, thousands of stylish women upload pictures of their outfits, their hair, their nails — essentially, expressions of their style — to personal blogs.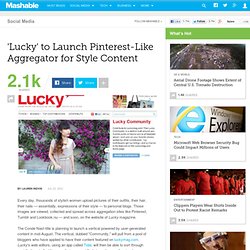 Those images are viewed, collected and spread across aggregation sites like Pinterest, Tumblr and Lookbook.nu — and soon, on the website of Lucky magazine. The Conde Nast-title is planning to launch a vertical powered by user-generated content in mid-August. The vertical, dubbed "Community," will pull from a pool of bloggers who have applied to have their content featured on luckymag.com. Check Out These Awesome Startup Employee Perks. This post originally appeared on the American Express OPEN Forum, where Mashable regularly contributes articles about leveraging social media and technology in small business.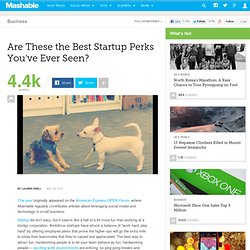 Startup life isn't easy, but it seems like a hell of a lot more fun than working at a stodgy corporation. Ambitious startups have struck a balance of "work hard, play hard" by offering employee perks that prove the higher-ups will go the extra mile to show their teammates that they're valued and appreciated. The best way to attract fun, hardworking people is to let your team behave as fun, hardworking people — exciting work environments are enticing, so ping pong breaks and team lunches should be encouraged, not frowned upon as unnecessary time-sucks.
Behind the Launch: Clashing With Your Co-Founder. Discuss the show on Twitter: #BehindTheLaunch In Mashable's new video series, Behind the Launch, we're taking cameras behind the scenes at Vungle, an in-app video advertising startup.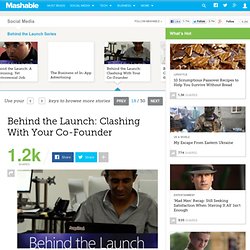 The team has raised $2 million from a high-profile slew of investors, including AOL Ventures, Google Ventures and Dave McClure, but no one knows who or what Vungle is, making it hard to attract top talent. The team decides it's time for the world to hear about Vungle, so they craft their first press release and plan a website redesign. Groupon Now is live! Offers local deals at any time, wherever you are. - TNW Industry. Groupon Now! Is a spin on the traditional Groupon model of offering one deal a day in your local area. Instead of just one deal a day, it offers local deals at any moment of the day. One Kings Lane: From The LAX Arrivals Terminal To $200M In Revenue. As Susan Feldman waited outside the Southwest Airlines arrivals terminal at Los Angeles International Airport in October 2008, she had a nervous feeling in her stomach, which she compares to blind date jitters.
Except this wasn't your traditional blind date. Feldman was meeting Ali Pincus, her soon-to-be co-founder, for the first time. They had spoken over the phone after a mutual friend set them up to discuss the overlap of e-commerce and home goods, but they hadn't met face-to-face. Feldman and Pincus both recall feeling a combination of nervousness and excitement. This wasn't your typical founder story, but four years later, their brainchild, One Kings Lane, would become a business with over 4 million members, with expectations of over $200 million in revenue for this year.
---