Desserts
Get flash to fully experience Pearltrees
1. Preheat oven to Gas mark 3-4 (180°C?). Line muffin pans with paper cases (I doubled each of them up). 2.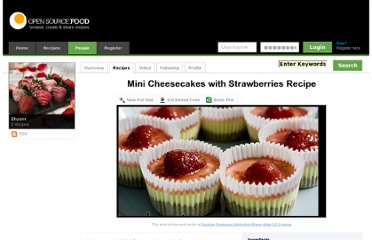 I got a bag of frozen blueberries. Scratch that – I bought a HUGE bag a frozen blueberries to make smoothies with but, turns out I don't like the texture of their skin in it sooooooo… I now have a huge bag of frozen blueberries to use! Of course my first instinct was: Can I make a cake with blueberries? Well of course! I then asked myself, what kind of icing should I make with this cake?
Tuesday, March 27, 2012 Peanut Butter Buttercream Frosting Tops Off a Surprise Filled Cupcake Last week I had a chocolate craving. Nothing new really.
"I changed my mind." My mom shifted the car into park and turned off the ignition before looking over at me. "What do you mean? You can't change your mind now; we're already here." I looked out the window at the hair salon and then turned back to my mom.
I've been in a really good mood lately. Not that it's completely out of the norm, but I've currently had numerous days in a row where I've been uplifted and ready to conquer the world. (In my book, "conquer the world" means getting things done around the house.)
Tempt me with any chocolate and peanut butter dessert and I'll most likely give in. Who can resist such a winning combination? If you are also on the chocolate peanut butter bandwagon, try biting into a soft chocolate cookie and being surprised with a peanut butter filling! Ooh-la-la!
Check out all of Linda's tips and hints on baking cheesecakes: Baking A Perfect Cheesecake Baking Cheesecakes Ahead Of Time Cracks in Cheesecake Cutting Cheesecake How To Freeze Cheesecakes Traveling with Cheesecakes Springform Pans Check Linda's delicious and easy-to-make Cheesecake Recipes . How To Bake Perfect Cheesecakes: I usually bake my cheesecakes 1 1/4 hours or until edges are light brown and center is almost set.