What is "Rio+20" ?
In 1992 a 13 year old girl asked world leaders attending the Rio de Janeiro Earth Summit to stop breaking the planet, if they weren't able to fix it.
High hopes, low expectations « Afronline – The Voice Of Africa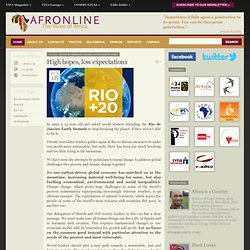 Additional tools Rio+20: United Nations Conference on Sustainable Development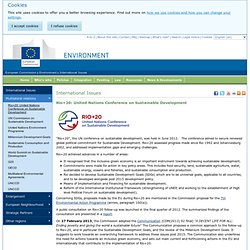 EU positions on Rio+20
Twenty years ago, when the world's leaders pledged to protect Earth's climate and biodiversity at the Rio Earth Summit, they knew it would not be easy.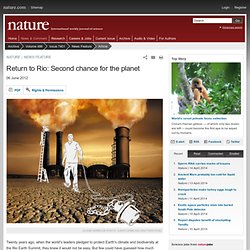 Return to Rio: Second chance for the planet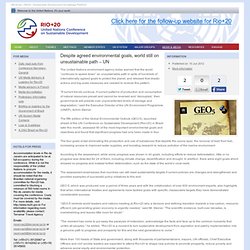 The United Nations environment agency today warned that the world "continues to speed down" an unsustainable path in spite of hundreds of internationally agreed goals to protect the planet, and stressed that drastic actions and big-scale measures are needed to reverse this pattern.
Despite agreed environmental goals, world still on unsustainable path – UN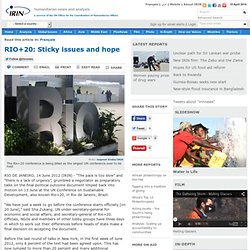 The Rio+20 conference is being billed as the largest UN conference ever to be held RIO DE JANEIRO, 14 June 2012 (IRIN) - "The pace is too slow" and "there is a lack of urgency", grumbled a negotiator as preparatory talks on the final political outcome document limped back into motion on 13 June at the UN Conference on Sustainable Development, also known Rio+20, in Rio de Janeiro, Brazil. "We have just a week to go before the conference starts officially [on 20 June]," said Sha Zukang, UN under-secretary-general for economic and social affairs, and secretary-general of Rio+20. Officials, NGOs and members of other lobby groups have three days in which to work out their differences before heads of state make a final decision on accepting the document. Before the last round of talks in New York, in the first week of June 2012, only 6 percent of the text had been agreed upon.
IRIN Global | RIO+20: Sticky issues and hope | Global | Aid Policy | Early Warning | Environment | Health & Nutrition | Water & Sanitation
BARCELONA, Jun 1, 2012 (IPS) - We are all going through a period of great confusion and uncertainty.
Rio+20 - a Call to Responsibility, a Call to Action
EESC Opinion: The EESC position on the preparation of the United Nations Conference (additional opinion) | European Economic and Social Committee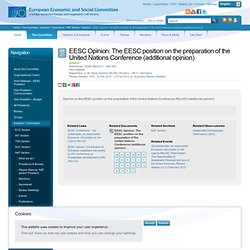 European Economic and Social Committee Skip to navigation Skip to content
Felix Dodds: Slides on Rio+20
Bringing Rio+20 Closer
Rio+20 can make a difference
The global summit in June presents a rare and timely opportunity to unite world leaders and secure a global commitment to sustainable development – we cannot afford to waste it Anyone remember the 2005 UN climate talk in Montreal? It ended late as usual after an all-night negotiating session and rumours of collapse.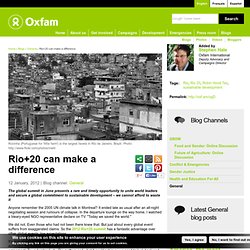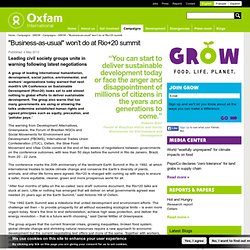 "You can start to deliver sustainable development today or face the anger and disappointment of millions of citizens in the years and generations to come." Rubens Born
"Business-as-usual" won't do at Rio+20 summit
Q&A: Earth Summit Deadlocked Until Eleventh Hour
UNITED NATIONS, May 21, 2012 (IPS) - The 1992 Earth Summit in Rio de Janeiro has been described as one of the largest international conferences in the history of the United Nations, attracting over 20,000 participants, including more than 100 world leaders. The landmark summit, which strongly reaffirmed that environment was an integral part of development, endorsed Agenda 21, a global plan of action for sustainable development, and also the Rio Declaration on Environment and Development. Additionally, the summit also approved the U.N.
After two weeks of closed-door negotiations, the UN preparatory committee PrepCom has failed to reach consensus on a global plan of action, entitled The Future We Want, to be adopted at the Rio+20 summit meeting of world leaders in Brazil next month. The negotiators, comprising representatives of all 193 member states, had limited success beyond reducing the size of the action plan, or "outcome document", from nearly 200 to fewer than 100 pages. The document, called the "zero draft", originally ran to more than 6,000 pages of submissions by member states, international organisations and civil society groups. Kim Sook, the South Korean ambassador to the UN and one of the co-chairs of the PrepCom, said delegates had expressed "disappointment and frustration at the lack of progress" on agreeing a plan aimed at a greener economy and a sustainable future. In an effort to break the deadlock, the PrepCom will revisit the zero draft at an unscheduled five-day session beginning on 29 May.
Deadlock over Rio+20 action plan fuels NGO scepticism about summit's payoff | Global development
Road to Rio+20 :: Join the global youth mobilization!
Two decades later, we are back to the future. The challenges facing humanity today are much the same as then, only larger.
Ban Ki-moon on "The Future We Want"
The Road to Rio™ | Rio+20
Earth Day Network works with partners on the U.S. and international stage, engaging in global policy initiatives to enhance environmental awareness and accelerate the green economy. In May 2012, Brazil will play host to what many expect to be the most decisive international conference of our time, the United Nations Conference on Sustainable Development (informally known as Rio+20) in Rio de Janeiro. Held every ten years, this conference aims to further commit governments to pursue sustainable development.
08/05/2012 at 6:49 am Guest blog by Deirdre Carolan In our world over one billion people live in extreme poverty.
Rio+20 – A Time To Move Forward
"Rio+20" is the short name for the United Nations Conference on Sustainable Development which took place in Rio de Janeiro, Brazil in June 2012 – twenty years after the landmark 1992 Earth Summit in Rio. At the Rio+20 Conference, world leaders, along with thousands of participants from the private sector, NGOs and other groups, came together to shape how we can reduce poverty, advance social equity and ensure environmental protection on an ever more crowded planet.
What is "Rio+20"? - Rio+20 The Future We Want
Rio+20 should prioritise sustainable agriculture, says Caroline Spelman | Global development
Earth Summit 2012