Other
EU Enlargement and the Irish Presidency - Blogs. 23 Oct 2012 James Kilcourse On 10 October 2012, the European Commission adopted its annual Progress Report on the nine countries seeking to join the EU.
The recommendations outlined in the report will be discussed by Member States in December and any decisions taken at this time are likely to take effect during the Irish Presidency. Background Against the backdrop of economic and political crisis in the EU, there have been some positive developments in enlargement policy this year. Energy: Energy Strategy for Europe. Energy Policy. A well conceived energy policy should address the needs and avail of opportunities in social, environmental, technical, regulatory, and economic dimensions.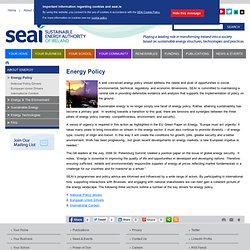 SEAI is committed to maintaining a central role in providing defensible evidence and analysis that supports the implementation of policy on the ground. Sustainable energy is no longer simply one facet of energy policy. Rather, attaining sustainability has become a primary goal. In working towards a transition to this goal, there are tensions and synergies between the three pillars of energy policy (namely: competitiveness, environment, and security). EU biofuels significantly harming food production in developing countries | Environment. EU companies have taken millions of acres of land out of food production in Africa, central America and Asia to grow biofuels for transport, according to development campaigners.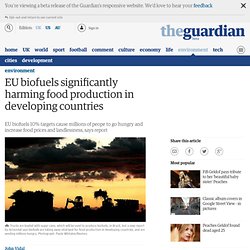 The consequences of European biofuel targets, said the report by ActionAid, could be up to 100 million more hungry people, increased food prices and landlessness. The report says the 2008 decision by EU countries to obtain 10% of all transport fuels from biofuels by 2020 is proving disastrous for poor countries. Developing countries are expected to grow nearly two-thirds of the jatropha, sugar cane and palm oil crops that are mostly used for biofuels. "To meet the EU 10% target, the total land area directly required to grow industrial biofuels in developing countries could reach 17.5m hectares, over half the size of Italy. Additional land will also be required in developed nations, displacing food and animal feed crops onto land in new areas, often in developing countries," says the report.
EU "will not abandon" biofuels in face of criticism. By John Parnell The EU will not abandon biofuels a spokesperson has said.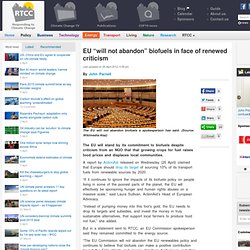 (Source: Wikimedia/Alaz) The EU will stand by its commitment to biofuels despite criticism from an NGO that that growing crops for fuel raises food prices and displaces local communities. A report by ActionAid released on Wednesday (25 April) claimed that Europe should drop its target of sourcing 10% of its transport fuels from renewable sources by 2020. "If it continues to ignore the impacts of its biofuels policy on people living in some of the poorest parts of the planet, the EU will effectively be sponsoring hunger and human rights abuses on a massive scale," said Laura Sullivan, ActionAid's Head of European Advocacy. Biofuels - Trinity College. Over the past several years the changing world energy situation has generated intensive discussion about biofuels, much of it promising a source of environmentally sound energy that would also benefit world farmers.
At the same time biofuels production has raised a variety of concerns about its impacts on agricultural land and natural habitats, food prices and its impact on the poor and about the real reductions in CO2 emissions that biofuels provide.Policy coherence for development means that the EU should avoid damaging developing countries with its policies for renewable energies through biofuels and seek to maximise the beneficial effects. . Biofuels are a wide range of fuels derived from biomass. The term covers solid biomass, liquid biofuels and various biogases. UN: EU Violates Aarhus Convention | Turn 180. The Compliance Committee of the United Nations Economic Commission for Europe (UNECE), which enforces the Aarhus Convention to which the EU is a party, has issued draft findings and recommendations which criticize the European Commission for failing to abide by the terms of the Convention with regards to the determination of its renewable energy policy (1).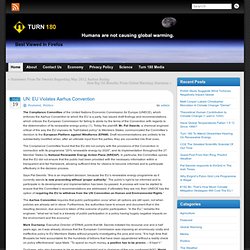 Today the plaintiff, Mr. Pat Swords, a chemical engineer critical of the way the EU imposes its "half-baked policy" to Members States, communicated the Committee's decision to the European Platform against Windfarms (EPAW). Draft recommendations are unlikely to be substantially modified when, after an ultimate input from the parties, they are converted into final ones. Energy. EU Regional Policy. Commission proposes one programming tool for all structural funds. European Commission - Press release Commission proposes one programming tool for all structural funds Brussels, 14 March 2012 - Following the Cohesion Policy proposals of 6th October, and in order to help Member States with their preparations for the next programming period the Commission has today presented the "Common Strategic Framework" (CSF).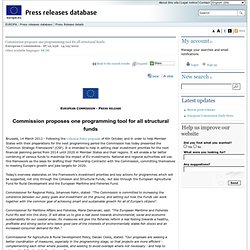 It is intended to help in setting clear investment priorities for the next financial planning period from 2014 until 2020 in Member States and their regions. It will enable a far better combining of various funds to maximise the impact of EU investments. Regional funding budget negotiations.
European Research Area - ERA. EU R&D budget. Today, July 9th the European Commissioner for Research, Innovation and Science, Maire Geoghegan-Quinn announced the next and final set of calls for proposals valued at € 8.1 billion for the EU's 7th RTD Framework Programme with a total budget of €55 billion being allocated for innovative research between 2007-2013.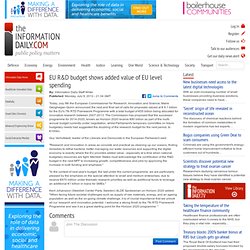 The Commission has proposed that the successor programme for 2014-2020, known as Horizon 2020 receive €80 billion as part of the multi-annual budget currently under negotiation, whilst Parliament's temporary committee on future budgetary needs had suggested the doubling of the research budget for the next period, to €100bn. Guy Verhofstadt, leader of the Liberals and Democrats in the European Parliament said:
Automotive - Enterprise and Industry. 1) To strengthen the competitiveness of the automotive industry The aim is to identify and assess policy issues of significant importance to the competitiveness of the EU automotive industry and to suggest solutions that take into consideration economic, social and environmental objectives. 2) To complete, adapt and simplify the Internal Market regulatory framework The work on improving the Internal Market is built upon the introduction of the EC Whole Vehicle Type-Approval System which allows manufacturers to have a vehicle "type" approved in one Member State and then be able to market the vehicle in all other Member States without further tests. 3) To promote globalisation of the technical regulatory framework through UNECE.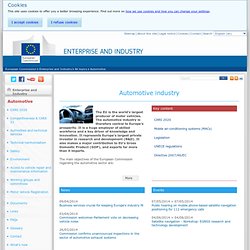 Competitive Automotive Regulatory System for the 21st century - Automotive - Enterprise and Industry. As part of the Commission's modern industrial policy, the CARS 21 (Competitive Automotive Regulatory System for the 21st century) process, which was initially launched in 2005, aims to make recommendations for the short-, medium-, and long-term public policy and regulatory framework of the European automotive industry.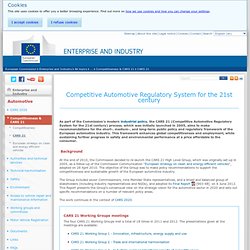 This framework enhances global competitiveness and employment, while sustaining further progress in safety and environmental performance at a price affordable to the consumer. Background At the end of 2010, the Commission decided to re-launch the CARS 21 High Level Group, which was originally set-up in 2005, as a follow-up of the Commission Communication "European strategy on clean and energy-efficient vehicles", adopted on 28 April 2010. The objective of the Group was to make policy recommendations to support the competitiveness and sustainable growth of the European automotive industry. Cars: EU emissions laws. Press release - December 2, 2011 Brussels - The European car industry has been hit by infighting and has failed to agree a unified position on an upcoming EU law regarding vehicle emissions, claimed Greenpeace today.
The chief executives of Europe's biggest car companies gathered for a meeting to decide their lobbying position on the future of EU car efficiency standards this morning. But in a Brussels press conference they told reporters they could not reach an agreement. Car industry restructuring.
---