NGO Admin costs and overheads
Fundraising costs are not a measure of a charity's effectiveness | Voluntary Sector Network | Guardian Professional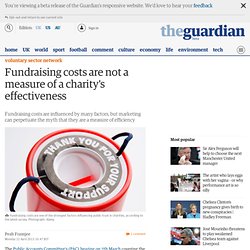 The Public Accounts Committee's (PAC) hearing on 7th March covering the Cup Trust and tax evasion highlighted the importance of public trust and confidence in charities and their principal regulator, the Charity Commission. The latest public trust and confidence in charities survey published by the Charity Commission shows that the vast majority of the public have positive perceptions of charities' conduct and intentions. Three quarters believe that most are trustworthy and act in the public interest.
The TED talk everyone in the social sector is talking about – and what needs to change
Why NOT to use overhead ratios as a way to compare NGOs
29/03/2012 at 2:16 pm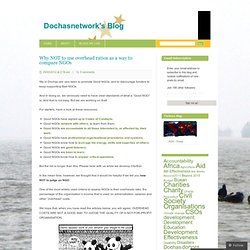 In defence of NGO overhead costs
18/08/2010 at 6:51 am Graham Heaslip, a lecturer at NUI Maynooth, recently published an article in the Irish Times, attempting to clarify some of the challenges facing aid agencies.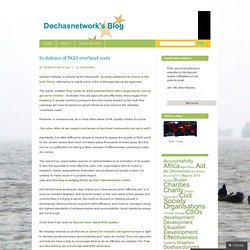 As the network of Irelands Development NGOs, we promote greater transparency and accountability among our members, and . And we know that for NGOs to change, critical external scrutiny is essential. Our are based on the assumption that members of the public will help hold NGOs to account, and we work with politicians and journalists, to promote greater awareness of the work of Irish non-profits.
NGO overhead costs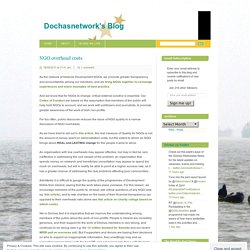 Identifying Effective NGOs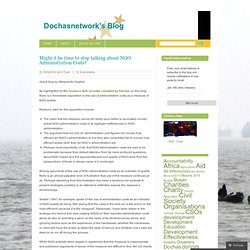 03/04/2012 at 4:15 pm Guest blog by Marguerite Hughes As highlighted by the resource lists recently compiled by Dóchas on this blog, there is a formidable opposition to the use of administration costs as a measure of NGO quality.
Might it be time to stop talking about NGO Administration Costs?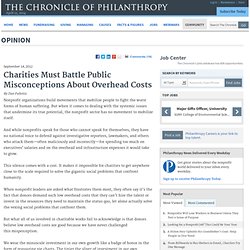 Charities Must Battle Myths About Overheads
By Dan Pallotta Nonprofit organizations build movements that mobilize people to fight the worst forms of human suffering.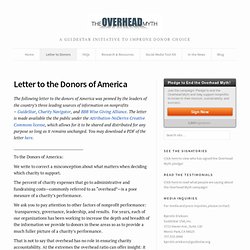 The following letter to the donors of America was penned by the leaders of the country's three leading sources of information on nonprofits – GuideStar, Charity Navigator, and BBB Wise Giving Alliance.
Letter to the Donors of America | The Overhead Myth
The Overhead Myth
Five myths about charitable giving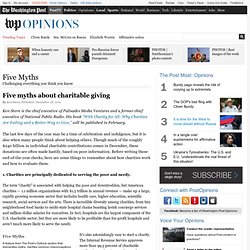 It's also astonishingly easy to start a charity.
Having low administration costs doesn't necessarily mean a charity is high-performing. Photograph: Hulton Getty It's probably the most frequently asked question in the entire charity world.
How to stop donors asking about your administration costs | Voluntary Sector Network | Guardian Professional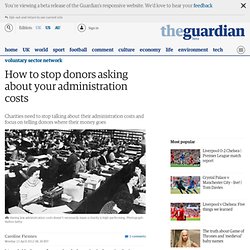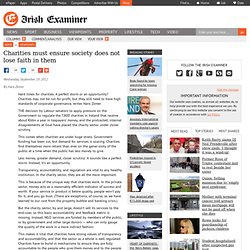 Charities must ensure society does not lose faith in them Wednesday, September 19, 2012
Charities must ensure society does not lose faith in them
Overhead ratios: the amount of revenue that nonprofits spend on overhead expenses, as opposed to program expenses.
» On overhead ratios and why they (don't) matter Good Karma (the blog)
Before giving to charity, do you check to see what percent they spend on overhead? If you are like most people, this is the number one thing you look for before donating.
Lies, White Lies, and Accounting Practices
Barnardo's UK makes an active point of describing how low their overheads are. Whether it's spending money on groceries, mobile phones or charities, we all want bang for our buck.
So what if 90% of money donated goes to the program
By Patrick Sullivan, The NonProfit Times
Survey: Charity Overhead Should Be 23%
Best / Worst Ways to pick a charity
How To Get Bang For Your Donation Buck
Donating to charity is a worthy action. But which charity? Would it surprise you to know that the criterion that is most often used to decide that question is also the most unreliable?
The worst way to judge a charity
Cartoon
Donors Need a Better Way to Rate Charities - World View
Charity Ratings Based on Administration Costs can do More Harm Than Good
Q: Are overhead ratios the perfect measure of NPO efficiency and effectiveness? « Nonprofit update