Green Economy & Value of Nature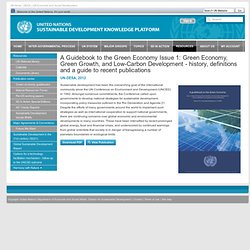 A guidebook to the Green Economy Issue 1: Green Economy, Green Growth, and Low-Carbon Development - history, definitions and a guide to recent publications Sustainable development has been the overarching goal of the international community since the UN Conference on Environment and Development (UNCED) in 1992. Amongst numerous commitments, the Conference called upon governments to develop national strategies for sustainable development, incorporating policy measures outlined in the Rio Declaration and Agenda 21.
Sustainable Development .:. United Nations
About Calendar Multimedia News Publications 中文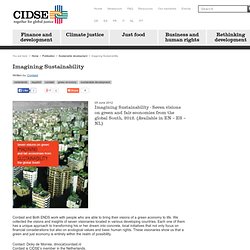 Imagining Sustainability
Cordaid and Both ENDS work with people who are able to bring their visions of a green economy to life.
In the inter-dependent world in which we live, it is becoming increasingly difficult to tell the difference between the language of NGOs and the top tier of progressive business leaders. Just listen to what Paul Polman, CEO of Unilever, one of the world's biggest companies, had to say when I caught up with him after he took part in the launch of the Natural Capital Declaration at the Rio+20 convention centre: "The very essence of capitalism is under threat as business is now seen as a personal wealth accumulator. "We have to bring this world back to sanity and put the greater good ahead of self-interest.
Rio+20: Unilever CEO on the need to battle on to save the world | Guardian Sustainable Business | Guardian Professional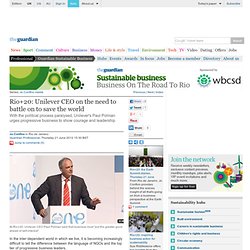 Rio+20 concludes today
Rio+20 Update: Brazil, Denmark, France And South Africa Lead Call For Sustainability Reporting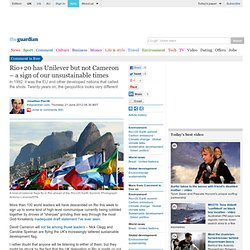 A host of national flags fly in Rio ahead of the Rio+20 Earth Summit. Photograph: Antonio Lacerda/EPA
Rio+20 has Unilever but not Cameron – a sign of our unsustainable times | Jonathon Porritt | Comment is free
plc - Earth Summit 2012: Towards a convention on corporate sustainability reporting at Rio+20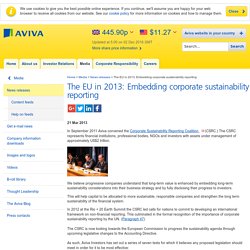 21 Mar 2013 In September 2011 Aviva convened the Corporate Sustainability Reporting Coalition (CSRC.)
Aviva Plc (AV/) and Hermes Asset Management Ltd. are urging stock exchanges to improve the way companies report on sustainability issues, leading calls from investors to introduce common international standards. They'll be joined by non-governmental groups at a United Nations forum in Rio de Janeiro to debate ways to make the financial industry focus on longer-term concerns such as environmental degradation and energy efficiency. The organizations are seeking to standardize and improve sustainability reports, covering water use to emissions, after different rules emerged on world stock exchanges over the past decade.
Hermes, Aviva Urge Stock Exchanges on Sustainability Reports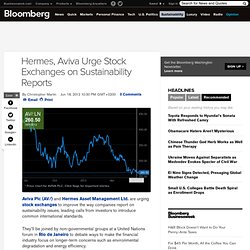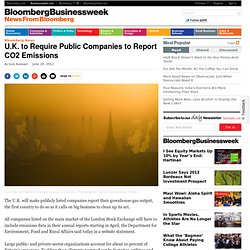 U.K. to Require Companies to Report Emissions
The U.K. will make publicly listed companies report their greenhouse-gas output, the first country to do so as it calls on big business to clean up its act.
Listed companies welcome mandatory greenhouse gas emissions reporting | Energy and Environmental Management (EAEM) Magazine
Stock Exchange-listed companies are to be forced to publish data on their greenhouse gas emissions form next year, deputy prime minister Nick Clegg has announced. This will link their share prices of the 1,800 or so firms listed on the main UK stock market to the cost of emitting climate-warming gases.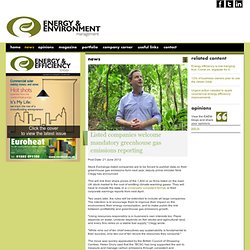 Natural Capital Accounting – English version on Vimeo
Companies try to reduce humanity's footprint
Sustainability rises up corporate agenda
Indigenous Message to Rio+20: Leave Everything Beneath Mother Earth
UXBRIDGE, Canada, Jun 12, 2012 (Tierramérica) - Indigenous leaders from all over South America are making their way by foot, canoe and eventually on buses to be part of the Kari-Oca Caravan to Rio de Janeiro, to talk to world leaders at the United Nations Conference on Sustainable Development, Rio+20.
Forget GDP And Start Measuring Inclusive Wealth
Brazil and India have paid dearly for their rapid economic growth. By conventional measures, these two countries have only grown richer: Gross domestic product (GDP) per capita rose 34% and 120% respectively between 1990 and 2008.
European Commission » Internal Market » Consultation on the EU corporate governance framework
Big business gives its Rio+20 recommendations | RTCC
By John Parnell
Politicians make the policy. But it's often left to business to implement it. For this reason RTCC is featuring submissions from business across the globe in the lead up to Rio+20.
Rio+20 Business Focus: Protecting investments in a sustainable future from corruption | RTCC
Green economy or greedy economy? | World Development Movement
Will Rio+20 Spark a Green Revolution?
'Green Economy' - New Disguise for Old Tricks?
Natural Environment White Paper
Memo to Rio+20: 'green economy' doesn't mean monetising nature | Global development