Green Economy & Value of Nature
Sustainable Development .:. United Nations. A Guidebook to the Green Economy Issue 1: Green Economy, Green Growth, and Low-Carbon Development - history, definitions and a guide to recent publications Sustainable development has been the overarching goal of the international community since the UN Conference on Environment and Development (UNCED) in 1992.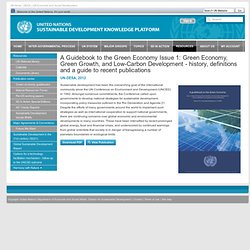 Amongst numerous commitments, the Conference called upon governments to develop national strategies for sustainable development, incorporating policy measures outlined in the Rio Declaration and Agenda 21. Green Economy Initiative - Home. About Calendar Multimedia News Publications 中文.
Imagining Sustainability. Cordaid and Both ENDS work with people who are able to bring their visions of a green economy to life.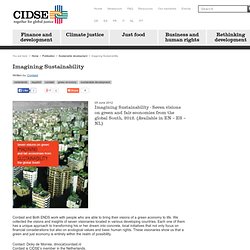 We collected the visions and insights of seven visionaries located in various developing countries. Each one of them has a unique approach to transforming his or her dream into concrete, local initiatives that not only focus on financial considerations but also on ecological values and basic human rights. These visionaries show us that a green and just economy is entirely within the realm of possibility. Contact: Dicky de Morrée, dmo(at)cordaid.nlCordaid is CIDSE's member in the Netherlands. Rio+20: Unilever CEO on the need to battle on to save the world | Guardian Sustainable Business | Guardian Professional. In the inter-dependent world in which we live, it is becoming increasingly difficult to tell the difference between the language of NGOs and the top tier of progressive business leaders.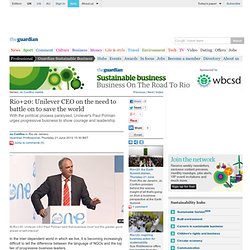 Just listen to what Paul Polman, CEO of Unilever, one of the world's biggest companies, had to say when I caught up with him after he took part in the launch of the Natural Capital Declaration at the Rio+20 convention centre: "The very essence of capitalism is under threat as business is now seen as a personal wealth accumulator. "We have to bring this world back to sanity and put the greater good ahead of self-interest. Rio+20 Update: Brazil, Denmark, France And South Africa Lead Call For Sustainability Reporting. Rio+20 concludes today Sustainability reporting may be a big winner of this week's UN Conference on Sustainable Development in Rio de Janeiro.
Paragraph 47 of Rio+20's outcome document outlines the importance of organizations' commitment to sustainability reporting, and now four governments are leading this charge. The governments of Brazil , Denmark, France and South Africa have formed a group, "Friends of Paragraph 47," to advance sustainability, or corporate social responsibility (CSR) reporting. Rio+20 has Unilever but not Cameron – a sign of our unsustainable times | Jonathon Porritt. A host of national flags fly in Rio ahead of the Rio+20 Earth Summit.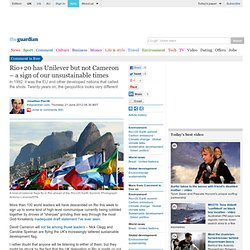 Photograph: Antonio Lacerda/EPA More than 100 world leaders will have descended on Rio this week to sign up to some kind of high-level communique currently being cobbled together by droves of "sherpas" grinding their way through the most God-forsakenly inadequate draft statement I've ever seen. David Cameron will not be among those leaders – Nick Clegg and Caroline Spelman are flying the UK's increasingly tattered sustainable development flag. I rather doubt that anyone will be listening to either of them, but they might be struck by the fact that the UK delegation in Rio is made up not just of ministers and officials but of representatives both of civil society (in the shape of Oxfam and WWF) and of big business (Unilever and Aviva).
I see this as a sign of our unsustainable times. Plc - Earth Summit 2012: Towards a convention on corporate sustainability reporting at Rio+20. 21 Mar 2013 In September 2011 Aviva convened the Corporate Sustainability Reporting Coalition (CSRC.)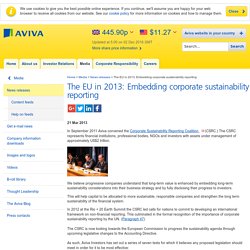 The CSRC represents financial institutions, professional bodies, NGOs and investors with assets under management of approximately US$2 trillion. We believe progressive companies understand that long-term value is enhanced by embedding long-term sustainability considerations into their business strategy and by fully disclosing their progress to investors. This will help capital to be allocated to more sustainable, responsible companies and strengthen the long term sustainability of the financial system. In 2012 at the Rio + 20 Earth Summit the CSRC led calls for nations to commit to developing an international framework on non-financial reporting.
Hermes, Aviva Urge Stock Exchanges on Sustainability Reports. Aviva Plc (AV/) and Hermes Asset Management Ltd. are urging stock exchanges to improve the way companies report on sustainability issues, leading calls from investors to introduce common international standards.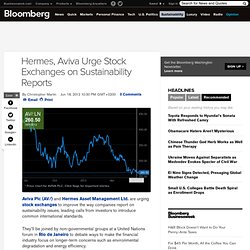 They'll be joined by non-governmental groups at a United Nations forum in Rio de Janeiro to debate ways to make the financial industry focus on longer-term concerns such as environmental degradation and energy efficiency. The organizations are seeking to standardize and improve sustainability reports, covering water use to emissions, after different rules emerged on world stock exchanges over the past decade. U.K. to Require Companies to Report Emissions. The U.K. will make publicly listed companies report their greenhouse-gas output, the first country to do so as it calls on big business to clean up its act.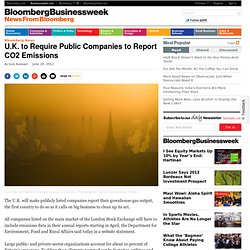 All companies listed on the main market of the London Stock Exchange will have to include emissions data in their annual reports starting in April, the Department for Environment, Food and Rural Affairs said today in a website statement. Large public- and private-sector organizations account for about 10 percent of Britain's emissions. Tackling the pollutants pumped out by factories, utilities and other big companies may help the U.K. meet a European Union target to cut carbon output to 50 percent of 1990 levels by 2025, a goal that's also driven the growth of renewables from wind and biomass to solar power. Listed companies welcome mandatory greenhouse gas emissions reporting | Energy and Environmental Management (EAEM) Magazine. Stock Exchange-listed companies are to be forced to publish data on their greenhouse gas emissions form next year, deputy prime minister Nick Clegg has announced.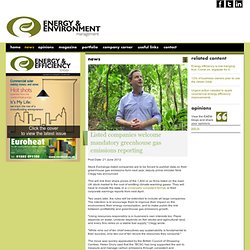 This will link their share prices of the 1,800 or so firms listed on the main UK stock market to the cost of emitting climate-warming gases. They will have to include the data, in a universally consistent format, in their corporate earnings reports from next April. Two years later, the rules will be extended to include all large companies. The intention is to encourage them to improve their impact on the environment, their energy consumption, and to make public the link between profitability and greenhouse gas emissions growth.
"Using resources responsibly is in business's own interests too. Natural Capital Accounting – English version. Companies try to reduce humanity's footprint. Sustainability rises up corporate agenda. Indigenous Message to Rio+20: Leave Everything Beneath Mother Earth. UXBRIDGE, Canada, Jun 12, 2012 (Tierramérica) - Indigenous leaders from all over South America are making their way by foot, canoe and eventually on buses to be part of the Kari-Oca Caravan to Rio de Janeiro, to talk to world leaders at the United Nations Conference on Sustainable Development, Rio+20. "We will be representing thousands of indigenous communities from all over South America," Moi Enomenga, a Waorani leader, told Tierramérica just before he boarded a bus in Quito, Ecuador for the nine-day bus trip to Rio.
Other indigenous leaders will join in along the way. The Waorani are an Amazonian indigenous people who live in eastern Ecuador, in an area of oil drilling activity. Rio+20 is meant to serve as an intergovernmental forum for the adoption of solutions to the global crisis of sustainability, manifested in the repeated failure of the globalised economy, a food shortage, energy problems and global environmental woes like climate change and biodiversity loss. Forget GDP And Start Measuring Inclusive Wealth. Brazil and India have paid dearly for their rapid economic growth. By conventional measures, these two countries have only grown richer: Gross domestic product (GDP) per capita rose 34% and 120% respectively between 1990 and 2008. But the countries' natural wealth has nosedived as their economic activity ballooned. But GDP is not the be all and end all of economic success.
There are other ways to measure the progress of a society. One way to think about economies is as the aggregate of three sorts of capital: physical (infrastructure and the means of production), human (skills and education) and natural capital. European Commission » Internal Market » Consultation on the EU corporate governance framework. Big business gives its Rio+20 recommendations | RTCC. By John Parnell For many, describing what the Rio+20 Summit is trying to achieve is hard enough. Finding actual solutions to achieve them is even harder, as we found out at our Rio+20 Student Workshop. Policymakers heading to Rio, in the meantime are always keen to develop actions, after all, talk is cheap. We all know that business can talk a good game when it comes to environmental protection, green growth and sustainability.
Rio+20 Business Focus: Protecting investments in a sustainable future from corruption | RTCC. Politicians make the policy. But it's often left to business to implement it. For this reason RTCC is featuring submissions from business across the globe in the lead up to Rio+20. Green economy or greedy economy? | World Development Movement.
Will Rio+20 Spark a Green Revolution? 'Green Economy' - New Disguise for Old Tricks? Natural Environment White Paper. Memo to Rio+20: 'green economy' doesn't mean monetising nature | Global development.
---