Pasta
Creamy Mushroom Gnocchi. Most days the thought of bearing my own offspring scares me to death.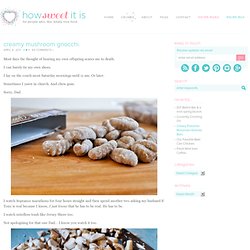 I can barely tie my own shoes. I lay on the couch most Saturday mornings until 11 am. Or later. Sometimes I yawn in church. And chew gum. Spinach, Mushroom, & Ricotta Stuffed Shells | Handle the Heat. 20 Minute Roasted Tomato Pasta. Okay, so maybe I led you on.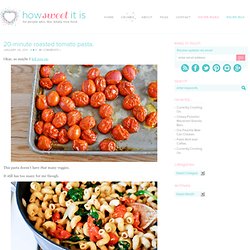 This pasta doesn't have that many veggies. It still has too many for me though. Ginger Lime Shrimp and Noodles. I'm taking it down a notch today.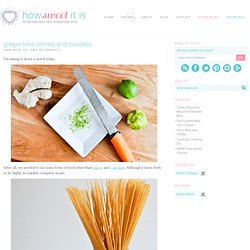 After all, we needed to eat some form of food other than bacon and cupcakes. Although I deem both to be highly acceptable complete meals. Some of you may remember that this time last year, Mr. Crispy Shrimp Pasta with Arugula Pesto. There is one green that I occasionally allow in my life.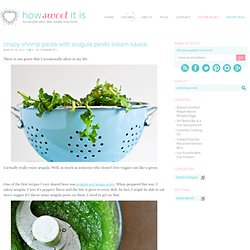 I actually really enjoy arugula. Well, as much as someone who doesn't love veggies can like a green. One of the first recipes I ever shared here was arugula and asiago pesto. Pasta with Tomato Cream Sauce. I have a bit of a problem.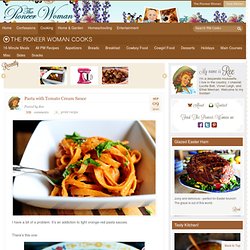 It's an addiction to light orange-red pasta sauces. There's this one: Springy Shells. I know it's bathing suit season and we all need to be more conscious of every bite that enters our yappers so we can all look great in our bikinis.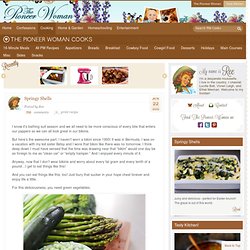 But here's the awesome part: I haven't worn a bikini since 1993! It was in Bermuda. I was on a vacation with my kid sister Betsy and I wore that bikini like there was no tomorrow. I think deep down I must have sensed that the time was drawing near that "bikini" would one day be as foreign to me as "clean car" or "empty hamper." Three Cheese-Stuffed Shells with Meaty Tomato Sauce. This is yummy.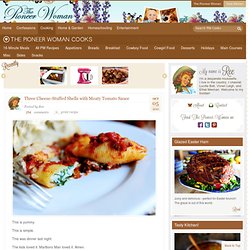 This is simple. This was dinner last night. The kids loved it. A Tasty Recipe: Bacon and Parmesan Pasta – Tasty Kitchen Blog. Bacon.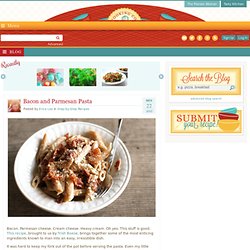 Parmesan cheese. Cream cheese. Heavy cream. Oh yes. Petite Lasagnas « Can You Stay for Dinner? Recipe slightly adapted from Hungry Girl (makes 12) 12 oz raw ground turkey ¼ tsp salt, divided.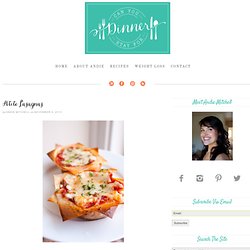 Curried Chicken Pasta Salad. I had some visitors on the ranch last week.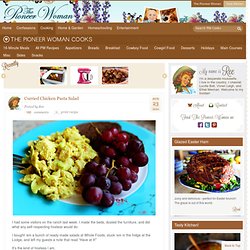 I made the beds, dusted the furniture, and did what any self-respecting hostess would do: I bought 'em a bunch of ready-made salads at Whole Foods, stuck 'em in the fridge at the Lodge, and left my guests a note that read "Have at it!"
---