Desserts
Oreo Cookie Cupcakes. I did tell you guys that I got Martha Stewart's cupcakes book, right?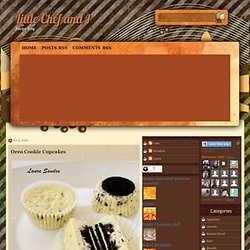 Now I'm making cupcakes and more cupcakes. In our family when it comes to dessert we used the democratic voting system. Who says the politics are not good? nOir Jewelry - Rings. Cookies ?N Cream Oreo Fudge Brownies. Hellooooo, good lookin'!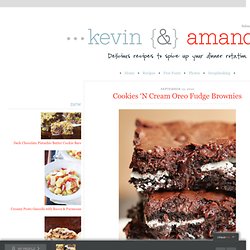 What a way to start the week! :) Last weekend as we were exploring Blue Ridge, GA, we stopped by this charming little bakery. They had all kinds of delicious looking homemade brownies. Oreo brownies, peanut butter brownies, raspberry cream cheese brownies… *groans* Kevin totally had his eye on the Oreo brownies. Chewy No-Bake Nutter Butter Bars. I usually don't post a new recipe on Saturday, but had to share this variation of the chewy cookie bars!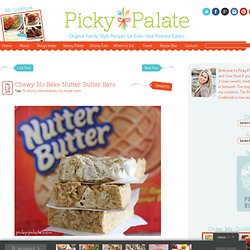 You know I wasn't stopping with just Oreos right? Lol! Frozen Butterbeer for the Deathly Hallows Premiere ? Cook Like a Champion. There's something you might not know about me.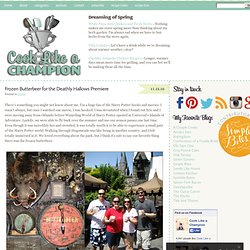 I'm a huge fan of the Harry Potter books and movies. I wasn't always, but once I watched one movie, I was hooked. Oreo Cheesecake Cookies. If you know me, you know that I absolutely, positively love cheesecake.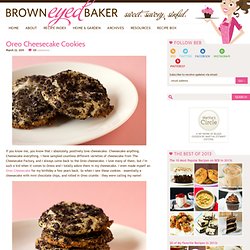 Cheesecake anything. Cheesecake everything. I have sampled countless different varieties of cheesecake from The Cheesecake Factory, and I always come back to the Oreo cheesecake. Fourteen for the Fourteenth. Fourteen Layer Cake.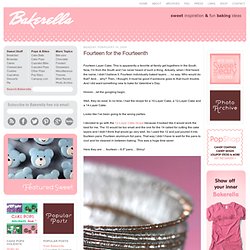 This is apparently a favorite at family get togethers in the South. Now, I'm from the South and I've never heard of such a thing. Actually, when I first heard the name, I didn't believe it. Gimme S'more. Mini Fruit Pies. I love pie.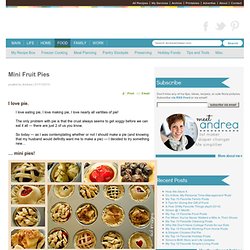 I love eating pie, I love making pie, I love nearly all vartities of pie! The only problem with pie is that the crust always seems to get soggy before we can eat it all — there are just 2 of us you know. So today — as I was contemplating whether or not I should make a pie (and knowing that my husband would definitly want me to make a pie) — I decided to try something new… Chocolate Mousse Cakes, Chocolate Mousse Recipes, Mousse Cakes. Posted by Grace Massa Langlois on Saturday, 19th March 2011 Chocolate, chocolate and more chocolate – try to resist these Triple Chocolate Mousse Cakes – "betcha can't eat just one"!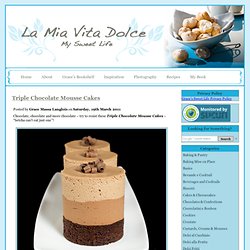 I've faced countless temptations since beginning my "Sweet" journey into desserts but none have been as irresistible as this one. Copycat Candy Recipes. To make all of these Instructables, download this collection of How To's as an ebook.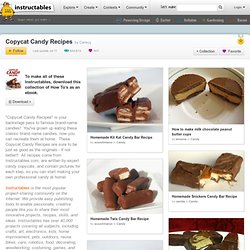 Download » "Copycat Candy Recipes" is your backstage pass to famous brand-name candies! Peanut Butter Stuffed Hot Fudge Cupcakes. Well… it is Fat Tuesday.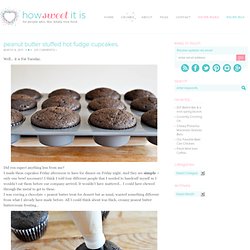 Did you expect anything less from me? I made these cupcakes Friday afternoon to have for dinner on Friday night. Peanut Butter and Jelly Bars. If you want to relive your childhood, have one of these bars. They are basically a peanut butter and jelly explosion. I binged on peanut butter and jelly in my preschool and kindergarten years. For years after, any combination of peanut butter + jelly was extremely unappealing. Step-by-Step: Homemade Fruit Leather – Tasty Kitchen Blog. When it comes to making homemade fruit leather, I will confess that I have been totally and completely intimidated.
I mean, how does one even accomplish such a task? How does fruit go from actual fruit to … leather? With that being said, I spent half of my youth chewing fruit roll-ups and consequently trying to rot my teeth, so I knew that this fruit leather had to be mastered. My mom would stock up on different flavors of fruit leather and it would often disappear within the week. When I came across Georgia's recipe for Homemade Fruit Leather, I just couldn't resist. One Bowl Vanilla Cupcakes For Two.
Let's face it: sometimes we all need a dessert that only makes two servings. Sometimes we just can't handle 12 servings. Sometimes we eat them all by ourselves. Sometimes we eat them all by ourselves in two hours. Sometimes we eat them all by ourselves in a matter of minutes. How To Carry Groceries With A Square Of Cloth (Green Living) The Japanese art of Furoshiki shows how you can carry food, packages, bottles, or virtually anything you can imagine using just a square of silk or nylon cloth. It's fast, easy, versatile, and eco-friendly (no paper OR plastic). And if you're worried about strength, watch how easily it works on a 16 pound bowling ball! Step 1: Heavy Canvas Bags. Love is a temporary madness;… - Goodmorning & Goodnight. No-Bake Chewy Cookies and Cream Bars. Mingmakescupcakes.yolasite.
Caramel-Peanut Butter Bars Recipe. Warm Toasted Marshmallow S'more Bars. Smoked Salt Caramels.
---