Appetizers
French Fries: The No-Guilt Version. There's nothing like a french fried potato.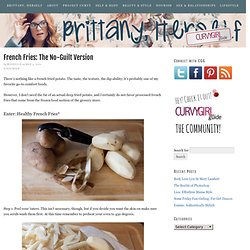 The taste, the texture, the dip-ability; it's probably one of my favorite go-to comfort foods. However, I don't need the fat of an actual deep fried potato, and I certainly do not favor processed french fries that come from the frozen food section of the grocery store. Enter: Healthy French Fries* Step 1: Peel your 'taters. Palestinian Breakfast | Three Many Cooks. Serves 4 Iyad served this to us for breakfast with warm pita, cucumber spears, and tomato and sweet onion wedges, but in less than a week home I can attest it makes a darn good lunch and appetizer. 2 cans (15- to 16 ounces each) fava or pinto beans 2 garlic cloves, minced 1 tablespoon extra-virgin olive oil, plus extra for drizzling 1 large lemon, juiced 2 tablespoons chopped fresh parsley Heat beans in a Dutch oven to a simmer.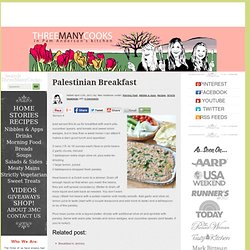 Drain off enough liquid so that when you mash the beans, they are soft spread consistency. (Better to drain off more liquid and add back as needed. Gyoza - Japanese Dumplings. Gyoza.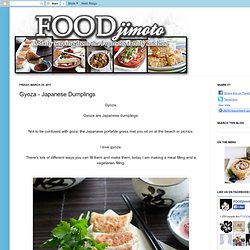 Gyoza are Japanese dumplings. Not to be confused with goza, the Japanese portable grass mat you sit on at the beach or picnics. I love gyoza. There's lots of different ways you can fill them and make them, today I am making a meat filling and a vegetarian filling. Vegetable ingredients: Goat Cheese and Artichoke Dip.
I love artichokes.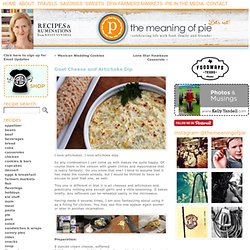 I love artichoke dips. So any combination I can come up with makes me quite happy. Of course there is the version with green chilies and mayonnaise that is really fantastic. Do you know that one? I tend to assume that it has made the rounds already, but I would be thrilled to have an excuse to post that one, as well. Homemade Soft Pretzel Bites. Kramer honestly made these all by himself.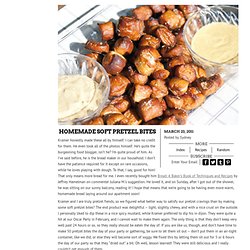 I can take no credit for them. He even took all of the photos himself. He's quite the burgeoning food blogger, isn't he? How Sweet It Is - Part 11. Cilantro Lime Hummus. Look what I found!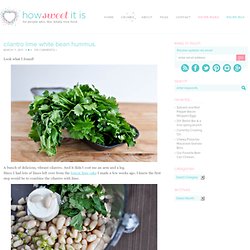 A bunch of delicious, vibrant cilantro. And it didn't cost me an arm and a leg. Since I had lots of limes left over from the lemon lime cake I made a few weeks ago, I knew the first step would be to combine the cilantro with lime. Cilantro reminds me of delicious Mexican food (my favorite cuisine!) , which in turn reminds me of margaritas. Evil chef mom: cheese fritters with balsamic sun-dried tomato dipping sauce.
Don't these look better than fried mozzarella sticks that you get at T.G.I.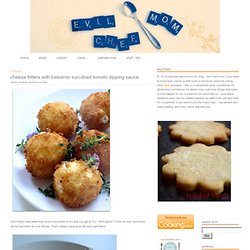 McFuglies? Come on they have fresh thyme sprinkled all over the top. That's called classing up the joint right there. And while I am writing about these make sure you use whole milk ricotta. No Fry Crab Rangoon Recipe. Crab Rangoon I Recipe. Mushrooms Stuffed with Brie. You want to make these.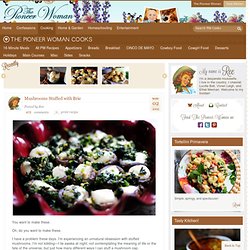 Oh, do you want to make these. I have a problem these days. I'm experiencing an unnatural obsession with stuffed mushrooms. I'm not kidding—I lie awake at night, not contemplating the meaning of life or the fate of the universe, but just how many different ways I can stuff a mushroom cap. French Onion Soup Stuffed Mushrooms. Important note: this recipe has absolutely nothing to do with Thanksgiving.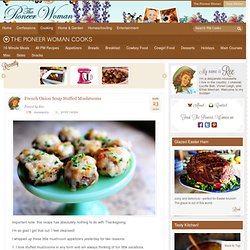 I'm so glad I got that out. I feel cleansed! I whipped up these little mushroom appetizers yesterday for two reasons: Stuffed Mushrooms. Few things in life give me more joy than this.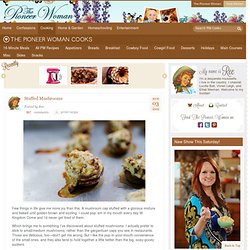 A mushroom cap stuffed with a glorious mixture and baked until golden brown and sizzling. I could pop 'em in my mouth every day till Kingdom Come and I'd never get tired of them. Which brings me to something I've discovered about stuffed mushrooms: I actually prefer to stick to small/medium mushrooms, rather than the gargantuan caps you see in restaurants. Those are delicious, too—don't get me wrong. Bacon-wrapped Jalapeno Chicken Bites. 610K+Add bacon to anything and it will fly off the table. That's what a caterer once told me and I believe it.
Certainly applies here. Whether you're planning a cookout this weekend or cooking indoors (rain predicted here in Texas), grill up a few of these sizzling treats for a quick appetizer or serve as an entree. Bacon-Wrapped Jalapeno Thingies. These are evil. And they must be destroyed. My lovely sister-in-law, Missy, brings these little wonders to my house each Fourth of July and they have made a huge impression on my life. I've decided that I never want to be without them, they're so fundamental to my survival at this point. And they're as simple as it gets: Cream cheese-stuffed jalapenos wrapped in bacon. Cook 'em. Summer Veggie Salsa. As much as I adore summer fruit, summer veggies make my heart melt too. This salsa has been my mom's go-to summer party dish for as long as I can remember, from a cookbook by family friend Diane Worthington. It's a bit time-consuming (be prepared to make best friends with your knife if you're not already), but worth it in a meditative kind of way.
Panko Mozzarella Sticks! – Tasty Kitchen Blog. I first discovered panko bread crumbs back in 1999. Please don't ask me how I know that; I just do. I remember vividly reading a recipe that contained panko bread crumbs, and I remember vividly that I was nursing my second baby, and I remember vividly that I was hormonal and desperate, and the next thing I knew I was ordering panko bread crumbs from some market in Chelsea that the magazine recommended. Steak Bites. Today I'll show you how to make my gourmet Steak Bites, which are actually about as UN-gourmet as it gets. But they're fun to make, easy, and go a long way toward promoting peace and tranquility among the male species. They just love these simple suckers. I did NOT just call MEN "simple suckers." Tapenade Recipe : Alton Brown. Goat Cheese with Fresh Dill and Paprika. Homemade Ranch Dressing. Hot Olive & Artichoke Dip.
---