Web Design
Making an Interactive Picture with jQuery. In this tutorial I will be showing you how to piece together an interactive picture – aka an image that contains tooltips and popup boxes.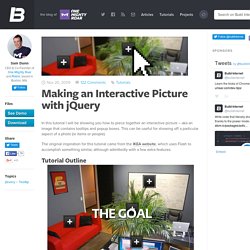 This can be useful for showing off a particular aspect of a photo (ie items or people). The original inspiration for this tutorial came from the IKEA website, which uses Flash to accomplish something similar, although admittedly with a few extra features. Create a free website and a free blog. " It's a way our clients can get to know us and see our culture without physically visiting the store.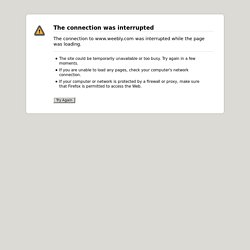 I couldn't believe I got the site up and running over one weekend." " I have been an entrepreneur for many, years, but suddenly my art licensing is really coming together and I need to have a simple, bold statement about my art. Stopping & Starting HTML Marquees. This page contains code that allows you to stop and start HTML marquees with your mouse.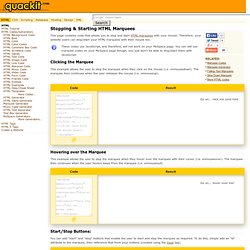 Therefore, your website users can stop/start your HTML marquees with their mouse too. These codes use JavaScript, and therefore, will not work on your MySpace page. You can still use marquee codes on your MySpace page though, you just won't be able to stop/start them with JavaScript. Clicking the Marquee. Tribune: Website Calendars for Media. You've probably heard of widgets, also known as gadgets or docklets.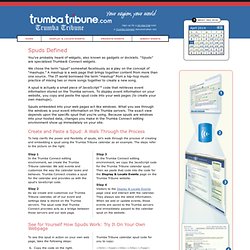 "Spuds" are specialized Trumba® Connect widgets. We chose the term "spud" somewhat facetiously as a play on the concept of "mashups." A mashup is a web page that brings together content from more than one source. The IT world borrowed the term "mashup" from a hip-hop music practice of mixing two or more songs together to create a new song. Code Year. Sharendipity - Create Rich Internet Applications without writing a single line of code.
• Create a Free Website with our Website Builder - Jimdo.
---