Educational Resources for Teachers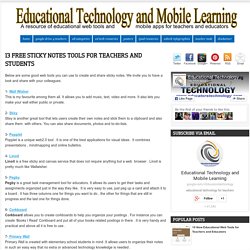 Yesterday as I was working on some sticky notes with my students It dawned on me to share with my readers here in Educational Technology and Mobile Learning some of the free online web tools that allow its users to easily and intuitively create sticky notes. I checked into the archive I have here and through some other online resources and came up with this list. read and share.
Google Docs - Viewer
The Technology Integration Matrix (TIM) illustrates how teachers can use technology to enhance learning for K-12 students. The TIM incorporates five interdependent characteristics of meaningful learning environments: active, constructive, goal directed (i.e., reflective), authentic, and collaborative (Jonassen, Howland, Moore, & Marra, 2003).