Verticals
Get flash to fully experience Pearltrees
kloudtrack® Announces Version 6.0 of SaaS|Cloud Technology and New kloudcapture™ Module ROCKVILLE, MD and ANNAPOLIS, MD – March 23, 2010 – kloudtrack®/Kaulkin Information Systems (kloudtrack®), a leading provider of software-as-a-service and cloud-computing (SaaS|Cloud) technologies, today announced general availability of Version 6.0 of the company's kloudtrack® technology platform. The company's flagship product offering kloudtrack integrates multiple SaaS application "modules," delivered via a cloud computing architecture, that are designed to address the business process, data management, compliance and risk mitigation needs of businesses particularly in heavily-regulated and risk-sensitive industries.
Tricare's slow response to massive data loss could raise the risk The theft last month of backup computer tapes containing the medical records of nearly 5 million military personnel was not reported to the public for more than two weeks, and active and retired personnel will have to wait another four to six weeks before finding out if their records are at risk. The Tricare Management Activity, which runs the Defense Department health care program for millions of active-duty, reserve and retired military members, their dependents and survivors, said it waited because "we did not want to raise undue alarm in our beneficiaries."
There are 3 basic types of Project Management Office (PMO) organisations, varying in the degree of control and influence they have on projects within the organisation. You will need to determine which type you need to establish in order to have an effective project office. The 3 types of PMOs include: 1. Supportive PMO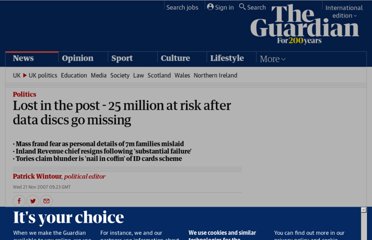 The government was forced to admit the most fundamental breach of faith between the state and citizen yesterday when it disclosed that the personal records of 25 million individuals, including their dates of birth, addresses, bank accounts and national insurance numbers had been lost in the post, opening up the threat of mass identity fraud and theft from personal bank accounts. MPs gasped when the chancellor, Alistair Darling, told the Commons that discs containing personal details from 7.25 million families claiming child benefit had been lost. They went missing in the internal post after a junior official at HM Revenue & Customs in Washington, Tyne and Wear, breached all government security rules by sending them by courier to the National Audit Office in London. A frantic, secret police-led search over the past week has been unable to locate the discs, containing information on half the British population, sent by unrecorded post.
The Sarbanes-Oxley Act of 2002 (often shortened to SOX ) is legislation enacted in response to the high-profile Enron and WorldCom financial scandals to protect shareholders and the general public from accounting errors and fraudulent practices in the enterprise. The act is administered by the Securities and Exchange Commission ( SEC ), which sets deadlines for compliance and publishes rules on requirements. Sarbanes-Oxley is not a set of business practices and does not specify how a business should store records; rather, it defines which records are to be stored and for how long. The legislation not only affects the financial side of corporations, it also affects the IT departments whose job it is to store a corporation's electronic records. The Sarbanes-Oxley Act states that all business records, including electronic records and electronic messages, must be saved for "not less than five years."