Wallpaper
777 HD Wallpapers for Nerds. Welcome to an absolutely massive collection of HD backgrounds. 777 of them.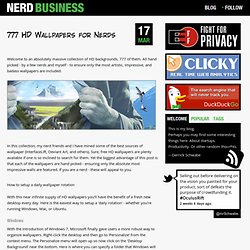 All hand picked - by a few nerds and myself - to ensure only the most artistic, impressive, and badass wallpapers are included. In this collection, my nerd friends and I have mined some of the best sources of wallpaper (InterfaceLift, Deviant Art, and others). Sure, free HD wallpapers are plenty available if one is so inclined to search for them. Yet the biggest advantage of this post is that each of the wallpapers are hand picked - ensuring only the absolute most impressive walls are featured.
Wallpaper sorted by Date. Sorted by Date There are 3319 free desktop wallpapers available below.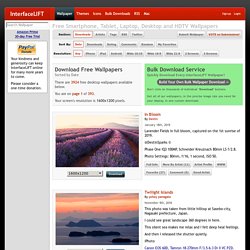 You are on page 1 of 332. 218 HD Resolution Desktop Wallpapers for Nerds. Here are 218 HD resolution wallpapers.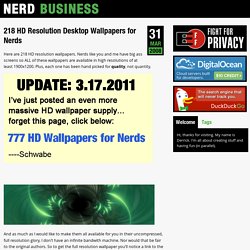 Nerds like you and me have big ass screens so ALL of these wallpapers are available in high resolutions of at least 1900x1200. Plus, each one has been hand picked for quality, not quantity. And as much as I would like to make them all available for you in their uncompressed, full resolution glory, I don't have an infinite bandwith machine. Nor would that be fair to the original authors. So to get the full resolution wallpaper you'll notice a link to the source conveniently displayed along with the wallpaper's title and resolution.
Wallpaper Images - Mike Swanson's Blog. Dream Desktop - New Wallpapers and Games Everyday.
---