PHP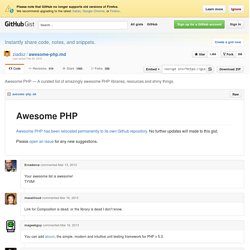 Awesome PHP Libraries and Resources
Hey @ziadoz, very nice list and thank you for adding my projects to it! I just wanted to give you a heads up on some of my projects listed. Version has been deprecated in favor of my newer semantic version handling library. It is also called Version, but hosted under my herrera-io organization.
10.1.4 Connection Character Sets and Collations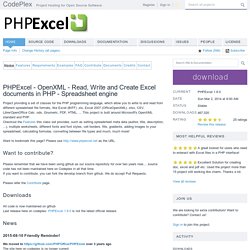 Project providing a set of classes for the PHP programming language, which allow you to write to and read from different spreadsheet file formats, like Excel (BIFF) .xls, Excel 2007 (OfficeOpenXML) .xlsx, CSV, Libre/OpenOffice Calc .ods, Gnumeric, PDF, HTML, ... This project is built around Microsoft's OpenXML standard and PHP.Checkout the Features this class set provides, such as setting spreadsheet meta data (author, title, description, ...), multiple worksheets, different fonts and font styles, cell borders, fills, gradients, adding images to your spreadsheet, calculating formulas, converting between file types and much, much more! Want to bookmark this page? Please use http://www.phpexcel.net as the URL. Want to contribute? Please remember that we have been using github as our source repository for over a year now.... source code has not been maintained here on Codeplex in all that time.
Welcome to Ohloh Code, the world's largest, most comprehensive free code search engine! Koders has now merged with Ohloh to become your one-stop resource for both code and analysis. Check out our FAQ for more info. Other operators: ctor: Constructor definitions edef: Enum definitions ctordec: Constructor declarations fdef: Field definitions dtor: Destructor definitions odef: Object definitions
PHP ss_zip Class