PHP
Twitter API
Awesome PHP Libraries and Resources. Hey @ziadoz, very nice list and thank you for adding my projects to it!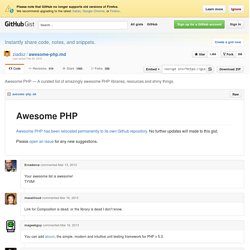 I just wanted to give you a heads up on some of my projects listed. Version has been deprecated in favor of my newer semantic version handling library. It is also called Version, but hosted under my herrera-io organization. 10.1.4 Connection Character Sets and Collations. Propel. PHPExcel. PHP ss_zip Class. Welcome to Ohloh Code, the world's largest, most comprehensive free code search engine!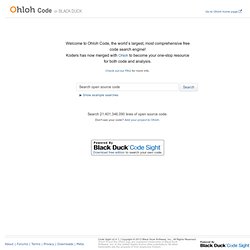 Koders has now merged with Ohloh to become your one-stop resource for both code and analysis. Check out our FAQ for more info. Other operators: ctor: Constructor definitions edef: Enum definitions ctordec: Constructor declarations fdef: Field definitions dtor: Destructor definitions odef: Object definitions. Symfony | Web PHP Framework. PHP Manual.
---