Music
DIO "Holy Diver"
Classical Music - ArkivMusic
Дом музыки Описание концерта
Bobby McFerrin - Drive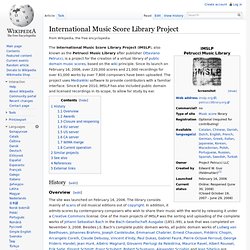 International Music Score Library Project - Wikipedia, the free
The International Music Score Library Project ( IMSLP ), also known as the Petrucci Music Library after publisher Ottaviano Petrucci , is a project for the creation of a virtual library of public domain music scores , based on the wiki principle. Since its launch on February 16, 2006, over 220,000 scores and 21,000 recordings for over 61,000 works by over 7,800 composers have been uploaded. The project uses MediaWiki software to provide contributors with a familiar interface. Since 6 June 2010, IMSLP has also included public domain and licensed recordings in its scope, to allow for study by ear. [ edit ] History
Download Free Mp3 Songs, Lyrics, Albums And Charts @ Get-Music.n
Lecture 21 (aka ' Lezione 21' ' Lesson 21' ) is a 2008 British - Italian film written and directed by Alessandro Baricco and starring John Hurt , Noah Taylor and Leonor Watling . The film is in English . The film is set in 1824, 1997 and 2007 and tells the tale of a Professor ( John Hurt ) delivering a lecture about a musician ( Noah Taylor ) coming to a remote village in the mountains to better understand Beethoven's 9th symphony before he dies. The film is presented as a documentary , as Leonor Watling and her friends recall the lesson, the audience views what happens as though it were real. The lesson is interspersed with documentary-style interviews of a variety of musicians, who provide a secondary narration . It also features Clive Russell , Matthew T.
Lecture 21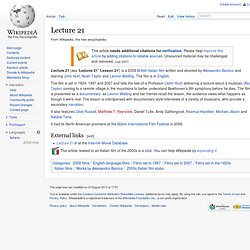 Diego Stocco - Motherboard | VBS.TV