Books and Literature
CARMILLA by J. Sheridan LeFanu. An Early Fright In Styria, we, though by no means magnificent people, inhabit a castle, or schloss.
A small income, in that part of the world, goes a great way. ManyBooks.net - Ad-free eBooks for your iPad, smartphone, or eBook reader. THE FALLEN. Grimmtmp from cmu.edu - StumbleUpon. This book contains 209 tales collected by the brothers Grimm.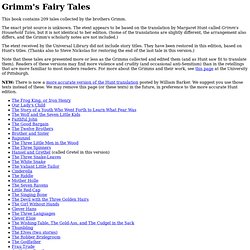 The exact print source is unknown. The etext appears to be based on the translation by Margaret Hunt called Grimm's Household Tales, but it is not identical to her edition. (Some of the translations are slightly different, the arrangement also differs, and the Grimm's scholarly notes are not included.) The etext received by the Universal Library did not include story titles. Get (Almost) Any Book For Free: 100+ (Kosher) Sites Offering Great Literature for Download. By Tiffany Davis Reading a book is fun, but when you forget it at home, are bored at work, looking to get ahead on your reading for your online bachelor degree class, or are just curious to get a sneak peek at whatever you ordered from Amazon, online book sites can be handy too.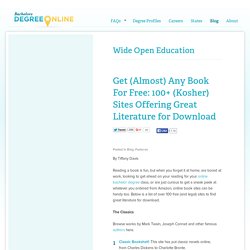 Below is a list of over 100 free (and legal) sites to find great literature for download. Online Books, Poems, Short Stories - Read Print Library.
---