Buddhism/Dharma/Rigpa
The Gampopa Center in Annapolis Maryland. Sogyal Rinpoche. Dzogchen Monastery. Rigpa International. Rigpa US. Rigpa Washington DC. Rigpé Yeshé. Rigpa Youth. Dzogchen Beara. Dechen Shying Spiritual Care Centre. Spiritual Care Programme. RIGPA Distance Learning Home. Rigpa Shedra. Rigpa Shedra Wiki. Rigpa | Lerab Ling. What meditation really is | Meditation blog. Do you start your work meetings with a couple of minutes of meditation?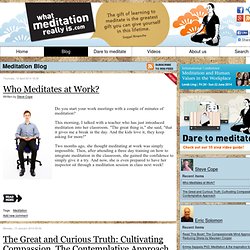 This morning, I talked with a teacher who has just introduced meditation into her classroom. "The great thing is," she said, "that it gives me a break in the day. Dare to Meditate video tutorial. Zam store. Tenzingyatsoinstitute. Tergar - Yongey Mingyur Rinpoche's International Meditation Community. Five Colleges Tibetan Studies in India Program. As part of an ongoing academic exchange program with the Tibetan universities in exile in India, each year the Five Colleges send up to fifteen students to spend January term studying Buddhist philosophy, Tibetan history and culture, and Tibetan textual analysis in an intensive program taught by the faculty of the Central Institute of Higher Tibetan Studies in Sarnath, India.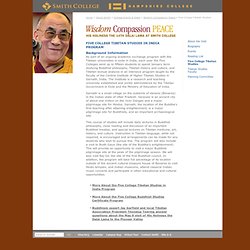 The Institute is a research and teaching university established and jointly administered by the Tibetan Government in Exile and the Ministry of Education of India. Sarnath is a small village on the outskirts of Varansi (Benares) in the Indian state of Uttar Pradesh. Varanasi is an ancient city of about one million on the river Ganges and a major pilgrimage site for Hindus. The Pundarika Foundation. Tibet Partnership | Emory-Tibet Science Initiative. A Landmark Undertaking for the Convergence of Science and Spirituality History In February 2006, Geshe Lhakdor, Director of the Library of Tibetan Works and Archives, visited Emory University as a Halle Distinguished Fellow.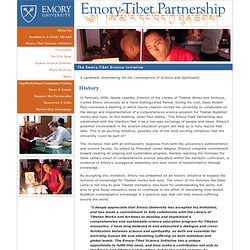 During his visit, Dean Robert Paul convened a meeting in which Geshe Lhakdor invited the university to collaborate on the design and implementation of a comprehensive science program for Tibetan Buddhist monks and nuns. In this meeting, Dean Paul stated, "The Emory-Tibet Partnership was established with the intention that it be a two-way exchange of people and ideas. Emory's potential involvement in the science education project will help us to fully realize that idea. The Office of His Holiness The Dalai Lama.
---