Buddhism/Dharma/Rigpa
The Gampopa center is a nonprofit center that teaches the Buddha Dharma in Annapolis. We hold teachings and spriritual practice several times a week at our center located at 424 Fourth Street in Eastport. Our schedule can be found on our events page.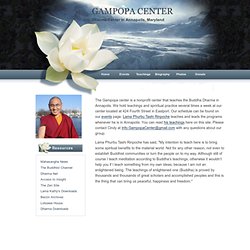 The Gampopa Center in Annapolis Maryland
**Personal message from Sogyal Rinpoche on the passing of his brother, Thigyal Lakar** Dear friends, With sadness, I wish to convey the news of the passing of my beloved brother Thigyal Lakar. Thigyal la passed away peacefully early in th...e morning of 26 February, near our main retreat centre of Lerab Ling in the south of France. He was guided at the moment of death by Kyabjé Dodrupchen Rinpoche, for whom he had tremendous devotion. Many other great masters and practitioners have conducted practices and offered their prayers for Thigyal la.
Sogyal Rinpoche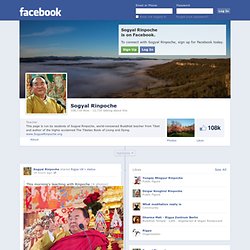 Dzogchen Monastery
Rigpa International
Rigpa US
RIGPA is a Tibetan word which means "the innermost nature of the mind." Sogyal Rinpoche gave the name "Rigpa" to his work and to the vehicle he was developing to serve the Buddha's teaching in the west. Now an international network with centers and groups in eleven countries around the world, Rigpa seeks: To make the teachings of Buddha available to benefit as many people as possible, and To offer those following the Buddhist teachings a complete path of study and practice, along with the environment they need to explore the teachings to their fullest. Welcome to the Washington, DC Rigpa website.
Rigpa Washington DC
Rigpé Yeshé
Rigpa Youth
Dzogchen Beara
Dechen Shying Spiritual Care Centre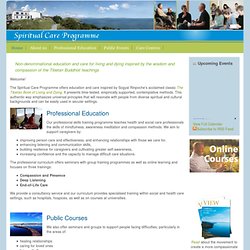 Spiritual Care Programme
Non-denominational education and care for living and dying inspired by the wisdom and compassion of the Tibetan Buddhist teachings Welcome! The Spiritual Care Programme offers education and care inspired by Sogyal Rinpoche's acclaimed classic The Tibetan Book of Living and Dying. It presents time-tested, empirically supported, contemplative methods.
RIGPA Distance Learning Home
Bodog General info Bodog was founded by Calvin Ayre in the year 1994. Bodog poker has in the past few years undergone a number of changes, to improve it. Bodog is found worldwide, following a business model. Bodog is licensed under Morris Mohawk gaming group. The main service offered is online gambling in the established areas.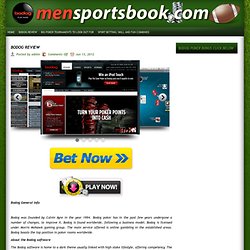 Rigpa Shedra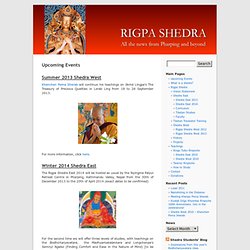 Upcoming Events Summer 2013 Shedra West Khenchen Pema Sherab will continue his teachings on Jikmé Lingpa's The Treasury of Precious Qualities in Lerab Ling from 18 to 28 September 2013.
Rigpa Shedra Wiki
Rigpa | Lerab Ling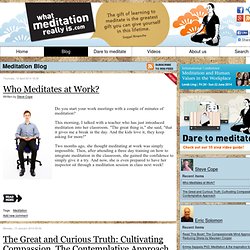 Do you start your work meetings with a couple of minutes of meditation? This morning, I talked with a teacher who has just introduced meditation into her classroom. "The great thing is," she said, "that it gives me a break in the day.
Dare to Meditate video tutorial
Zam store
tenzingyatsoinstitute
Tergar - Yongey Mingyur Rinpoche's International Meditation Community
Five Colleges Tibetan Studies in India Program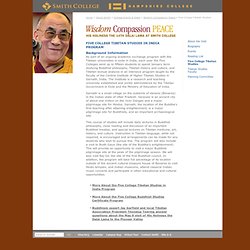 As part of an ongoing academic exchange program with the Tibetan universities in exile in India, each year the Five Colleges send up to fifteen students to spend January term studying Buddhist philosophy, Tibetan history and culture, and Tibetan textual analysis in an intensive program taught by the faculty of the Central Institute of Higher Tibetan Studies in Sarnath, India. The Institute is a research and teaching university established and jointly administered by the Tibetan Government in Exile and the Ministry of Education of India. Sarnath is a small village on the outskirts of Varansi (Benares) in the Indian state of Uttar Pradesh. Varanasi is an ancient city of about one million on the river Ganges and a major pilgrimage site for Hindus.
The Pundarika Foundation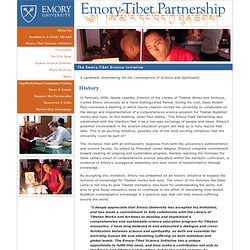 A Landmark Undertaking for the Convergence of Science and Spirituality History In February 2006, Geshe Lhakdor, Director of the Library of Tibetan Works and Archives, visited Emory University as a Halle Distinguished Fellow. During his visit, Dean Robert Paul convened a meeting in which Geshe Lhakdor invited the university to collaborate on the design and implementation of a comprehensive science program for Tibetan Buddhist monks and nuns. In this meeting, Dean Paul stated, "The Emory-Tibet Partnership was established with the intention that it be a two-way exchange of people and ideas. Emory's potential involvement in the science education project will help us to fully realize that idea.
Tibet Partnership | Emory-Tibet Science Initiative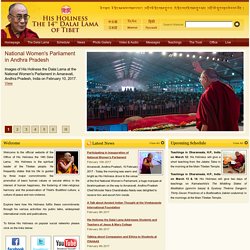 Welcome to the official website of the Office of His Holiness the 14th Dalai Lama. His Holiness is the spiritual leader of the Tibetan people. He frequently states that his life is guided by three major commitments: the promotion of basic human values or secular ethics in the interest of human happiness, the fostering of inter-religious harmony and the preservation of Tibet's Buddhist culture, a culture of peace and non-violence. Explore here how His Holiness fulfils these commitments through his various activities his public talks, widespread international visits and publications. To follow His Holiness on popular social networks please click on the links below: