Genetics
Get flash to fully experience Pearltrees
<object classid="clsid:D27CDB6E-AE6D-11cf-96B8-444553540000" codebase="http://download.macromedia.com/pub/shockwave/cabs/flash/swflash.cab#version=9,0,28,0" width="920" height="518" title="scale"><param name="movie" value="/content/begin/cells/scale/Scale.swf" /><param name="FlashVars" value="mydate=2519" /><param name="quality" value="high" /><embed src="/content/begin/cells/scale/Scale.swf" quality="high" pluginspage="http://www.adobe.com/shockwave/download/download.cgi?P1_Prod_Version=ShockwaveFlash" type="application/x-shockwave-flash" width="920" height="518"></embed></object> Some cells are visible to the unaided eye The smallest objects that the unaided human eye can see are about 0.1 mm long.
Each of Morgan's six levels builds upon the concepts presented in the previous one.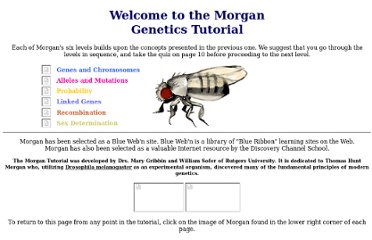 Genetics Practice Problems You may type in your own answers, then check to see if you were right.
Punnett Squares Punnett Squares are diagrams used by scientists to help them to figure out how inherited traits (characteristics) will be distributed.
Summary: Using a computer connected to the Internet, the student will construct and use Punnett squares of monohybrid crosses to explain how genetic traits are passed to offspring.