Black History
Uncle Tom's Cabin & American Culture
Slavery and the Making of America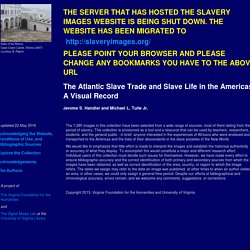 The 1,280 images in this collection have been selected from a wide range of sources, most of them dating from the period of slavery. This collection is envisioned as a tool and a resource that can be used by teachers, researchers, students, and the general public - in brief, anyone interested in the experiences of Africans who were enslaved and transported to the Americas and the lives of their descendants in the slave societies of the New World. We would like to emphasize that little effort is made to interpret the images and establish the historical authenticity or accuracy of what they display. To accomplish this would constitute a major and different research effort. Individual users of this collection must decide such issues for themselves.
Slavery Survey Map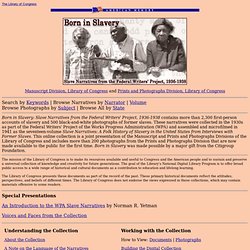 The Library of Congress Manuscript Division, Library of Congress and Prints and Photographs Division, Library of Congress Search by Keywords | Browse Narratives by Narrator | VolumeBrowse Photographs by Subject | Browse All by State Born in Slavery: Slave Narratives from the Federal Writers' Project, 1936-1938 contains more than 2,300 first-person accounts of slavery and 500 black-and-white photographs of former slaves. These narratives were collected in the 1930s as part of the Federal Writers' Project of the Works Progress Administration (WPA) and assembled and microfilmed in 1941 as the seventeen-volume Slave Narratives: A Folk History of Slavery in the United States from Interviews with Former Slaves.
Born in Slavery: Slave Narratives from the Federal Writers' Project, 1936-1938
Please add escholastic@emailer.scholastic.com to your address book. We hope you enjoyed receiving this message from Scholastic Online Tools. Your email address is: dmccormack@affton.k12.mo.us. If you would rather not receive newsletters from Scholastic Online Tools, please follow this link. Email Marketing, Scholastic, 557 Broadway, New York, NY 10012 | 1-800-SCHOLASTIC Privacy Policy | Scholastic Inc. | Terms of Use
URR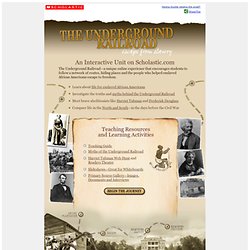 Black History Month brings to the forefront the inspiring stories of African-American icons—many of whom overcame great odds to leave their mark on the United States. In celebration of Black History Month, explore our Black History collection and learn more about the black individuals who have made extraordinary achievements in their fields, including inventors such as George Washington Carver, activists like Malcolm X and Rosa Parks, athletes such as Willie Mays and Michael Jordan, and entertainers like Bessie Smith and Oprah Winfrey. Their names, as well as their personal histories, have become synonymous with the rich legacy that is African-American culture.
Black History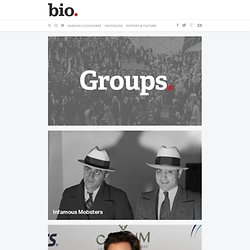 A Black History Internet Scavenger Hunt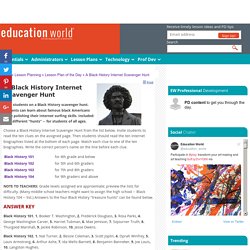 Send students on a Black History scavenger hunt. Students can learn about famous black Americans while polishing their Internet surfing skills. Included: Four different "hunts" -- for students of all ages. Choose a Black History Internet Scavenger Hunt from the list below. Invite students to read the ten clues on the assigned page. Then students should read the ten Internet biographies listed at the bottom of each page.
Africans in America
America's journey through slavery is presented in four parts. For each era, you'll find a historical Narrative, a Resource Bank of images, documents, stories, biographies, and commentaries, and a Teacher's Guide for using the content of the Web site and television series in U.S. history courses.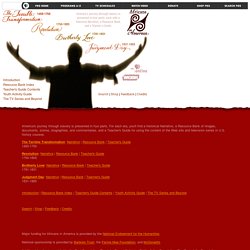 The African-American Mosaic Exhibition
The exhibition The African American Odyssey: A Quest for Full Citizenship, showcases the incomparable African American collections of the Library of Congress. Displaying more than 240 items, including books, government documents, manuscripts, maps, musical scores, plays, films, and recordings, this is the largest black history exhibit ever held at the Library, and the first exhibition of any kind to feature presentations in all three of the Library's buildings. The major presentation in the Jefferson Building, The African American Odyssey: A Quest for Full Citizenship, explores black America's quest for equality from the early national period through the twentieth century.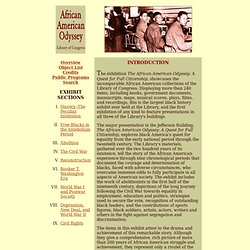 African American Odyssey: A Quest for Full Citizenship