Variadini
Wonderwall - StumbleUpon. - StumbleUpon. Your source of daily updated funny pictures and gifs. - StumbleUpon. Wanelo - Find unique products and stores you have never heard of. Myplasticheart :: Designer Toys, Art Toys, Urban Vinyl Toys & Art Culture. The Designer Pad - Straight To The&HeART - StumbleUpon. I consider myself a very crafty person and love everything handmade.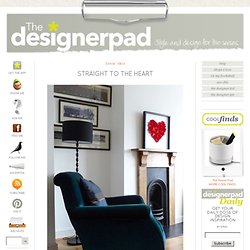 I'm always delighted to see how others use their creativity to transform everyday materials into something unexpected and beautiful. When I stumbled upon these lovely heart pieces in Bloesem I was immediately seduced by them, especially by their sculptural vive. These personalized handmade Hearts are the creation of Brit artist Veronika, founder of the design studio Sarah & Bendrix. The funny thing is that it all started with a piece she made for a friend as a wedding present and everyone started asking about the artist...and the rest is history.
You can tell she puts a lot of love, care and attention in each one of her creations. Travel | Hotel Huettenpalast in Berlin - StumbleUpon. Everyone is looking for something different in their hotel experience—some crave numerous amenities; some look for a spot with interesting architecture or an otherwise unforgettable space; and some just want a cheap bed to crash on.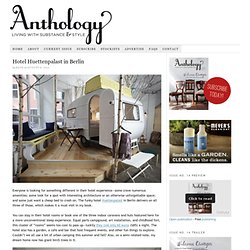 The funky hotel Huettenpalast in Berlin delivers on all three of those, which makes it a must visit in my book. You can stay in their hotel rooms or book one of the three indoor caravans and huts featured here for a more unconventional sleep experience. Equal parts campgound, art installation, and childhood fort, this cluster of "rooms" seems too cool to pass up—luckily they cost only 60 euros ($85) a night. The hotel also has a garden, a cafe and bar that host frequent events, and other fun things to explore. Couldn't we all use a bit of urban camping this summer and fall?
---