WallSt
Black Marks Routinely Expunged From Brokers' Records, Report Finds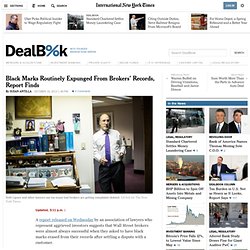 Uli Seit for The New York TimesSeth Lipner and other lawyers say too many bad brokers are getting complaints deleted. Updated, 5:11 p.m. | The Financial Industry Regulatory Authority, the private corporation that is the brokerage industry's self-financed policing arm, has long provided a public database, known as BrokerCheck, to expose some of the bad behaviors of Wall Street. Investors often rely on the organization's database as a repository of red flags.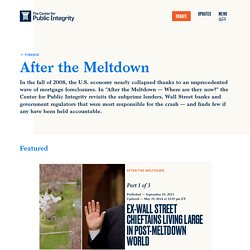 After the Meltdown | Center for Public Integrity
Before Lehman crashed, there was "The Bear." Bear Stearns, once the nation's fifth-largest investment bank, had been a fixture on Wall Street since 1923 and had survived the crash of 1929 without laying off any employees. But in 2008, its customers and creditors didn't much care about its storied history. They were worried that the billions of dollars of mortgage-backed securities on its books weren't worth what the company claimed.
Promontory Financial Draws Washington Scrutiny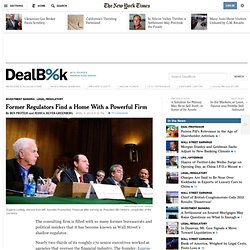 Alex Wong/Getty Images Eugene Ludwig, second from left, founded Promontory Financial after serving as President Bill Clinton's comptroller of the currency. The consulting firm is filled with so many former bureaucrats and political insiders that it has become known as Wall Street's shadow regulator. Nearly two-thirds of its roughly 170 senior executives worked at agencies that oversee the financial industry. The founder, Eugene A. Ludwig , is a former comptroller of the currency and a law school friend of Bill Clinton ; the latest hire, Mary L.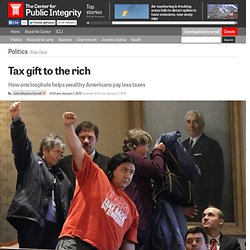 Tax gift to the rich
Todd Dagres, a prominent venture capitalist and independent movie producer, earned $3.5 million in 2003, and paid not a cent in federal income tax. The IRS challenged the math, and sent Dagres a bill for $981,980 in back taxes, plus $196,369 in penalties. So Dagres lawyered up.
Occupy Wall St news hub @ Demotix.com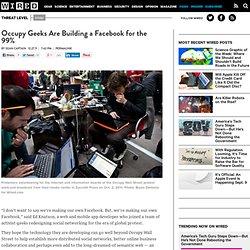 "I don't want to say we're making our own Facebook. But, we're making our own Facebook," said Ed Knutson, a web and mobile app developer who joined a team of activist-geeks redesigning social networking for the era of global protest.
#F29 OWS - Matt Taibbi's Teach-In at Bryant Park, NYC (Part 1 of 4)
The Tweeted Times - #occupy #ows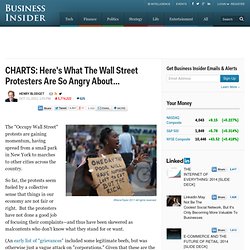 The "Occupy Wall Street" protests are gaining momentum, having spread from a small park in New York to marches to other cities across the country. So far, the protests seem fueled by a collective sense that things in our economy are not fair or right. But the protesters have not done a good job of focusing their complaints—and thus have been skewered as malcontents who don't know what they stand for or want.
My Advice to the Occupy Wall Street Protesters | Politics News | Rolling Stone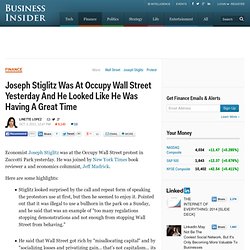 Joseph Stiglitz Was At Occupy Wall Street Yesterday And He Looked Like He Was Having A Great Time
Economist Joseph Stiglitz was at the Occupy Wall Street protest in Zuccotti Park yesterday. He was joined by New York Times book reviewer a and economics columnist, Jeff Madrick . Here are some highlights:
Wall Street Mocks Protesters By Drinking Champagne 2011
Kalle Lasn spends most nights shuffling clippings into a binder of plastic sleeves, each of which represents one page of an issue of Adbusters , a bimonthly magazine that he founded and edits.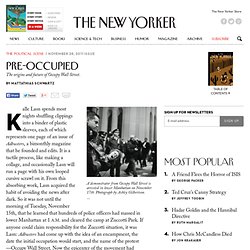 Kalle Lasn and Micah White, the Creators of Occupy Wall Street
A Vision of Post-Clicktivist Activism
Clicktivism is a Trojan horse, a tactical malware, deployed by a dying American empire. What better way to cripple the revolutionary potential of a whole generation than to embed the logic of the marketplace within the very tools that would-be revolutionaries use?
A few months ago, I came across an announcement that Citigroup, the parent company of Citibank, was to be honored, along with its chief executive, Vikram Pandit, for "Advancing the Field of Asset Building in America."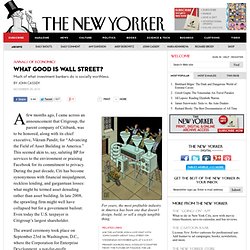 Citigroup Inc. (C) and Bank of America Corp. (BAC) were the reigning champions of finance in 2006 as home prices peaked, leading the 10 biggest U.S. banks and brokerage firms to their best year ever with $104 billion of profits.
Treasury Secretary Henry Paulson stepped off the elevator into the Third Avenue offices of hedge fund Eton Park Capital Management LP in Manhattan. It was July 21, 2008, and market fears were mounting. Four months earlier, Bear Stearns Cos. had sold itself for just $10 a share to JPMorgan Chase & Co.
How Paulson Gave Hedge Funds Advance Word
Stop payment! A homeowners' revolt against the banks—By Christopher Ketcham
Revealed: huge increase in executive pay for America's top bosses | Business
John Hammergren, CEO of healthcare provider McKesson, earned $145m last year. Photograph: George Nikitin/AP
60 Minutes Shames Justice Department Over Wall Street
Bill Moyers Journal . Watch & Listen
This URL is broken. See: http://pear.ly/gtfzO by dmaculate Oct 5
Is the SEC Covering Up Wall Street Crimes? | Rolling Stone Politics
This URL is broken. See: http://pear.ly/gtfCy by dmaculate Oct 5
Looting Main Street | Politics News | Rolling Stone
Wall Street's Naked Swindle | Politics News | Rolling Stone
Wall Street's Bailout Hustle | Politics News | Rolling Stone
A Christmas Message From America's Rich | | Rolling Stone
Neil Barofsky's Journey Into a Bailout Buzz Saw — Fair Game
Nearly four years after Washington began its huge rescues of banks with taxpayer dollars, an important player in this, one of the great financial dramas of all time, is offering a damning account of how the Bush and Obama administrations handled the whole episode. He is Neil Barofsky. Remember him — the man whose job it was to police the $700 billion ?
Too Big to Jail?
The Last Mystery of the Financial Crisis | Politics News
Illustration by Victor Juhasz April 25, 2013 1:00 PM ET C onspiracy theorists of the world, believers in the hidden hands of the Rothschilds and the Masons and the Illuminati, we skeptics owe you an apology.
Schneiderman Sues Three Big Banks, MERS for Deceptive Practices, Illegal Foreclosures
Lesson of JPMorgan's Whale Trade: Nothing Was Learned
Matt Taibbi on Democracy Now!: Bank of America Fraud