US debt & deficit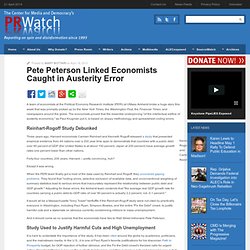 Pete Peterson Linked Economists Caught in Austerity Error
Share this A team of economists at the Political Economy Research Institute (PERI) at UMass Amherst broke a huge story this week that was promptly picked up by the New York Times , the Washington Post , the Financial Times , and newspapers around the globe. The economists proved that the essential underpinning "of the intellectual edifice of austerity economics," as Paul Krugman put it, is based on sloppy methodology and spreadsheet coding errors. Reinhart-Rogoff Study Debunked Kenneth Rogoff and Carmen Reinhart Three years ago, Harvard economists Carmen Reinhart and Kenneth Rogoff released a study that presented empirical evidence from 44 nations over a 200 year time span to demonstrate that countries with a public debt over 90 percent of GDP (the United States is at about 100 percent, Japan at 200 percent) have average growth rates one percent lower than other nations. Forty-four countries, 200 years, Harvard -- pretty convincing, huh?
Does High Public Debt Consistently Stifle Economic Growth? A Critique of Reinhart and Rogo ff Abstract: Herndon, Ash and Pollin replicate Reinhart and Rogoff (2010a and 2010b) and find that coding errors, selective exclusion of available data, and unconventional weighting of summary statistics lead to serious errors that inaccurately represent the relationship between public debt and GDP growth among 20 advanced economies in the post-war period. They find that when properly calculated, the average real GDP growth rate for countries carrying a public-debt-to-GDP ratio of over 90 percent is actually 2.2 percent, not -0:1 percent as published in Reinhart and Rogo ff.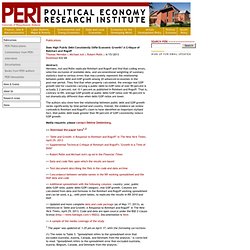 PERI: : Does High Public Debt Consistently Stifle Economic Growth? A Critique of Reinhart and Rogo ff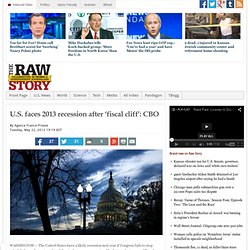 U.S. faces 2013 recession after 'fiscal cliff': CBO
By Agence France-Presse Tuesday, May 22, 2012 19:19 EDT WASHINGTON — The United States faces a likely recession next year if Congress fails to stop scheduled spending cuts and tax hikes in January, congressional budget analysts warned Tuesday. The nonpartisan Congressional Budget Office said that if currently mandated fiscal conditions are implemented — what some observers call a "fiscal cliff" — the economy would contract at an annual rate of 1.3 percent in the first half of 2013.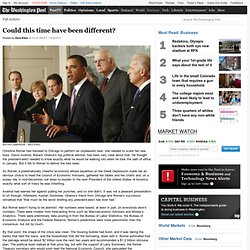 Could this time have been different?
(KEVIN LAMARQUE - REUTERS) Christina Romer had traveled to Chicago to perform an unpleasant task: she needed to scare her new boss.
Who bankrolls the Super Congress?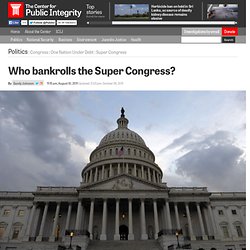 The Super Congress has its work cut out: Twelve lawmakers have been tapped to identify more than $1 trillion in spending cuts in an autumn marathon never before seen in Washington. Democratic Sen. Patty Murray of Washington and Republican Rep. Jeb Hensarling of Texas will co-chair the committee, with a backup chorus of lawmakers representing the full political spectrum. Every member of the Super Congress comes with a history of political patrons and connections with special interests.
Credit firms that hold U.S. debt rating in their hands spent $1.76 million lobbying this year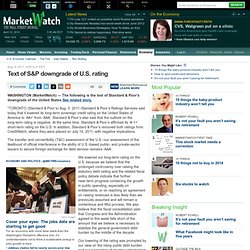 Text of S&P downgrade of U.S. rating
WASHINGTON (MarketWatch) — The following is the text of Standard & Poor's downgrade of the United States: See related story.
National Commission on Fiscal Responsibility and Reform
In Search of Debt Deal, Obama Walks a Narrow Path By RICHARD W. STEVENSON and JOHN HARWOOD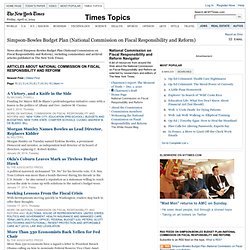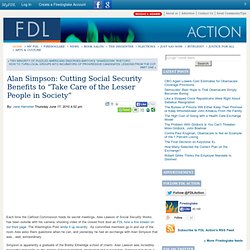 Alan Simpson: Cutting Social Security Benefits to "Take Care of the Lesser People in Society"
Each time the Catfood Commission holds its secret meetings, Alex Lawson of Social Security Works has been outside with his camera, shooting video of the closed front door as FDL runs a live stream on our front page . The Washington Post wrote it up recently . As committee members go in and out of the room Alex asks them questions when he can, and yesterday he had an exchange with Alan Simpson that was…well, extraordinary.
The US debt: Who we owe (and who got us here in the first place) in a simple chart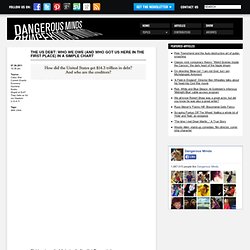 The US debt: Who we owe (and who got us here in the first place) in a simple chart Click here to see the full chart on the New York Times website . A timely and handy chart for the understanding what's going on with the deficit negotiations in Washington.
Adding to the deficit: Bush vs. Obama