UID/Aadhaar
Nandan Manohar Nilekani, CIA, & NADRA, Pakistan « Bargad… बरगद… Dear Fellow Citizens, Pursuant to our earlier discussions, there has not been any debate on the Unique Identity (UID) Number or Aadhaar Number and related proposals and legislations either in the state legislatures or in the central legislature although "these systems would be in active use for centuries" to facilitate unprecedented surveillance by the government and its favourite commercial czars like Nandan Manohar Nilekani.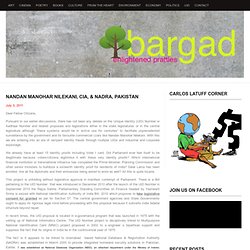 With this we are entering into an era of rampant identity frauds through multiple UIDs and industrial and corporate espionage. We already have at least 15 identity proofs including Voter I card. Did Parliament ever feel itself to be illegitimate because voters/citizens legitimise it with these very identity proofs? Which international financial institution or transnational influence has compelled the Prime Minister, Planning Commission and other senior ministers to bulldoze a sixteenth identity proof for residents of India?
Why the UID number project must be scrapped - Rediff.com India News. Aadhaar: Enrollment, Authentication & Beyond - MediaNama. Aadhaar & The Developer Ecosystem: Free API Calls Initially; Transliteration - MediaNama. Aadhaar Could Be Used To Verify Twitter & Facebook Accounts - MediaNama. The trouble with big brother's eye - VNL. What the UID project will not do. What the UID project will not do Vishv Bandhu Gupta says the UID project could create more errors than it can correct The concept of "a ubiquitous magic plastic" that bring out the unique in a living person has caught the fascination of most of us.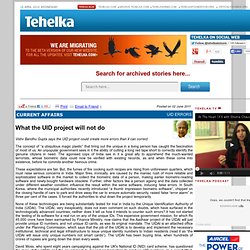 An unpopular government sees in it the ability of cutting a long red tape short to correctly identify the genuine citizens in need. The agonised cops of India see in it a great ally to apprehend the much-wanted terrorists, whose biometric data could now be verified with existing records, as and when these come into existence, before he commits another heinous crime. These expectations are fair. UID: Interview with Usha Ramanathan. 4 popular myths about the UID « PRIVACY INDIA. " AADHAAR " RELATED ARTICLES.
India UID - Markets - L-1 Identity Solutions. India Launches Project to ID 1.2 Billion People. UIDAI.
---