UID/Aadhaar
This is a guest post by Rijul Kochhar Combining field and event, camp is in effect spatial practice.[…] Camps are spaces where states of emergency or legal exception have become the rule. [They offer] the setting for the normative permanence of a suspended rule of law.
The lives of documents: on the sorrows of AADHAR: Rijul Kochhar
Nandan Manohar Nilekani, CIA, & NADRA, Pakistan « Bargad… बरगद…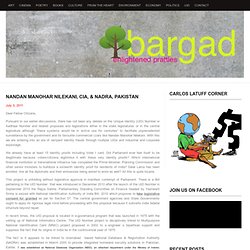 Dear Fellow Citizens, Pursuant to our earlier discussions, there has not been any debate on the Unique Identity (UID) Number or Aadhaar Number and related proposals and legislations either in the state legislatures or in the central legislature although "these systems would be in active use for centuries" to facilitate unprecedented surveillance by the government and its favourite commercial czars like Nandan Manohar Nilekani.
Why the UID number project must be scrapped - Rediff.com India News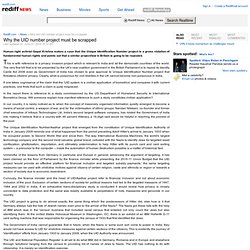 Human right activist Gopal Krishna makes a case that the Unique Identification Number project is a gross violation of fundamental human rights and points out that a similar project/law in Britain is going to be repealed.
The trouble with big brother's eye - VNL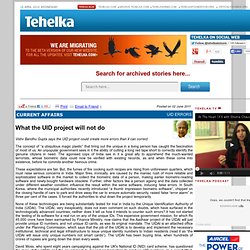 What the UID project will not do
What the UID project will not do Vishv Bandhu Gupta says the UID project could create more errors than it can correct
UID: Interview with Usha Ramanathan
4 popular myths about the UID « PRIVACY INDIA
" AADHAAR " RELATED ARTICLES
India UID - Markets - L-1 Identity Solutions
India Launches Project to ID 1.2 Billion People
UIDAI