UID/Aadhaar
Nandan Manohar Nilekani, CIA, & NADRA, Pakistan « Bargad… बरगद…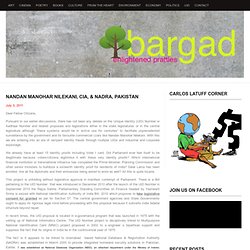 Dear Fellow Citizens, Pursuant to our earlier discussions, there has not been any debate on the Unique Identity (UID) Number or Aadhaar Number and related proposals and legislations either in the state legislatures or in the central legislature although "these systems would be in active use for centuries" to facilitate unprecedented surveillance by the government and its favourite commercial czars like Nandan Manohar Nilekani. With this we are entering into an era of rampant identity frauds through multiple UIDs and industrial and corporate espionage. We already have at least 15 identity proofs including Voter I card. Did Parliament ever feel itself to be illegitimate because voters/citizens legitimise it with these very identity proofs? Which international financial institution or transnational influence has compelled the Prime Minister, Planning Commission and other senior ministers to bulldoze a sixteenth identity proof for residents of India?
Why the UID number project must be scrapped - Rediff.com India News
Aadhaar: Enrollment, Authentication & Beyond - MediaNama
Since the first announcement in September 2010, more than 1 crore Aadhar IDs have been issued by the Unique ID Authority, and over the next five years, it intends to issue 600 million UIDs. At the Aadhaar Development Track conference organized by NASSCOM in Bangalore yesterday, key personnel from the authority including Head of Technology Srikanth Nadhamuni, Chief Product Manager Sanjay Jain and Pramod Varma, Chief Architect, enlightened developers about how the system actually works. The UID Number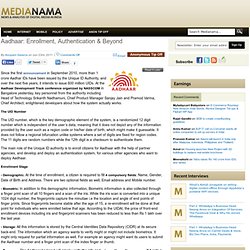 Aadhaar & The Developer Ecosystem: Free API Calls Initially; Transliteration - MediaNama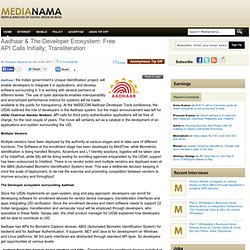 Aadhaar, the Indian government's Unique Identification project, will enable developers to integrate it in applications, and develop software surrounding it. It is working with several partners at different levels. The use of open standards enables interoperability and anonymized performance metrics for systems will be made available to the public for transparency.
The Unique ID Authority of India is targeting 1 million Aadhaar numbers in a day, by October 2011, UIDAI Chairman Nandan Nilekani said at the Aadhaar Developer Track conference, Nilekani reiterated that the authority is now gearing up for the complete deployment of its tech infrastructure and in the next few weeks will witness new rollouts, related to the technical side of things at UID. Earlier, responding to an attendee's question, he had clarified that the API calls will remain free for the next couple of years. Some notes from his talk: - Agency decides Aadhaar verification factors: Nilekani said in his address that even though the Aadhaar number comprises of multiple identification attributes, it is entirely up to an agency to determine if it wants to employ one or more attributes or even put additional verification like smart cards or One Time Passwords.
Aadhaar Could Be Used To Verify Twitter & Facebook Accounts - MediaNama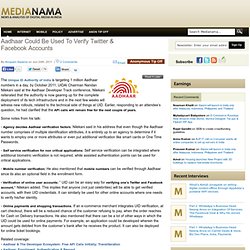 The trouble with big brother's eye - VNL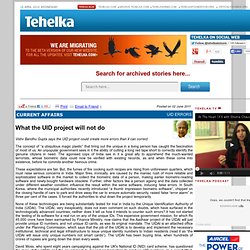 What the UID project will not do
What the UID project will not do Vishv Bandhu Gupta says the UID project could create more errors than it can correct The concept of "a ubiquitous magic plastic" that bring out the unique in a living person has caught the fascination of most of us. An unpopular government sees in it the ability of cutting a long red tape short to correctly identify the genuine citizens in need. The agonised cops of India see in it a great ally to apprehend the much-wanted terrorists, whose biometric data could now be verified with existing records, as and when these come into existence, before he commits another heinous crime. These expectations are fair.
UID: Interview with Usha Ramanathan
Copyright © 1999-2012 GoDaddy.com, LLC. All rights reserved. *One FREE .COM, .CO, .NET or .ORG with purchase of a new 12-, 24- or 36-month website builder plan. Plus ICANN fee of $0.18 per domain name per year. You must add the domain name into your cart before purchase, and you must select a domain term length equal to or less than the term length of your website builder plan to qualify for the free domain offer. If you purchase a domain name for a term longer than the term of the website builder plan, you will be charged for the additional registration term at the then-current rate.
4 popular myths about the UID « PRIVACY INDIA
" AADHAAR " RELATED ARTICLES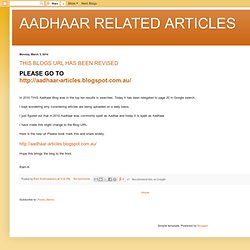 In 2010 THIS Aadhaar Blog was in the top ten results in searches. Today it has been relegated to page 20 in Google search. I kept wondering why considering articles are being uploaded on a daily basis. I just figured out that in 2010 Aadhaar was commonly spelt as Aadhar and today it is spelt as Aadhaar. I have made this slight change to the Blog URL.
India UID - Markets - L-1 Identity Solutions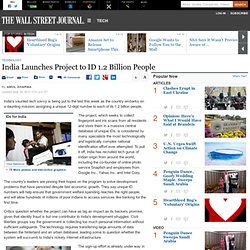 India Launches Project to ID 1.2 Billion People
Updated Sept. 29, 2010 12:01 a.m. ET India's vaunted tech savvy is being put to the test this week as the country embarks on a daunting mission: assigning a unique 12-digit number to each of its 1.2 billion people. The project, which seeks to collect fingerprint and iris scans from all residents and store them in a massive central database of unique IDs, is considered by many specialists the most technologically and logistically complex national identification effort ever attempted. To pull it off, India has recruited tech gurus of Indian origin from around the world, including the co-founder of online photo service Snapfish and employees from Google Inc., Yahoo Inc. and Intel Corp.
UIDAI