UID/Aadhaar
This is a guest post by Rijul Kochhar Combining field and event, camp is in effect spatial practice.[…] Camps are spaces where states of emergency or legal exception have become the rule. [They offer] the setting for the normative permanence of a suspended rule of law.
The lives of documents: on the sorrows of AADHAR: Rijul Kochhar
Nandan Manohar Nilekani, CIA, & NADRA, Pakistan « Bargad… बरगद…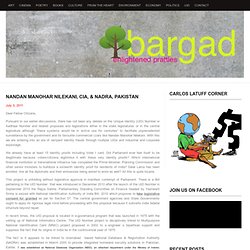 Dear Fellow Citizens, Pursuant to our earlier discussions, there has not been any debate on the Unique Identity (UID) Number or Aadhaar Number and related proposals and legislations either in the state legislatures or in the central legislature although "these systems would be in active use for centuries" to facilitate unprecedented surveillance by the government and its favourite commercial czars like Nandan Manohar Nilekani. With this we are entering into an era of rampant identity frauds through multiple UIDs and industrial and corporate espionage. We already have at least 15 identity proofs including Voter I card. Did Parliament ever feel itself to be illegitimate because voters/citizens legitimise it with these very identity proofs? Which international financial institution or transnational influence has compelled the Prime Minister, Planning Commission and other senior ministers to bulldoze a sixteenth identity proof for residents of India?
Why the UID number project must be scrapped - Rediff.com India News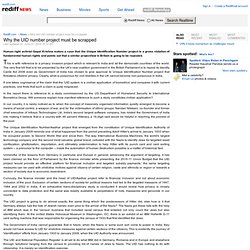 Human right activist Gopal Krishna makes a case that the Unique Identification Number project is a gross violation of fundamental human rights and points out that a similar project/law in Britain is going to be repealed. This is with reference to a privacy invasion project which is relevant to India and all the democratic countries of the world. The very first bill that is to be presented by the UK's new coalition government in the British Parliament is to repeal its Identity Cards Act 2006 even as Government of India has chosen to give approval to Unique Identification Number project that threatens citizens' privacy. Clearly, what is poisonous for civil liberties in the UK cannot become non-poisonous in India.
The trouble with big brother's eye - VNL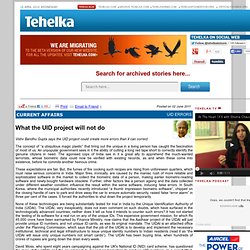 What the UID project will not do
What the UID project will not do Vishv Bandhu Gupta says the UID project could create more errors than it can correct The concept of "a ubiquitous magic plastic" that bring out the unique in a living person has caught the fascination of most of us. An unpopular government sees in it the ability of cutting a long red tape short to correctly identify the genuine citizens in need. The agonised cops of India see in it a great ally to apprehend the much-wanted terrorists, whose biometric data could now be verified with existing records, as and when these come into existence, before he commits another heinous crime. These expectations are fair.
UID: Interview with Usha Ramanathan
Copyright © 1999-2012 GoDaddy.com, LLC. All rights reserved. *One FREE .COM, .CO, .NET or .ORG with purchase of a new 12-, 24- or 36-month website builder plan. Plus ICANN fee of $0.18 per domain name per year. You must add the domain name into your cart before purchase, and you must select a domain term length equal to or less than the term length of your website builder plan to qualify for the free domain offer. If you purchase a domain name for a term longer than the term of the website builder plan, you will be charged for the additional registration term at the then-current rate.
4 popular myths about the UID « PRIVACY INDIA
" AADHAAR " RELATED ARTICLES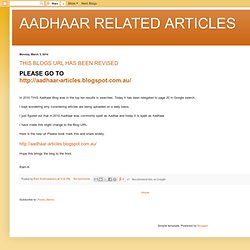 Reserve Bank of India had advised all banks to include biometric sensor in all new credit card swiping machines and to improve their existing infrastructure to enable use of Aadhaar-based biometric authentication while making card-based payments. MP Rajeev Chandrasekhar has now questioned the move and raised several questions in a letter addressed to RBI Governor, Dr Raghuram Rajan. The RBI circular follows a recommendation by a working group on Securing Card Present Transactions in 2011. Highlights from the letter - Starting such a massive programme to link bank accounts to the Aadhaar database will involve huge, additional costs.
India UID - Markets - L-1 Identity Solutions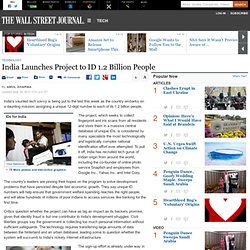 India Launches Project to ID 1.2 Billion People
Updated Sept. 29, 2010 12:01 a.m. ET India's vaunted tech savvy is being put to the test this week as the country embarks on a daunting mission: assigning a unique 12-digit number to each of its 1.2 billion people. The project, which seeks to collect fingerprint and iris scans from all residents and store them in a massive central database of unique IDs, is considered by many specialists the most technologically and logistically complex national identification effort ever attempted. To pull it off, India has recruited tech gurus of Indian origin from around the world, including the co-founder of online photo service Snapfish and employees from Google Inc., Yahoo Inc. and Intel Corp.
UIDAI