REST
Representational State Transfer ( REST ) is a style of software architecture for distributed systems such as the World Wide Web . REST has emerged as a predominant web API design model. The term representational state transfer was introduced and defined in 2000 by Roy Fielding in his doctoral dissertation. [ 1 ] [ 2 ] Fielding is one of the principal authors of the Hypertext Transfer Protocol (HTTP) specification versions 1.0 and 1.1. [ 3 ] [ 4 ] [ edit ] About The REST architectural style was developed by W3C Technical Architecture Group [ 5 ] (TAG) in parallel with HTTP /1.1, based on the existing design of HTTP/1.0. [ 6 ] The World Wide Web represents the largest implementation of a system conforming to the REST architectural style.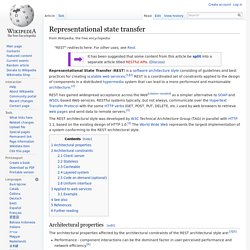 Ajax and REST, Part 1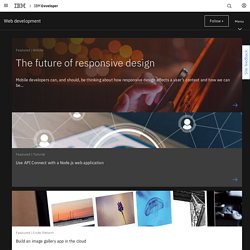 In just 15 years, the World Wide Web has grown from a researcher's experiment to one of the technological pillars of the modern world. Originally invented to let people easily publish and link to information, the Web has also grown into a viable platform for software applications. But as applications have become more immersive by using rich application models and generating personalized content, their architectures have increasingly violated Representational State Transfer (REST), the Web's architectural style.
Ajax and REST, Part 2