Procrastination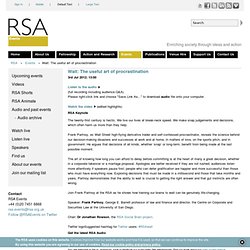 3rd Jul 2012; 13:00 Listen to the audio
Wait: The useful art of procrastination
What we can learn from procrastination
Some years ago, the economist George Akerlof found himself faced with a simple task: mailing a box of clothes from India, where he was living, to the United States. The clothes belonged to his friend and colleague Joseph Stiglitz, who had left them behind when visiting, so Akerlof was eager to send the box off. But there was a problem. The combination of Indian bureaucracy and what Akerlof called "my own ineptitude in such matters" meant that doing so was going to be a hassle—indeed, he estimated that it would take an entire workday. So he put off dealing with it, week after week. This went on for more than eight months, and it was only shortly before Akerlof himself returned home that he managed to solve his problem: another friend happened to be sending some things back to the U.S., and Akerlof was able to add Stiglitz's clothes to the shipment.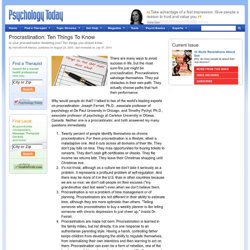 There are many ways to avoid success in life, but the most sure-fire just might be procrastination . Procrastinators sabotage themselves. They put obstacles in their own path. They actually choose paths that hurt their performance. Why would people do that?
by Joel Spolsky Sunday, January 06, 2002 Sometimes I just can't get anything done. Sure, I come into the office, putter around, check my email every ten seconds, read the web, even do a few brainless tasks like paying the American Express bill. But getting back into the flow of writing code just doesn't happen. These bouts of unproductiveness usually last for a day or two.
Joel on Software - Fire And Motion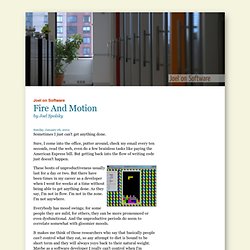 Structured Procrastination
Eat and Code (Aaron Swartz: The Weblog)
Dear Diary: Sorry I haven't written so long. Running a startup is hard ! That and finally having people to talk to sort of takes some of the time and desire out of writing. I'm thinking maybe instead of a full blow-by-blow account of what happened, I'll write posts about different topics, that will recap the story so far.