Kashmir
Divided families urge India, Pakistan to leave Kashmir. Hundre­ds of Kashmi­ris stage an emotio­nal demons­tratio­n, ask India, Pakist­an to withdr­aw troops.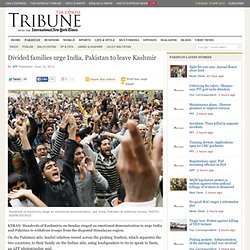 Hundreds of Kashmiris stage an emotional demonstration, ask India, Pakistan to withdraw troops. PHOTO: AGENCIES/FILE KERAN: Hundreds of Kashmiris on Sunday staged an emotional demonstration to urge India and Pakistan to withdraw troops from the disputed Himalayan region. India's Independent Weekly News Magazine.
Who let the dogs out?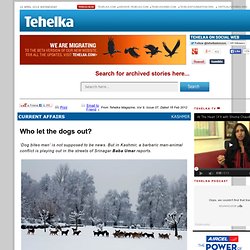 'Dog bites man' is not supposed to be news. But in Kashmir, a barbaric man-animal conflict is playing out in the streets of Srinagar Baba Umar reports. ON A chilly winter evening on 20 January, a carefree Mudasir Ahmad Wangnoo, 12, was returning home from tuition classes in Baagwanpora, downtown Srinagar, when he suddenly came face-to-face with two dozen stray dogs. What happened next on the banks of the partially frozen Dal lake was like a scene out of Animal Planet. "I saw the canines tossing him up and down, tearing him apart like a pack of hyenas," recalls eyewitness Syed Sajad Hussain. India, Pakistan and the Snow Leopard: Javed Naqi. Guest post by JAVED NAQI Photo Credit: Flickr User Tambako the Jaguar Amongst the lesser known casualties of the conflict between India and Pakistan is wild life.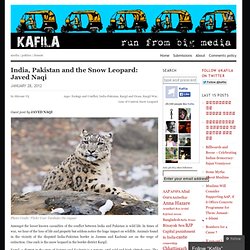 In times of war, we hear of the loss of life and property but seldom notice the huge impact on wildlife. Animals found in the vicinity of the disputed India-Pakistan border in Jammu and Kashmir are on the verge of extinction. Inshallah Kashmir: Living Terror - Preview, the first seven minutes. Chaîne de TehelkaKashmir. Upload Subscription preferences Loading...
Working... Mir Shafqat Hussain - The Good Lawyer Part 1 - Kashmir Uncut. Mir Shafqat Hussain - The Good Lawyer Part 2 - Kashmir Uncut. Distribution of Pak channels to become cognizable offence. India is set to counter the continued information war waged in Jammu & Kashmir and other border states by Pakistan by making the carriage and distribution of Pakistani channels in India a cognizable offence.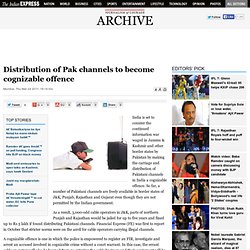 So far, a number of Pakistani channels are freely available in border states of J&K, Punjab, Rajasthan and Gujarat even though they are not permitted by the Indian government. As a result, 3,000-odd cable operators in J&K, parts of northern Punjab and Rajasthan would be jailed for up to five years and fined up to Rs 5 lakh if found distributing Pakistani channels. Financial Express (FE) was first to report in October that stricter norms were on the anvil for cable operators carrying illegal channels. India and Pakistan: The world's most dangerous border. On Kashmir India acts as a police state, not as a democracy | Mirza Waheed. Many years ago, I met two journalists from India in London and we found ourselves talking about Kashmir.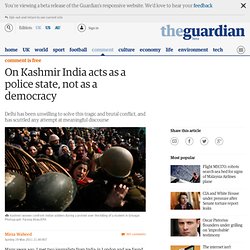 Mostly, they listened patiently to my impassioned tale of what goes on, but the moment I touched upon the brutal counter-insurgency methods employed by the Indian security apparatus in the disputed territory – among them notorious "catch-and-kill" operations to execute suspected militants – they looked incredulous, made a quick excuse and left.
Later, I learned that at least one of them believed that Kashmiris liked to exaggerate the excesses of the Indian armed forces. In the reaction of those two men, I had witnessed the frightening success of India's policy of denial and misrepresentation on Kashmir. 20-year-old boy a victim of police brutality in Jammu & Kashmir- TIMESNOW.tv | Rights & Liberties. Discriminatory Indefinite Detention Increases in Kashmir | Truthout. By Mark Sherman The Associated Press Wednesday 24 December 2003 WASHINGTON - Legislation to keep meat from downed animals off American kitchen tables was scuttled - for the second time in as many years - as Congress labored unsuccessfully earlier this month to pass a catchall agency spending bill.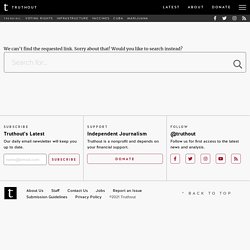 Now, in the wake of the apparent discovery of the first mad-cow case in the United States, the author of the House version of the cattle provision wants to press the issue anew when Congress returns Jan. 20 from its winter recess. The massive, $373 billion spending bill covering several government agencies is still pending in the Senate. Photojournalists beaten by police in Kashmir - Central & South Asia. Security forces have beaten and detained two photographers for several hours in Indian-administered Kashmir after picking them up while they covered a street protest in the capital Srinagar.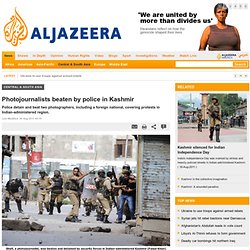 Narciso Contreras, who works for the California-based Zuma Press agency, and Showkat Shafi, a freelance photographer who has contributed to the Reuters news agency and Al Jazeera online, said they were attacked while covering protests against Indian rule in the old city on Friday. "I ran away after police and soldiers charged at the stone pelters and got trapped inside a tailor's shop with some protesters. The soldiers descended there and started beating every one, including me,'' Contreras said. Can We Have 'Truth and Reconciliation' without Justice? If perpetrators of human rights abuses are shielded in the guise of reconciliation, a truth commission would be a futile exercise KASHMIR ~ As the controversy over unmarked graves unravels in Kashmir, Chief Minister Omar Abdullah has called for a Truth and Reconciliation Commission.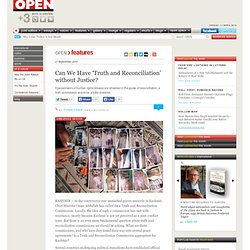 Locally, the idea of such a commission has met with resistance, mostly because Kashmir is not yet perceived as a post-conflict zone. But there is an even more fundamental question about truth and reconciliation commissions we should be asking. What are these commissions, and why have they found their way into several peace agreements? Is a Truth and Reconciliation Commission appropriate for Kashmir? Scenes from Kashmir. Mallika Kaur: Grave Lessons from Kashmir. For the anniversary of the International Day of the Disappeared, our writer reports on Kashmir's "half widows" and their unaddressed needs, which threaten to fuel further insecurity in the volatile region and globally.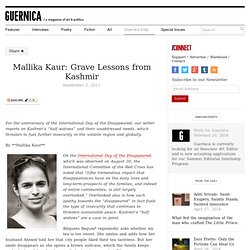 By **Mallika Kaur** On the International Day of the Disappeared, which was observed on August 30, the International Committee of the Red Cross has noted that "[t]he tremendous impact that disappearances have on the daily lives and long-term prospects of the families, and indeed of entire communities, is still largely overlooked." Overlooked also is how such apathy towards the "disappeared" in fact fuels the type of insecurity that continues to threaten sustainable peace. Kashmir's "half widows" are a case in point. Bilquees Begum* repeatedly asks whether my tea is too sweet. Kashmir: The forgotten conflict - Al Jazeera English - Kashmir: The Pandit question - Kashmir: The forgotten conflict - Al Jazeera English - The story of Kashmiri Pandits is an extraordinarily difficult one to tell.
One the one hand, when the insurgency erupted in Indian-administered Kashmir in 1989, thousands of Pandits left the valley, suggesting that the community suffered enough intimidation to abandon their homes. On the other hand, the accounts of Kashmiri Pandits who stayed behind in Kashmir contradict claims by Pandits in the diaspora who say that Kashmiri Pandits suffered 'a genocide' and were forced 'into exile'. Indeed, understanding the experience of the Pandits, caught between Kashmir's Muslim majority and the ambitions of the Indian state, is an intricate affair. Even the semantics describing the flight of the Pandits from Kashmir are highly politicised and contentious. Azad Essa speaks to Mridu Rai, the author of Hindu Rulers, Muslim Subjects: Islam, Rights and the History of Kashmir about the Kashmiri Pandit community and how they fit into the dispute.
Villager number nine - Kashmir: The forgotten conflict - Al Jazeera English - In one of the remotest villages in Bandipora, about 72kms from Srinagar, the capital of Indian-administered Kashmir, an old two-storey wooden house sits on a picturesque hilltop. It is surrounded by coils of barbed wire interspersed with empty alcohol bottles. It is no longer a home; the Indian military have turned it into a military camp. But before the military paint, troops and barbed wire arrived, it was the most beautiful house in the village. Not anymore. Now an Indian soldier sits in the garden, close to the road and beside a neglected flower bed. Kashmir's 'half-widows in precarious state' - Central & South Asia.
More than 1,500 women whose husbands have disappeared but have not yet been declared deceased are in a precarious and dangerous position in Indian-administered Kashmir, according to a new report. The 48-page report titled "Half Widow, Half Wife" released on Thursday by the Association of Parents of Disappeared Persons (APDP), argues that although "direct violence is disproportionately inflicted on males" in Kashmir, women and children whose husbands or fathers "disappear" are caught in a legal conundrum that does little to compensate or protect them. The report says that the fact that the men have disappeared and have not been declared dead, has left thousands of women, known as "half-widows", and their children in a precarious state, with little legal protection, rendering many desperate and homeless and paving the way for abuse and exploitation.
A mother's tragedy - Kashmir: The forgotten conflict - Al Jazeera English - Sixty-five-year-old Nabza Bano stands near a small cornfield where her three-storey house once stood in Sundbrari village, about 85kms from Srinagar, the capital of Indian-administered Kashmir. Lost in a melancholic silence, she points out all that remains of her old home - a few burnt logs. She says two of her houses were burned down by the Indian army, along with two cowsheds, but what pains her most is the absence of her three sons - all of them killed by the Indian army. Kashmir and the politics of water - Kashmir: The forgotten conflict - Al Jazeera English - Kashmir: South Asia's Palestine - Kashmir: The forgotten conflict - Al Jazeera English - Tehelka : "Fake Terrorists" -- A series on Kashmiri youth.
Fake Terrorists I. Fake Terrorists II. Fake Terrorists III. Fake Terrorists IV. KASHMIR: India Grabs It.
---