Gtd
TreeSheets. The ultimate replacement for spreadsheets, mind mappers, outliners, PIMs, text editors and small databases.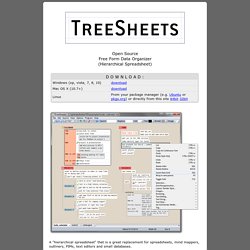 Suitable for any kind of data organization, such as Todo lists, calendars, project management, brainstorming, organizing ideas, planning, requirements gathering, presentation of information, etc. It's like a spreadsheet, immediately familiar, but much more suitable for complex data because it's hierarchical. It's like a mind mapper, but more organized and compact. It's like an outliner, but in more than one dimension.
Getting Things Done [GTD] on the Internet. Mind Mapping. Five Best Mind Mapping Tools. Hive Five: Five Best Mind Mapping Applications. Are there any programs out there that allow a person to create a series of steps to accomplish a task type thing?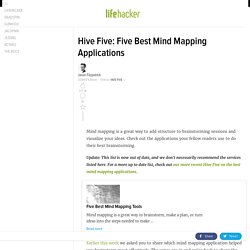 Example: 8 steps to bake cookies. Mix dry ingredients, melt butter in bowl, add dry ingredients, mix at low speed, poor into pan, bake at 325 for 30 minutes, cut brownies, eat and enjoy. The Perfect Mess. In an interview with Michael McLaughlin published in The New Writer's Handbook (2007), Eric Abrahamson, co-author of A Perfect Mess: The Hidden Benefits of Disorder, says Your mess is perfect when it reaches the point at which, if you spent any more or any less time organizing, you would become inefficient.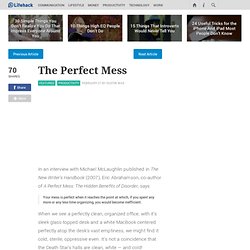 When we see a perfectly clean, organized office, with it's sleek glass-topped desk and a white MacBook centered perfectly atop the desk's vast emptiness, we might find it cold, sterile, oppressive even. It's not a coincidence that the Death Star's halls are clean, white — and cold! On the flip side, when we see an office with a desk buried under mountains of paperwork, with trash bins overflowing and computer cables snaking haphazardly across the room, we often find it overwhelming, disgusting even — and rarely think well of its owner!
Archive » Tough questions for your things. I like to think of myself as a person who is unattached to physical objects.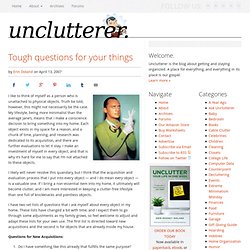 Truth be told, however, this might not necessarily be the case. My lifestyle, being more minimalist than the average Jane's, means that I make a conscience decision to bring something into my home. How to Declutter an Entire Room in One Go | Zen Habits. Post written by Leo Babauta.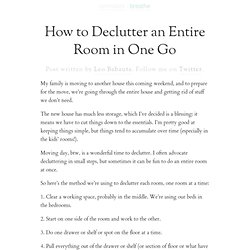 Follow me on Twitter. My family is moving to another house this coming weekend, and to prepare for the move, we're going through the entire house and getting rid of stuff we don't need. The new house has much less storage, which I've decided is a blessing: it means we have to cut things down to the essentials. I'm pretty good at keeping things simple, but things tend to accumulate over time (especially in the kids' rooms!).
Moving day, btw, is a wonderful time to declutter. ATPM 13.02 - Next Actions: A Survey of the GTD App Landscape. The 2001 publication of David Allen's Getting Things Done stirred a revolution of organized, productive work environments for thousands.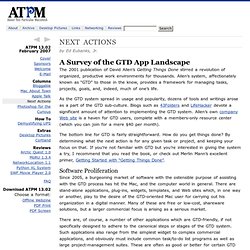 Allen's system, affectionately known as "GTD" to those in the know, provides a framework for managing tasks, projects, goals, and, indeed, much of one's life. As the GTD system spread in usage and popularity, dozens of tools and writings arose as a part of the GTD sub-culture. Blogs such as 43Folders and LifeHacker devote a significant amount of attention to implementing the GTD system.
Allen's own company Web site is a haven for GTD users, complete with a members-only resource center (which you can join for a mere $40 per month). Thunderbird gets GTD'd... « searching4arcadia. A few things came together for me this past weekend, and I thought I'd share a bit.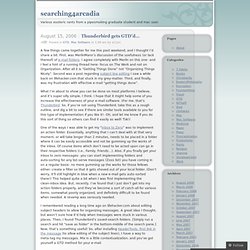 First, was MerlinMann's discussion of the usefulness (or lack thereof) of e-mail folders. I agree completely with Merlin on this one- and I feel a hint of a running thread here- focus on The Work and not on Organization. After all it is "Getting Things Done" not "Organizing Things Nicely". Second was a post regarding subject line editing I saw a while back on lifehacker.com that stuck in my grey-matter. 25 Firefox Extensions to Make You More Productive. Firefox is my weapon of choice when it comes to browsing the web.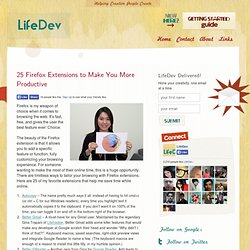 It's fast, free, and gives the user the best feature ever: Choice. The beauty of the Firefox extension is that it allows you to add a specific feature or function, fully customizing your browsing experience. Tracks - GTD application on Rails - Download Squad. In my ongoing search for the ultimate software system for use with the Getting Things Done methodology, I've recently come across a real winner.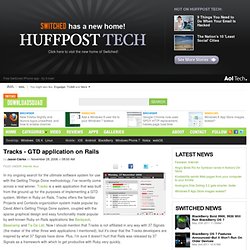 Tracks is a web application that was built from the ground up for the purposes of implementing a GTD system. Written in Ruby on Rails, Tracks offers the familiar Projects and Contexts organization system made popular by David Allen's Getting Things Done system, coupled with the sparse graphical design and easy functionality made popular by well-known Ruby on Rails applications like Backpack, Basecamp and Ta-Da List. Now I should mention that Tracks is not affiliated in any way with 37 Signals (the maker of the other three web applications I mentioned), but it's clear that the Tracks developers are inspired by what 37 Signals have done. Plus, I'm sure it doesn't hurt that Rails was released by 37 Signals as a framework with which to get productive with Ruby very quickly.
GOE: Getting Organized Experiment Programs 2007. Main purpose of MyHelp is to have a program that will store all the things that we cannot remember so easily.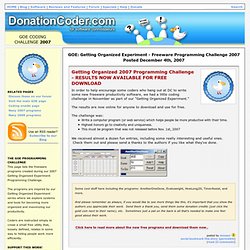 First make a category ( or categories . for example: "C++" , "PHP" , "Mails" , "usefull codes" or any other category you would like to have ) and then make as many entries that belong to selected category. This way you will have your own help system, or a reminder or something like it... Productivity - lifehack.org. Don't Miss Any Tips! Like us on Facebook Close Open Productivity. Wiki | MVance / GettingThingsDone.
---