Commentary/opinions re media bias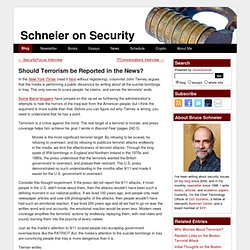 Should Terrorism be Reported in the News?
A blog covering security and security technology. « SecurityFocus Interview | Main | ITConversations Interview »
Why Political Coverage is Broken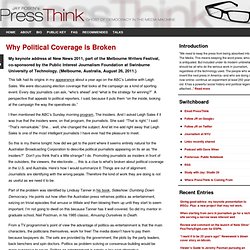 Aug.26
Understanding 9/11: A Television News Archive
Live Streaming July 2, 11 AM: Julian Assange, Slavoj Žižek, Amy Goodman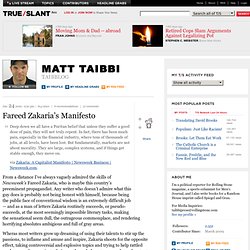 Matt Taibbi - Taibblog - Fareed Zakaria's Manifesto
Deep down we all have a Puritan belief that unless they suffer a good dose of pain, they will not truly repent.
Share: MyIDEAS: Login Fourni par
Media Bias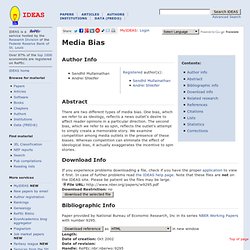 Perceived Bias
Biased About Bias: The hunt for ideology becomes an ideology
Think Political News Is Biased? Depends Who You Ask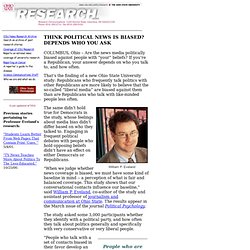 COLUMBUS, Ohio – Are the news media politically biased against people with "your" beliefs?
May 22, 2004 PressThink's Questions and Answers about Media Bias I don't think "unbiased journalism" is a particularly noble or desirable thing.
PressThink's Questions and Answers about Media Bias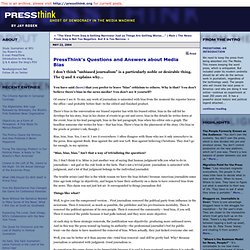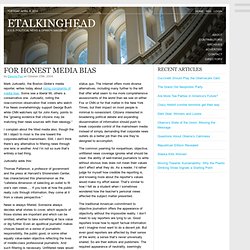 Mark Jurkowitz, the Boston Globe's media reporter, writes today about rising complaints of media bias. Some see a liberal tilt, others a conservative one. Jurkowitz, noting the now-common observation that voters who watch Fox News overwhelmingly support George Bush while CNN watchers opt for John Kerry, points to the "growing evidence that citizens may be matching their news sources with their ideology."
For Honest Media Bias
Debates: Bozell v. Alterman on Media Bias on National Review Online
Marginal Revolution: Media Bias and Bias about Media Bias
Maybe Media Bias Has Become a Dumb Debate, part one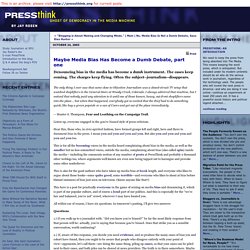 October 24, 2003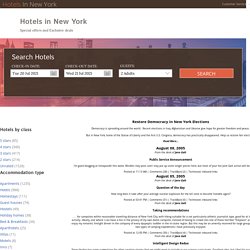 From the desk of Mindles H. Dreck : The Media Bias Committee's Initial Findings
Asymmetrical Information: The Media Bias Committee's Initial Findings
Can the Media be So Liberal? The Economics of Media Bias
Well, it was enough to make a cat laugh, as Mark Twain says. Normally, I don't like to write about "media bias." You can't have an argument with someone who doesn't argue in good faith, and those who deny the charge of bias are nearly always doing so in bad faith.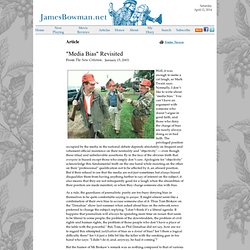 "Media Bias" Revisited
It's unsurprising that establishment media outlets have been condescending, dismissive and scornful of the ongoing protests on Wall Street.
What's behind the scorn for Wall Street protests? - Glenn Greenwald
(updated below)
Andrew Ross Sorkin's assignment editor
Why Establishment Media & the Power Elite Loathe Occupy Wall Street