TEACHING RESOURCES
InstaGrok: The Search Engine Made Just For Education. Oh sure, Google's great and all…until you realize it's not perfect.
Google is designed for everyone on the planet. But what if Google was totally rebuilt with education in mind? 25 TED Talks Perfect For Classrooms. Assessment. 20 Must-Have Educational Resources For All Teachers. Edudemic often features posts providing a list of top resources for a particular category.
Recently, the site gettingsmart.com posted the names of the LAUNCHedu finalists chosen by the SXSWedu® Conference, offering even more resources for the Edudemic staff to consider! On March 7, 2012, they will choose winners after a full day of presentations by the finalists. There are so many sites and programs on the Internet already, but this competition just goes to show that the need for educational resources is still great. How Should Students Use Cell Phones In School? I was inspired by a recent tweet from Joe Bower , a great person to follow on Twitter, when he posed the above question.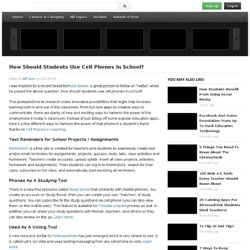 How should students use cell phones in school? This prompted me to research some innovative possibilities that might help increase learning both in and out of the classroom. From fun new apps to creative ways to communicate, there are plenty of new and exciting ways to harness the power of the smartphone in today's classroom. 20 Ways Libraries Are Using Pinterest Right Now. The 10 Rights Of A Reader 3.97K Views 0 Likes What are your rights as a reader?
1,000 Education Apps Organized By Subject & Price. How Students Benefit From Using Social Media 13.56K Views 0 Likes A lot of criticism has been leveled at social media and the effect it has on the way students process and retain information, as well as how distracting it can be.
The 100 Best Web 2.0 Classroom Tools Chosen By You. The Wordle of this list!
(Click image to enlarge) One of the most popular posts on Edudemic in 2010 was The 35 Best Web 2.0 Classroom Tools Chosen By You and I felt it might be time for an update to that list for 2011. 28 Twitter Hashtags to Follow Education Reform. 5 Ways To Use StumbleUpon In Education. Do you need another time-sucking website that will entertain, educate, and enhance your day-to-day life?
Of course you do! Lucky for you, there's StumbleUpon and it's more than just another LOLCat-powered site. It's actually useful for education! We've come up with a few handy ways to use the content discovery site to actually benefit teachers, students, and education administrators. The Teacher's Guide To Polling In The Classroom. 15 Ways To Use The New iPad In Classrooms.
50 Little-Known Ways Google Docs Can Help In Education. 5 Ways To Be A Better Public Speaker 7.16K Views 0 Likes If you've been asked to speak at a conference or host a seminar, you may be shaking in your boots.
Not only is the thought of speaking in public nerve-wracking, but being in charge of a seminar that no one wants to at... My 10 Favorite Learnist Boards Of The Year. 50 Google+ Circles Teachers Should Know About. 25 Ways To Use Twitter In The Classroom, By Degree Of Difficulty. How Can We Stop Cheating In Online Courses?
6.11K Views 0 Likes While clearly not every student is trying hard to take the slacker route, it's worth noting that picking out the students trying to take this route gets a little more complicated when you move from taking classes in person to taking classes online. 5 Ways To Have A High-Tech Classroom With What You Already Have 11.45K Views 1 Likes There are a host of ways to use the technology you already have at your fingertips to create a Classroom 2.0.
MUSIC
Dance. ART. Alternative Media. Creating Charts/Graphs/Infographics. 7 Skills To Become Super Smart. People aren't born smart.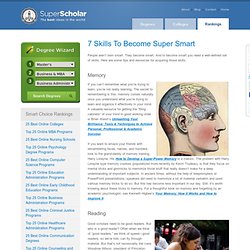 They become smart. And to become smart you need a well-defined set of skills. Here are some tips and resources for acquiring those skills. Sporcle.com: mentally stimulating diversions. Brain Training, Brain Exercise, Brain Fitness by Brain Training 101.
---