Rails
I just released rails_best_practices 1.8.0, changes are as follows 1. analyze foreign key smarter, now it checks the foreign key only when the associated table exists. 2. ignore some rails built-in methods in unused methods checkes 3. add not use time_ago_in_words check, http://rails-bestpractices.com/posts/105-not-use-time_ago_in_words
[ANN] rails_best_practices 1.8.0 released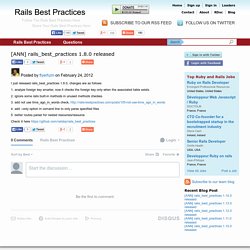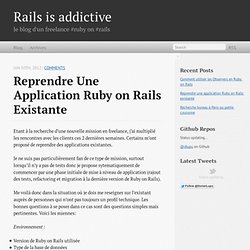 Reprendre une application Ruby on Rails existante - Rails is addictive
Etant à la recherche d'une nouvelle mission en freelance, j'ai multiplié les rencontres avec les clients ces 2 dernières semaines. Certains m'ont proposé de reprendre des applications existantes. Je ne suis pas particulièrement fan de ce type de mission, surtout lorsqu'il n'y a pas de tests donc je propose sytematiquement de commencer par une phase initiale de mise à niveau de application (rajout des tests, refactoring et migration à la dernière version de Ruby on Rails).
cmer/socialization - GitHub
patmaddox/no-peeping-toms - GitHub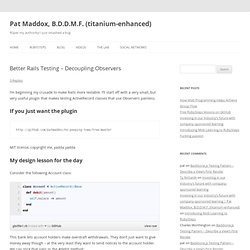 I'm beginning my crusade to make Rails more testable. I'll start off with a very small, but very useful plugin that makes testing ActiveRecord classes that use Observers painless. http://github.com/patmaddox/no-peeping-toms/tree/master MIT license, copyright me, yadda yadda
Better Rails Testing - Decoupling Observers - Pat Maddox, B.D.D.M.F.
Dorian @ Epita - Epitech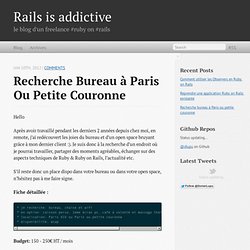 Hello Après avoir travaillé pendant les derniers 2 années depuis chez moi, en remote, j'ai redécouvert les joies du bureau et d'un open space bruyant grâce à mon dernier client :). Je suis donc à la recherche d'un endroit où je pourrai travailler, partager des moments agréables, échanger sur des aspects techniques de Ruby & Ruby on Rails, l'actualité etc. S'il reste donc un place dispo dans votre bureau ou dans votre open space, n'hésitez pas à me faire signe.
Recherche bureau à Paris ou petite couronne - My First Octopress Blog
Brakeman
hs5x4cej Shared by patrickbaselier