Dlmoeller
DLMoeller
Teacher of 28 years.15 years in Ag Ed & 17 years as Comp. Instructor/ Tech Coord/ TI. M.Ed - SDSU. Farm on the side. Likes Disk golf, softball and Senior Games.
Portfolios
Edmodo. 21st century. Web tools. Dropbox. Atomic learning. How to Teach Internet Safety to Younger Elementary Students. Back in October, I wrote a post about Teaching Digital Citizenship in the Elementary Classroom.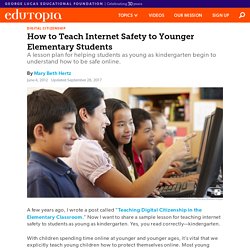 As it is Internet Safety Month, I want to share a sample lesson for teaching Internet Safety to students as young as kindergarten. Yes, you read correctly . . . kindergarten. With children spending time online at younger and younger ages, it is vital that we explicitly teach young children how to protect themselves online. Most young children get the "Stranger Danger" talk at school, so they know about how to handle strangers in their neighborhood and in face-to-face situations. There are three considerations when addressing Internet safety with these students. InstaGrok | A new way to learn. Tutpup - play, compete, learn. Education - Resources - Information Technology.
50 Web 2.0 Sites for Schools. 50 Web 2.0 Sites for Schools Recently I've been experimenting w/ a bunch of curation sites that are beneficial to creating and sharing lists.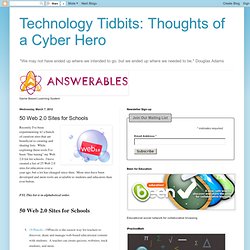 While exploring these tools I've been "fine tuning" my Web 2.0 list for schools. I have created a list of 25 Web 2.0 sites for education over a year ago, but a lot has changed since then. More sites have been developed and more tools are available to students and educators then ever before. FYI, This list is in alphabetical order.50 Web 2.0 Sites for Schools19 Pencils - 19Pencils is the easiest way for teachers to discover, share and manage web‐based educational content with students. 6 Free Tools to Easily Cite Resources for Students and Researchers. Citing resources is an important skill for the 21st century students and for any other learner or researcher.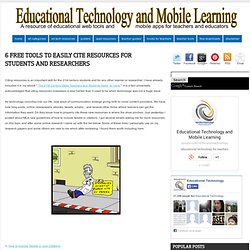 I have already included it in my ebook " The 21St Century Skills Teachers and Students Need to Have ". It is a fact universally acknowledged that citing resources nowadays is way harder than it used to be when technology was not a huge issue. As technology crouches into our life, new ways of communication emerge giving birth to novel content providers. Internet Catalogue. Wind Map. An invisible, ancient source of energy surrounds us—energy that powered the first explorations of the world, and that may be a key to the future.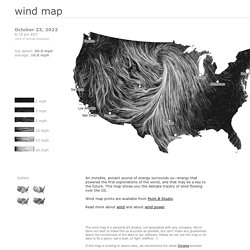 This map shows you the delicate tracery of wind flowing over the US. The wind map is a personal art project, not associated with any company. We've done our best to make this as accurate as possible, but can't make any guarantees about the correctness of the data or our software. Homepage. Education Program - Free Digital Storytelling Software for Educators. #1 Rated photo book service by TopTenReviews Mixbook is an easy and fun way to engage students, parents—and build school spirit.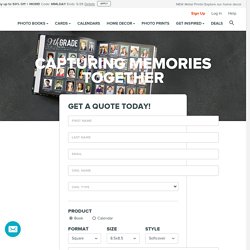 With Mixbook, there are no contracts, no commitments, and no fees to create and share a project among students, faculty, and parents online. With a community of over 5 million, Mixbook is the most trusted and secure site of its kind. Here are a few ways educators have used Mixbook: Photo Book Ideas. » 50 Tools that didn't quite make the 2011 Top 100 Tools for Learning List Learning in the Social Workplace. It seems that many people like tools lists, if the fact that there have been over 110,000 views of the 2011 Top 100 Tools for Learning presentation via Slideshare since 13 November is anything to go by!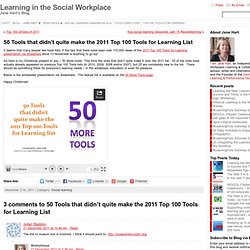 So here is my Christmas present to you – 50 More tools! This time the ones that didn't quite make it onto the 2011 list. 25 of the tools have actually already appeared on previous Top 100 Tools lists (in 2010, 2009, 2008 and/or 2007), but 25 are completely new to the list. There should be something there for everyone's learning needs – in the workplace, education or even for pleasure. Below is the embedded presentation via Slideshare.
Gaming
CBSSports. Kids and video games: Why children should play more. Parents, politicians, and educators often criticize video games as a waste of time that distract kids from healthier activities such as school, outdoor play, sports, and community service.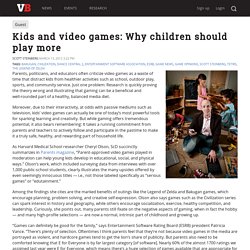 Just one problem: Research is quickly proving the theory wrong and illustrating that gaming can be a beneficial and well-rounded part of a healthy, balanced media diet. Moreover, due to their interactivity, at odds with passive mediums such as television, kids' video games can actually be one of today's most powerful tools for sparking learning and creativity.
Video Resources
Video Archive By Category. MacMost includes more than 900 free video tutorials on how to use your Mac, iPad, iPhone and other Apple technology.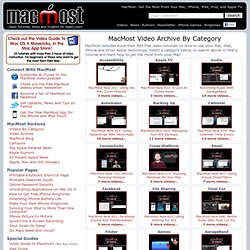 Select a category below, or search above to find a tutorial and learn how to get the most from your Mac! Also: Accessories (2), Accounts (2), Contacts (3), Disk Utility (1), Dock (2), dvds (1), iBooks (3), iBooks Author (1), iDVD (1), Internet (3), LaunchPad (1), Mac Applications (2), Mac Apps (3), Mac Hardware (3), Maps (1), Messages (2), Mission Control (1), Networking (1), PDF (2), Photo (1), Photos (2), Printing (3), Support (2), Switching (1), Utilities (2), Video Editing (3), Widgets (3).
SchoolTube - Video Sharing For Students & Teachers. 35 Sources for Curated Educational Videos. Like explorers approaching an unfamiliar landscape, teachers who are ready to take the plunge into flipped classrooms and blended learning often approach the opportunity with a mix of excitement and trepidation.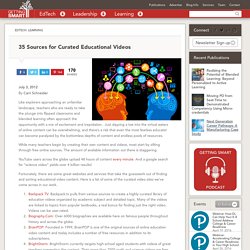 Just dipping a toe into the virtual waters of online content can be overwhelming, and there's a risk that even the most fearless educator can become paralyzed by the bottomless depths of content and endless pools of resources. While many teachers begin by creating their own content and videos, most start by sifting through free online sources.
Integration
Technology Integration Matrix. The Technology Integration Matrix (TIM) illustrates how teachers can use technology to enhance learning for K-12 students.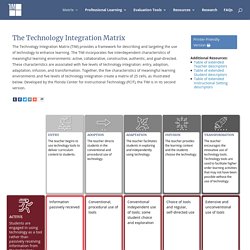 The TIM incorporates five interdependent characteristics of meaningful learning environments: active, constructive, goal directed (i.e., reflective), authentic, and collaborative (Jonassen, Howland, Moore, & Marra, 2003). The TIM associates five levels of technology integration (i.e., entry, adoption, adaptation, infusion, and transformation) with each of the five characteristics of meaningful learning environments. Together, the five levels of technology integration and the five characteristics of meaningful learning environments create a matrix of 25 cells as illustrated below. We appreciate your feedback. K12 Education: 21st Century Skills PD, Technology Integration Resources and Software Training and Support | K-12 Professional Development.
Rscsw.
Evernote
The Epic Evernote Experiment. I will be keeping a running journal of all things Evernote as I roll out a complete Evernote Environment in my classes that will be utilizing a class set of iPads. I'm excited to see where this takes me and I cannot wait to see how my students use Evernote. Stay tuned for more updated as I move closer to the school year. Mac. Pearltrees videos. Getting started. Standards. Back 40 Wiki. 20 Common Grammar Mistakes That (Almost) Everyone Makes. I've edited a monthly magazine for more than six years, and it's a job that's come with more frustration than reward. If there's one thing I am grateful for — and it sure isn't the pay — it's that my work has allowed endless time to hone my craft to Louis Skolnick levels of grammar geekery.
As someone who slings red ink for a living, let me tell you: grammar is an ultra-micro component in the larger picture; it lies somewhere in the final steps of the editing trail; and as such it's an overrated quasi-irrelevancy in the creative process, perpetuated into importance primarily by bitter nerds who accumulate tweed jackets and crippling inferiority complexes. Home.
Educational Technology and Mobile Learning: Teachers Easy Guide to The Most Important Web Tools in Education. When it comes to using web resources with our students, time plays a decisive role.It is next to impossible for a busy teacher restricted by curriculum constraints, day to day lesson preparations, assignment corrections, to mention but a few of his chores, to effectively search the web and find the adequate resources to share with his/ her students. Most people just do not have the time to learn all these technologies and some educators pick just one or two websites of interest and start exploring them.
This is definitely not the right thing to do particularly if you want to leverage the huge potential of technology into your classroom.There is, however, a simple roudabout to this problem. Aggregate, Curate and Create Your Own Textbook. The Journal's article: 5K-12 Ed Tech Trends for 2012 includes: 'Beyond the Digital Textbook' as one of the trends with the premise of adding interactivity to digital versions of textbooks.
Apple has now partnered with the major textbook publishers with the newly unveiled iBooks Textbooks. There are a handful of textbooks available through iTunes at about $15. These books are constrained to be viewed using iBooks 2 in an iPad with Apple iOS 5. Moreover, it looks like Apple's new products do not allow social interactivity and collaboration.
Social Media
Free Social Teaching and Learning Network focused solely on education. Flipped. Edupln. Merit pay. My Island View. Teaching: Prepare and Connect. Goal: Professional educators will be supported individually and in teams by technology that connects them to data, content, resources, expertise, and learning experiences that can empower and inspire them to provide more effective teaching for all learners. Teaching today is practiced mostly in isolation. Many educators work alone, with little interaction with professional colleagues or experts in the outside world. Professional development typically is provided in short, fragmented, and episodic workshops that offer little opportunity to integrate learning into practice. A Teacher's Letter to Obama: A Lesson in Irony.
---