Dlmoeller
DLMoeller
Teacher of 28 years.15 years in Ag Ed & 17 years as Comp. Instructor/ Tech Coord/ TI. M.Ed - SDSU. Farm on the side. Likes Disk golf, softball and Senior Games.
Back in October, I wrote a post about Teaching Digital Citizenship in the Elementary Classroom (1) . As it is Internet Safety Month (2) , I want to share a sample lesson for teaching Internet Safety to students as young as kindergarten. Yes, you read correctly . . . kindergarten. With children spending time online at younger and younger ages, it is vital that we explicitly teach young children how to protect themselves online. Most young children get the " Stranger Danger (3) " talk at school, so they know about how to handle strangers in their neighborhood and in face-to-face situations. There are three considerations when addressing Internet safety with these students.
How to Teach Internet Safety to Younger Elementary Students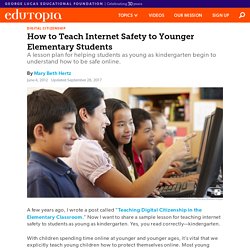 50 Web 2.0 Sites for Schools
Citing resources is an important skill for the 21st century students and for any other learner or researcher. I have already included it in my ebook " The 21St Century Skills Teachers and Students Need to Have ". It is a fact universally acknowledged that citing resources nowadays is way harder than it used to be when technology was not a huge issue. As technology crouches into our life, new ways of communication emerge giving birth to novel content providers.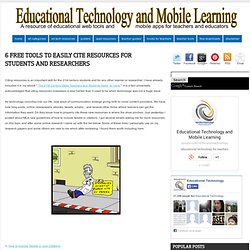 6 Free Tools to Easily Cite Resources for Students and Researchers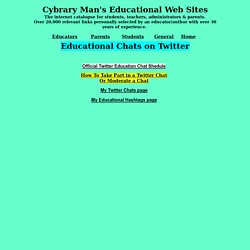 This page is still in the process of changing. I have made separate pages for each day. Still need your help to figure out which chats are still active & when they meet. (March 2013)
An invisible, ancient source of energy surrounds us—energy that powered the first explorations of the world, and that may be a key to the future. This map shows you the delicate tracery of wind flowing over the US. The wind map is a personal art project, not associated with any company. We've done our best to make this as accurate as possible, but can't make any guarantees about the correctness of the data or our software.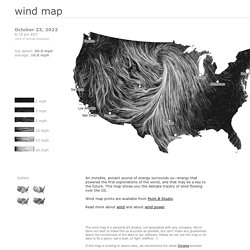 100 Awesome, Free Web Tools for Elementary Teachers | Smart Teaching
Homepage
Mixbook is an easy and fun way to engage students, parents—and build school spirit. Make completely customizable photo books, yearbooks, cards, and calendars with students and colleagues from any computer with Internet access—for free. With Mixbook, there are no contracts, no commitments, and no fees to create and share a project among students, faculty, and parents online.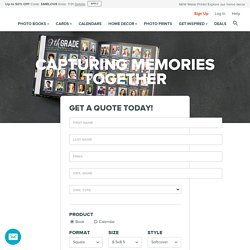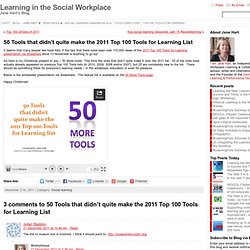 » 50 Tools that didn't quite make the 2011 Top 100 Tools for Learning List Learning in the Social Workplace
It seems that many people like tools lists, if the fact that there have been over 110,000 views of the 2011 Top 100 Tools for Learning presentation via Slideshare since 13 November is anything to go by! So here is my Christmas present to you – 50 More tools! This time the ones that didn't quite make it onto the 2011 list. 25 of the tools have actually already appeared on previous Top 100 Tools lists (in 2010, 2009, 2008 and/or 2007), but 25 are completely new to the list. There should be something there for everyone's learning needs – in the workplace, education or even for pleasure. Below is the embedded presentation via Slideshare.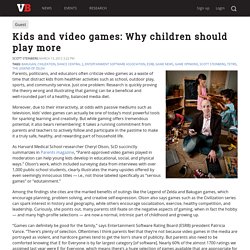 Kids and video games: Why children should play more
Parents, politicians, and educators often criticize video games as a waste of time that distract kids from healthier activities such as school, outdoor play, sports, and community service. Just one problem: Research is quickly proving the theory wrong and illustrating that gaming can be a beneficial and well-rounded part of a healthy, balanced media diet. Moreover, due to their interactivity, at odds with passive mediums such as television, kids' video games can actually be one of today's most powerful tools for sparking learning and creativity.
MacMost includes more than 600 free video tutorials on how to use your Mac, iPad, iPhone and other Apple technology. Select a category below, or search above to find a tutorial and learn how to get the most from your Mac! Also: Accessories (1) , Accounts (2) , Apple TV (3) , Contacts (3) , Disk Utility (1) , Dock (2) , dvds (1) , iBooks (3) , iBooks Author (1) , iDVD (1) , Internet (2) , iPhone Ringtones (3) , LaunchPad (1) , Mac Applications (2) , Mac Apps (2) , Mac Hardware (2) , Messages (2) , Mission Control (1) , Networking (1) , PDF (1) , Photo (1) , Photos (1) , Printing (2) , Support (2) , Switching (1) , TextEdit (2) , Utilities (2) , Video Editing (3) , Widgets (3) .
Video Archive By Category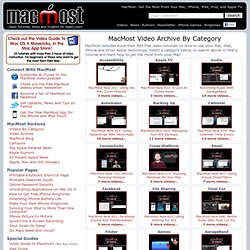 Email Share July 3, 2012 - by Carri Schneider 9 Email Share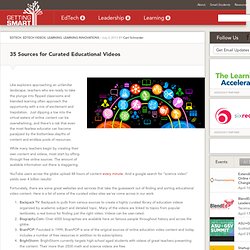 The Technology Integration Matrix (TIM) illustrates how teachers can use technology to enhance learning for K-12 students. The TIM incorporates five interdependent characteristics of meaningful learning environments: active, constructive, goal directed (i.e., reflective), authentic, and collaborative (Jonassen, Howland, Moore, & Marra, 2003). The TIM associates five levels of technology integration (i.e., entry, adoption, adaptation, infusion, and transformation) with each of the five characteristics of meaningful learning environments. Together, the five levels of technology integration and the five characteristics of meaningful learning environments create a matrix of 25 cells as illustrated below. Please let us know what you think of the new TIM. Click here to take survey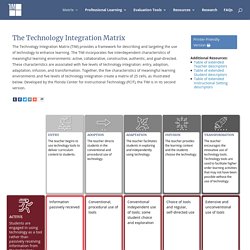 K12 Education: 21st Century Skills PD, Technology Integration Resources and Software Training and Support | K-12 Professional Development
Education's trusted training solutions provider. Atomic Learning is dedicated to providing a cost-effective teacher professional development, classroom technology integration and software support solution that empowers educators to utilize technology to engage students and positively impact achievement. As your ed tech training partner, Atomic Learning helps teachers develop college- and career-ready students with 21st century skills-based training.
I will be keeping a running journal of all things Evernote as I roll out a complete Evernote Environment in my classes that will be utilizing a class set of iPads. I'm excited to see where this takes me and I cannot wait to see how my students use Evernote. Stay tuned for more updated as I move closer to the school year.
The Epic Evernote Experiment
I've edited a monthly magazine for more than six years, and it's a job that's come with more frustration than reward. If there's one thing I am grateful for — and it sure isn't the pay — it's that my work has allowed endless time to hone my craft to Louis Skolnick levels of grammar geekery. As someone who slings red ink for a living, let me tell you: grammar is an ultra-micro component in the larger picture; it lies somewhere in the final steps of the editing trail; and as such it's an overrated quasi-irrelevancy in the creative process, perpetuated into importance primarily by bitter nerds who accumulate tweed jackets and crippling inferiority complexes.
Home
When it comes to using web resources with our students, time plays a decisive role.It is next to impossible for a busy teacher restricted by curriculum constraints, day to day lesson preparations, assignment corrections, to mention but a few of his chores, to effectively search the web and find the adequate resources to share with his/ her students. Most people just do not have the time to learn all these technologies and some educators pick just one or two websites of interest and start exploring them. This is definitely not the right thing to do particularly if you want to leverage the huge potential of technology into your classroom.There is, however, a simple roudabout to this problem.
Quick Intro to NotInMyBackYard Diggity « Stach & Liu
Teaching: Prepare and Connect
A Teacher's Letter to Obama: A Lesson in Irony